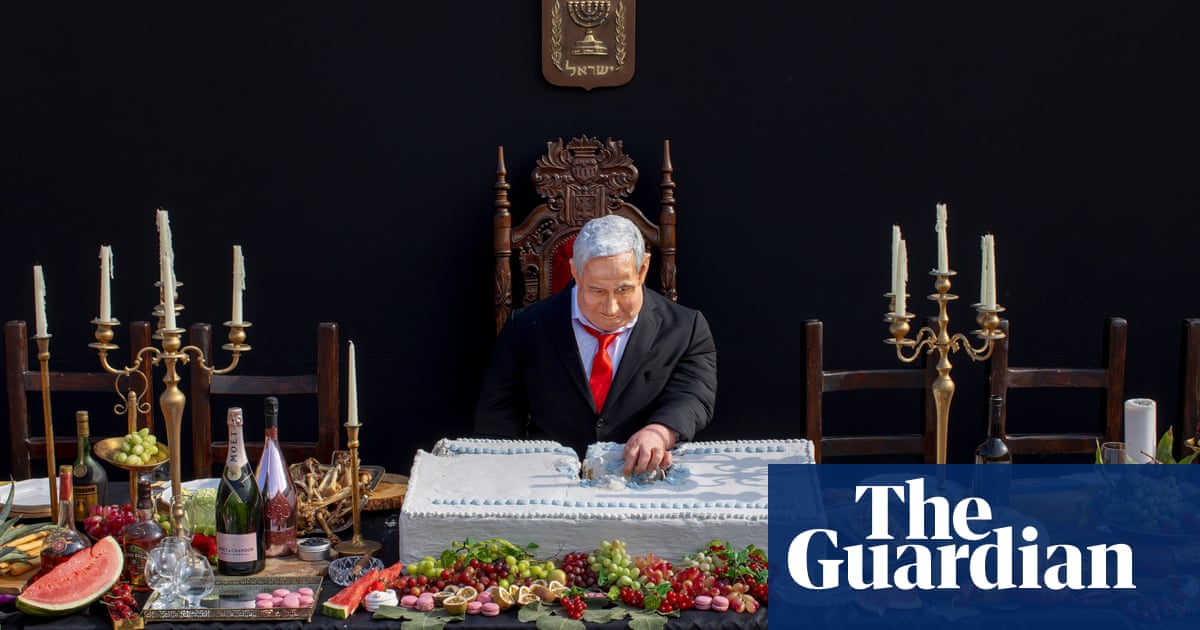 A giant frosted cake, Moët champagne and pink macrons on a giant sculpture of Benjamin Netanyahu have troubled the Israeli leader, who described the final Supper-inspired artwork as equivalent to a death threat.
Appearing in Tel Aviv overnight, a life-size pop-up demonstration was held in the wake of a series of demonstrations calling for the 70-year-old prime minister to resign.
Netanyahu is facing an ongoing corruption trial and accusations of undemocratic power to remain in a high position. To ease its woes, an increase in coronovirus infections has raised unemployment to 21%, with public anger focused on the government's response to the epidemic.
Exhibited at Rabin Square, the focal point of the city's displays, the installation depicts Netanyahu alone on a 10-meter-long table, surrounded by medieval feast of candles and fruits and pastries.
Inspired by the 15th-century Leonardo da Vinci mural, the spread includes pink champagne and cigars, charged with corruption charges. One of the three cases against him alleges that his family received luxury gifts from two wealthy businessmen. Netanyahu denies all wrongdoing.
On Wednesday, Israel's longest serving leader said that a mock tableau of Jesus' last meal before his assassination was equivalent to a death threat, as it was implied that he was heading for the same fate.
There is no scope for provoking and threatening against me and my family today in Tel Aviv. said On twitter
However, the artist, Itte Zalit, stated that the fake banquet meant the ultimate proponent for democratic freedom for Israelis.
"You have seen the Prime Minister of Israel sitting in the center of the table and grabbing and sucking this rich food among yourself," Zalit told the Associated Press. "Now he has practically finished this meal, and he is now in the sweet phase, referring to the last time we can do something to save Israel's democracy."
Zalim is famous for its life-size political art in the country. In 2016, he designed a gold statue of Netanyahu, which he said was blind support for the Israeli leader.
Two years later, he installed a statue of Netanyahu's associate and former culture minister, Miri Regev, staring at him in a full-length mirror. The artwork followed a draft law that campaigned that public funds would be cut for cultural organizations accused of not showing "loyalty" to the state.
Regev, who remains in the cabinet as transport minister, also criticized Zalit's latest performance as a provocation.
"Is anyone suggesting that the Prime Minister's future will be that of the diner at the last meal?" She Wrote on twitter. "It is only a matter of time until the hanging and rope is performed."
The Associated Press contributed to this report.
.