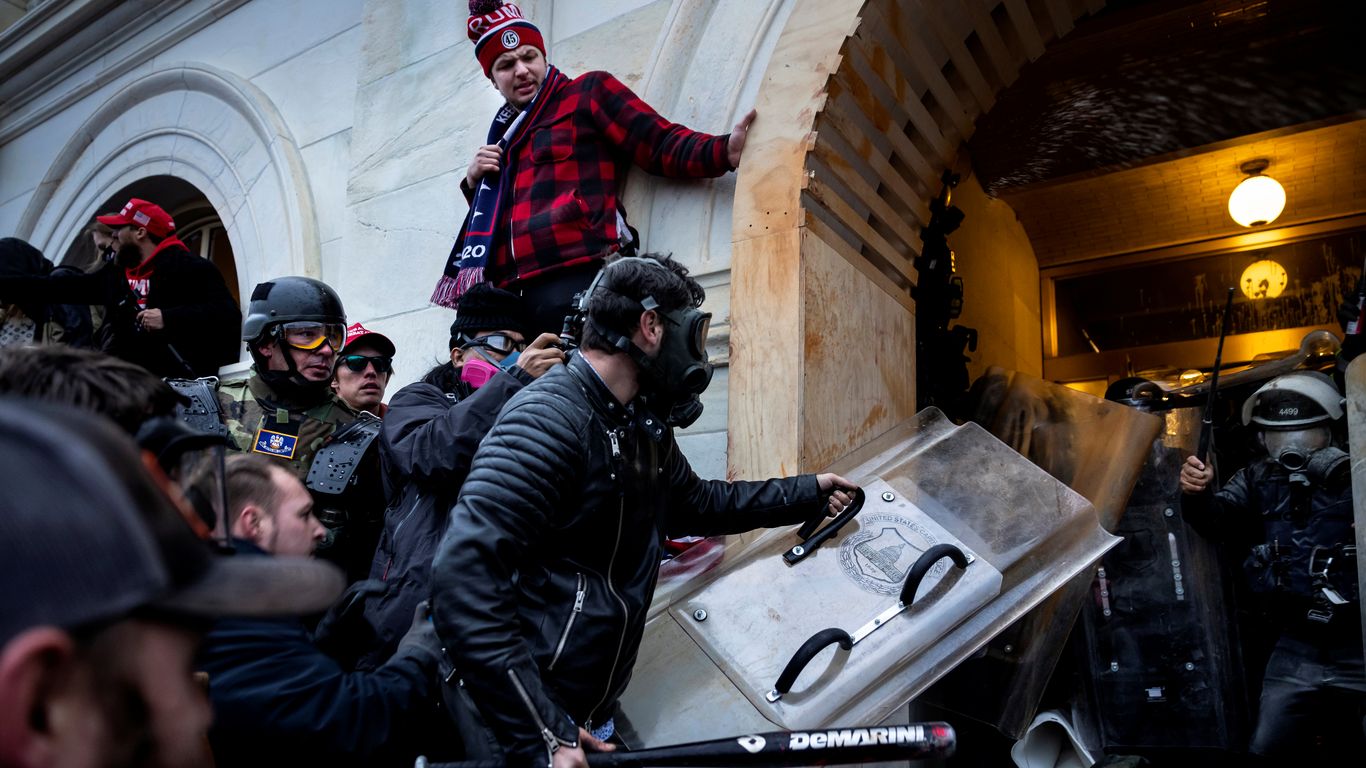 Timothy Hale-Cusanelli, a U.S. Army reservist and Navy security contractor who was arrested for allegedly violating the Capitol during the Jan. 6 riots, was a known white supremacist, federal prosecutors said Friday, as reported. for the first time by Politico.
Because it is important: "Not only is the defendant's white supremacist and Nazi sympathizer ideology obvious from the evidence, that same ideology fuels the defendant's enthusiasm for another Civil War," prosecutors said.
Hale-Cusanelli allegedly discussed his hatred of Jews, minorities and women while working as a security contractor at Earle Naval Weapons Station in Monmouth County, New Jersey.
Context: A new filing from federal prosecutors on Friday included the results of a Naval Criminal Investigation Service investigation into Hale-Cusanelli.
The investigation included interviews with 44 of Hale-Cusanelli's colleagues, 34 of whom agreed that he had "extremist or radical views on the Jewish people, minorities and women."
What they are saying: One of Hale-Cusanelli's colleagues said the defendant had "shaved off facial hair on a 'Hitler mustache,'" and prosecutors pulled photos of the mustache from Hale-Cusanelli's phone.
A Navy noncommissioned officer told investigators they recalled that Hale-Cusanelli said: "Hitler should have finished the job."
The panorama: Hale-Cusanelli's case has received attention from the military due to his reservist status and his employment at a military installation and underscores the challenges the Department of Defense faces in attempting to combat extremist ideologies within the ranks of the military.
The Pentagon reported this month that domestic extremist groups have attempted to recruit active and former military members into their ranks.
Several ex-military and police officers participated in the January 6 riot on Capitol Hill, which the FBI classified as internal terrorism.
Defense Secretary Lloyd Austin last month ordered commanders and supervisors to finally hold a one-day "pullout" to discuss extremism within the military.