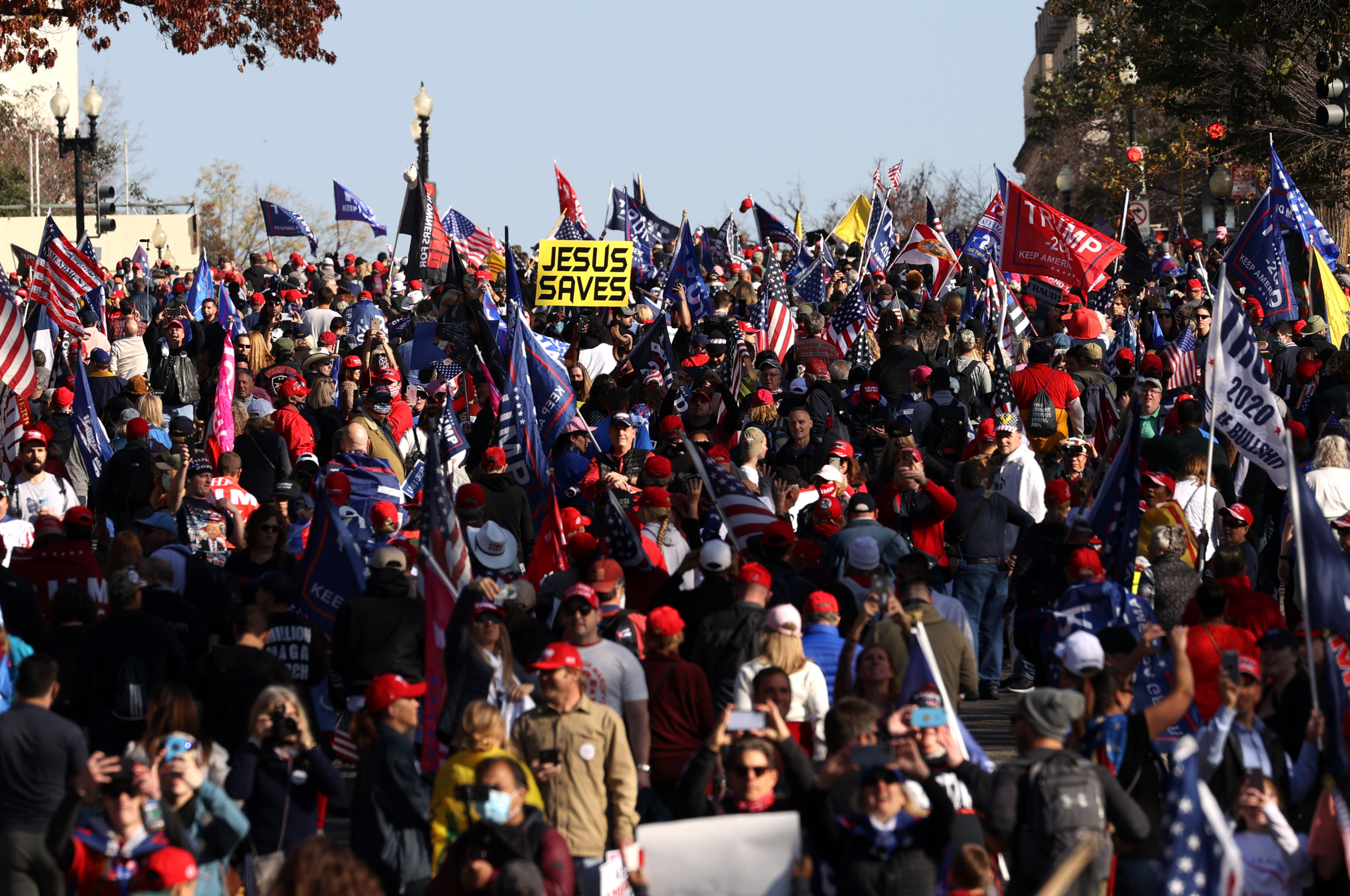 DC chanted "fake news" during a report on the incident by Alison Barber of MSNBC, the demonstrator on Saturday's "Million Maga March" in Washington.
Speaking to MSNBC anchor Alex Witt, Barber described the scene. As she began to explain that the "Million Maga March" was organized by several groups, she was interrupted by the chanting.
"We started seeing posts on social media — it started with a group known as Proud Boy, stating that they wanted people to come to this rally. If that name sounds familiar to you , So it's because President Trump first mentioned him. The president debated. They are a far-right extremist group; we saw dozens of people gather near us just before this live shot, "said Barber , Before the chanting begins.
"The crowd here is chanting" fake news, fake news ". As our fans you can't tell – which is fine, as long as they give us a little space, "she said." It's hostile to us, at least to us. They are following us and chasing us, leaving us behind. "
Newsweek Reached MSNBC for comment.
The "Million Maga March", as it is dubbed, borrows its name from the 1995 Washingtonian Black Men's "Million Man March", D.C. Saturday's march is part of several events at Freedom Plaza. Planned events include a "Stop the Steel" protest and "a march for Trump", citing President Donald Trump's claims that the election was concerned with fraud to win the president from winning the election. Trump's claims have been made without proof.
In addition to the Proud Boys – a group that advocates legal advocacy, Southern Poverty Law Center (SPLC), a hate group – Heath Keepers and Three Percenters also have a large presence. The SPLC has described both these groups as "retaliatory militias". Speakers include congressman-elect Marjorie Taylor-Green, who publicly endorsed the QAnon conspiracy theory, as well as Mike Kernovich and Jack Posobike, who have presented correct figures.
Trump suggested on Friday that he could make an appearance at the event, tweeting, "Heartfelt wishes to everyone to get tremendous support from there, especially organic rallies settling across the country, including DC on Saturday at a big Also included. May even try to stop and say hello. This election was rigged, from Dominion up and down! "
Trump sent his motorcycle through a crowd of applause and applause, but he did not stop and speak at the event. The President said "We will win!" Saying, also retweeted a video of the protesters singing the national anthem.
White House press secretary Kayle McNee tweeted that a million people turned out for the "Million Maga March", however, local officials estimate the number was closer to one thousand.