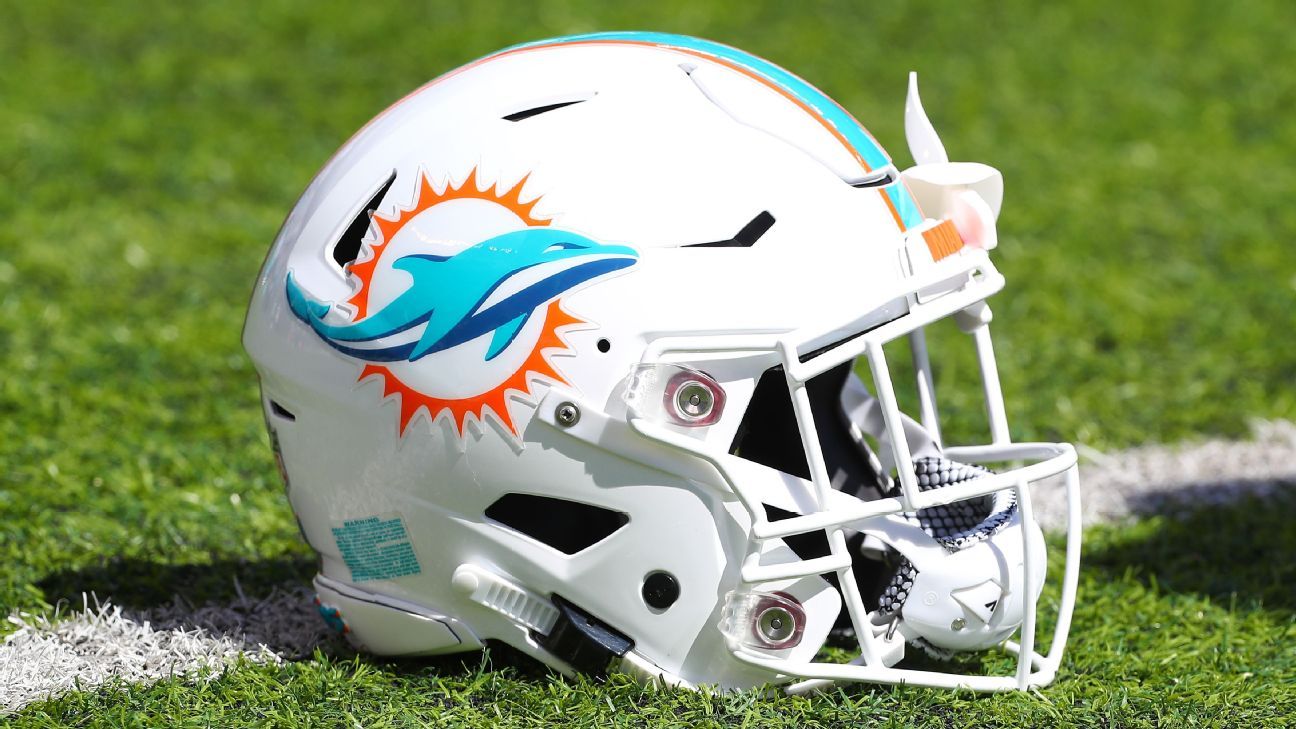 The Miami Dolphins have decided to stay inside during both the "The Star-Spangled Banner" and "Lift Every Voice and Sing" during the 2020 NFL season, issuing a message on Thursday in action instead of symbolic gestures in social and racial battles demanded. Injustice and police brutality.
"Lift Every Voice and Sing" traditionally known as the Black National Anthem is expected to live or play before 1 NFL game every week, among other measures by the league to identify victims of police brutality to be done. The league's discussions previously revealed to The Unfind.
Several of the Dolphin players combined in 2 minutes, 17 seconds, "This effort to unite only creates more division. So we'll leave this song and dance, and as a team we'll stay in." Video released on thursday. "We need to change hearts, not just a reaction to pressure. Enough, no more fluff and empty gestures. We need big bosses and pockets with our influence to summon officials and flex political power."
BREAKING NEWS: The@MiamiDolphins The players will be inside for both national anthems. They express their dissatisfaction with what they call "fluff and empty gestures" @NFL pic.twitter.com/ghUktHhPt9

– Jay Williams (@RealJayWilliams) September 10, 2020
In the video, 18 Dolphin players – both black and white – declare that they are fed up with "empty gestures" that are the result of the current movement for change, and demand that team owners create political and legislative changes Be actively involved They also speak of prison reform, justice against police barbarity, and an acknowledgment of "millions for prelims patriotism", which refers to the NFL receiving at least $ 5 million from the US military, which last Gives salutes to soldiers in a decade.
The Dolphins are the first team to collectively make a statement about the protest during the national anthem this season. Players included in the video are: defensive lineman Christian Wilkins, Devon Godchaux and Shake Lawson, offensive linemen Ted Currus and Jessie Davis, linebackers Kyle Van Noy and Elandon Roberts, safari Bobby McCain, Eric Rowe and Kevon Frazier, cornerback Byron Jones and Jemal Perry. , Tight ends Mike Gesicki and Durham Smythe, wide receivers Preston Williams and Isaiah Ford, and running backs Matt Breida and Patrick Laird.
His overwhelming message is dissatisfaction with the current state of America and how black people are treated in particular. He said he hopes to shift the conversation away from the national anthem to meaningful change.
"We don't need another promotional parade," McCain says. "If you speak for change, I'll shut up and play."
Adds Roberts: "So if my father was a soldier, but the policemen killed my brother, would I stand for one anthem and kneel for another?"
At the end of the video, Dolphins coach Brian Flores appears supporting his players and providing a message: "Before the media thinks and guesses, they answered all your questions. We'll be in now."
The next focus, along with NFL play beginning this week, is to avoid spreading the movement amid football's distracting. Players are expected to continue pressure on the league and ownership to be active in real change.
Dolphin players have been at the forefront of the athlete activism movement in the past, along with former players Kenny Stiles, Michael Thomas, Arian Foster and Jelani Jenkins, to follow Kolin Kaepernick in kneeling during the national anthem for social and racial attention. Injustice and vandalism of the police in 2016.
.