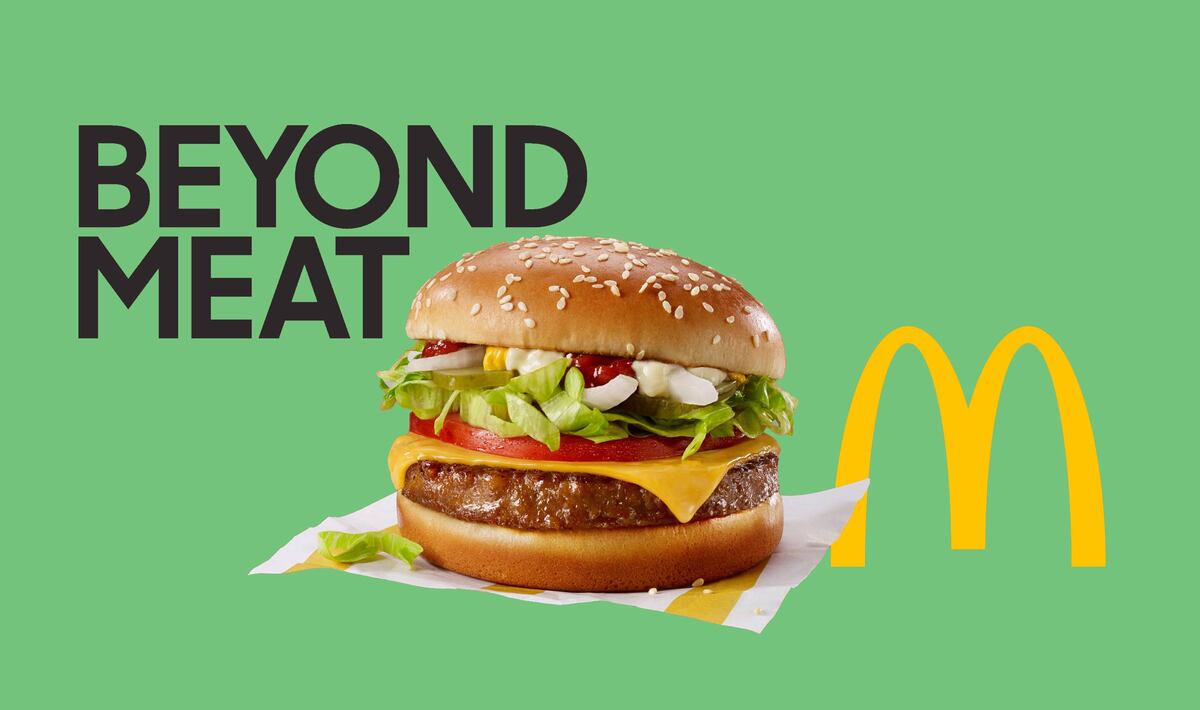 Today, vegan brand Beyond Meat announced that it has entered into a three-year global strategic partnership with fast food chain McDonald's. Through the partnership, Beyond Meat will help McDonald's develop new plant-based menu options through its recently announced McPlant platform. "Our new McPlant platform is about giving customers more choice when they visit McDonald's," said Francesca DeBiase, McDonald's Executive Vice President and Chief Supply Chain Officer. "We are excited to be working with Beyond Meat to drive innovation in this space, and celebrating this strategic agreement is an important step in our journey to provide our customers with delicious, high-quality, plant-based dishes."
McDonald's bets on vegetable products
In 2019, McDonald's began testing the PLT (Plant, Lettuce and Tomato) burger made in association with Beyond Meat at select locations in Ontario, Canada. Shortly after the trial concluded, McDonald's announced that it was launching the "McPlant" platform, which will be used to develop future plant-based items for its menus around the world, beginning with the McPlant hamburger. This month, McDonald's launched the McPlant Burger at test locations in Sweden (Linköping and Helsingborg) through March 15 and at select locations in Denmark through April 12, with the goal of rolling out the meatless burger to McDonald's locations. in other markets. While McDonald's was initially hesitant to confirm that Beyond Meat was behind its McPlant burger, the new partnership solidifies Beyond Meat as the chain's preferred plant-based supplier.
Under the agreement, Beyond Meat and McDonald's will also explore co-development options such as plant-based chicken, pork and egg under the McPlant platform. "We are proud to celebrate this global strategic agreement with McDonald's, an exciting milestone for Beyond Meat, and we look forward to serving McDonald's as they bring more choice to menus globally," said Beyond Meat Founder and CEO Ethan Brown. . "We will combine the power of Beyond Meat's fast and relentless approach to innovation with the strength of the global McDonald's brand to introduce new plant-based menu items that consumers will love."
KFC, Pizza Hut and Pepsi go further
Brown announced the McDonald's partnership during the Beyond Meat earnings call today, where he also revealed that the vegan brand inked a similar partnership with Yum! Brands. Under this agreement, Beyond Meat will also work with the KFC and Pizza Hut chains, owned by Yum!, To develop future plant-based options. Last month, Beyond Meat also created a joint corporation, The PLANeT Partnership, with food and beverage giant PepsiCo. Through the company, Beyond Meat and Pepsi will develop, produce and market plant-based snacks and beverages.
"These deals are huge," Brown said during the call. "They are the most important offers that could be made in food in our sector."
I love the plant-based lifestyle as much as we?
Get the best vegan recipes, travel, celebrity interviews, product selections, and much more within each number of VegNews Magazine. Find out why VegNews is the Plant Based Magazine # 1 subscribing today!
Subscribe