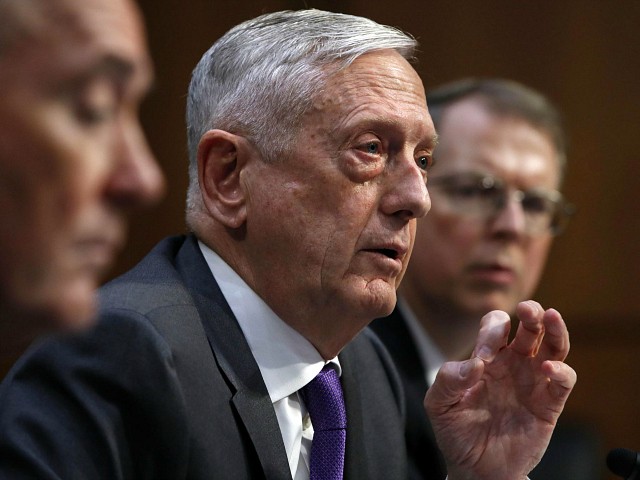 ON BOARD OF A MILITARY AIRCRAFT – Defense Secretary Jim Mattis said on Sunday that US troops were not leaving South Korea, despite speculation that the United States would not be allowed to leave South Korea. UU It could reduce its presence in the middle of negotiations with North Korea.
"I'll say it again, I'm not making news here, the same thing, we're not going anywhere, it's not even a matter of debate," Mattis told reporters on the plane en route from Singapore to Washington.
There has been some confusion over whether the presence of US troops in South Korea of ​​approximately 28,500 people would be affected by negotiations between the United States and North Korea.
The United States wants North Korea to completely denuclearize itself, and the North Koreans want, among others, that US troops leave the peninsula.
Mattis said during a speech on Saturday at the Shangri-La Dialogue, an annual defense forum, that US troops there would not be at the negotiating table on June 12, but suggested that they might come up in subsequent rounds of talks.
"Obviously, if diplomats can do their job, if we can reduce the threat If we can restore confidence-building measures with something verifiable, then, of course, these kinds of issues can emerge later between two sovereign democracies: the Republic of Korea and the United States, but that problem is not on the table here in Singapore on the 12th, nor should it be, "he said.
And Mattis also said on Sunday that the US military presence. UU It could be "pending review" in five years by the US. UU and South Korea.
"If within five years, in ten years, it could be pending review, that would be between a democracy called the Republic of Korea and a democracy called the United States of America," he said. .
For now, he said, there might even be more troops entering.
"I saw the Canadian minister at a breakfast this morning, I'm right behind this lieutenant general, I mean, you … these nations are even putting people in. They're talking about bringing light infantry, other troops of your own to show Basically, we're all standing together, "he said.
Mattis also referred to his comment on Sunday, where he said along with his counterparts in Japan and South Korea that the road to negotiations will be, "in the best of cases, a rough road."
"Do you remember how we went crazy? My God, it goes off when a bad letter comes in. And immediately it activates again? Welcome to reality, you know," he said.
"Only on television everything goes, and everything fits and all that," said Mattis. "I do not think they've ever been in an international negotiation, we have more experience, obviously, than many people putting something like that together, so yes, it's going to be an accident."
Source link