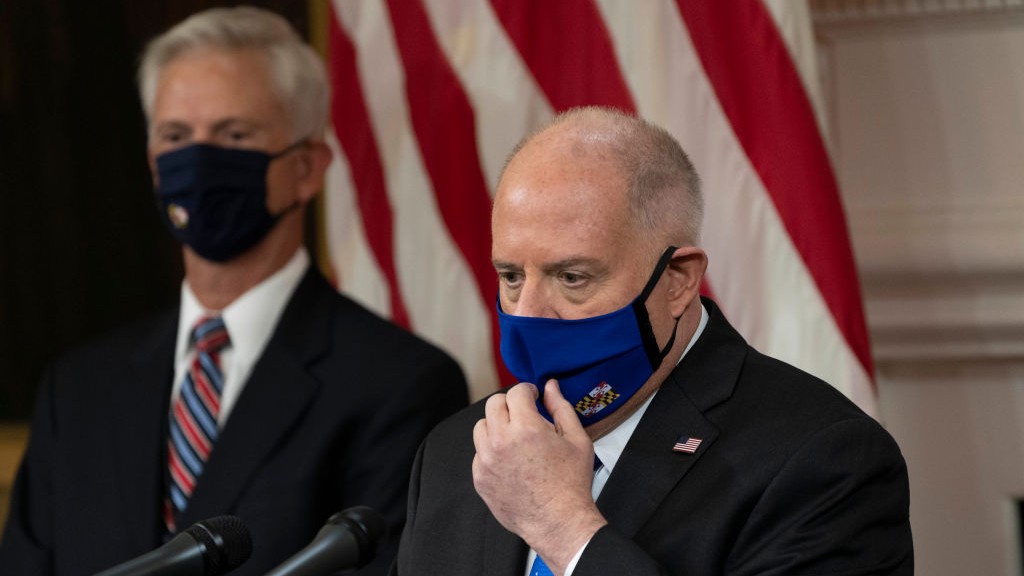 As coronovirus cases and hospitalizations reach crisis levels and many hospitals approach their potential, Maryland will tighten restrictions on businesses, bars and restaurants.
Bars and restaurants must end all dine-in service after 10 pm, but takeout and delivery service will still be allowed. Retail businesses, religious institutions and gyms should limit capacity to 50% in one rollback for two levels.
The new restrictions will apply at 5 pm on Friday.
Download our free NBC Washington app to get the latest local news and weather for iOS or Android.
State health officials have seen an increase in the number of virus cases involving bars and restaurants, and residents are not choosing to stay indoors.
"We have seen widespread failure to follow statewide public health advice," Hogan said.
Larry Hogan announced the new restrictions at a news conference Tuesday afternoon.
He stressed against misinformation about the virus and requested residents to stop people getting sick, hospitalized and dying.
Hogan said that wearing masks "does not limit your right to infect other people".
Coronavirus is real and it is killing a growing number of people in Maryland and nationwide.
"This is not fake news. It is not the flu. It is not just going to disappear, "the governor said.
Hogan said fans would not be allowed at sports stadiums or race tracks.
The state also took health-related steps in hospitals and nursing homes. Hospital visits are prohibited with the exceptions of children's parents, obstetricians and people with disabilities.
Nursing home staff should undergo testing twice a week for COVID-19. Residents should be screened weekly. Indoor visits to nursing homes will be limited to compassionate care, and visitors must have evidence of a negative Kovid test result.
Hospitals that are at or near their capacity limits can transfer patients to hospitals that can provide the necessary care. Additionally, hospitals are ordered to avoid elective procedures that require prolonged ventilation, ICU admission or skilled nursing care.
Maryland has seen how many people are diagnosed with the virus and how many are hospitalized. The average of seven days in new cases was 1,871 compared to Tuesday, which is about 600 more cases than the previous week. 1,046 people were hospitalized later this summer. Another 26 people were declared dead.
As of last Wednesday evening, Hogan had already reduced indoor operations for bars and restaurants from 75% to 50%.
Individual courts announced their own tight restrictions earlier this month, including the counties of Frederick, Montgomery and Prince George.
An order was made to remain in Maryland from mid-March to mid-May and some particularly difficult areas chose to keep it for a long time.
Stay tuned with NBC Washington for more information on this developing story.
.