[ad_1]
LOS ANGELES — The pitching match up for the first ever World Series Game 7 at Dodger Stadium will pit a brash 24-year-old son of a major leaguer versus the veteran trade acquisition who has spent just three months in a Dodgers uniform.
Lance McCullers Jr. will take the mound for the Astros while the Dodgers will go with Yu Darvish, both who are hoping to rebound from rocky performances earlier in the series.
Darvish quickly exited the clubhouse after the Dodgers' 3-1 win Tuesday night before the rest of his teammates had even finished showering, but McCullers went out to right field and played catch, going through his pitches as fans were still exiting the ballpark.
"I was in the bullpen toward the end, that's why I had to throw on the field postgame, just because I hadn't thrown yet, because I was hot and ready to go, if the situation came up where they needed me."
1 Related
McCullers started Game 3 of the World Series, but struggled with his command and walked four batters in 5.1 innings as he gave up three runs, although getting credit for the win in Houston's 5-3 win. He said that experience will help.
"I learned I wasn't very sharp," he said after Game 6. "I knew that early, though. So I knew it was going to be a grind for me pretty much the whole outing, which it was. This is a very good-hitting team. They're patient but they'll make you pay for mistakes. So I have to go out there and, just execute my game plan. And I need to execute a little better in certain spots."
The Astros' plan is to have everyone available behind McCullers, which means Game 6 starter Justin Verlander could pitch and that Game 5 starter Dallas Keuchel will definitely be ready to go in the bullpen.
"I think all of our guys will have the adrenaline on their side," Astros manager A.J. Hinch said. "They are all going to be ready."
Verlander will be a game time decision if he can give the Astros a batter or, maybe in the extreme, an inning. He threw 93 pitches in Game 6 and said he will play catch prior to Game 7 to evaluate how his right arm feels.
"I think it depends on when I get to the ballpark," Verlander said. "I'll throw the ball and see if I'm available or not."
Keuchel, who started Game 5 on Sunday in Houston, will be available, likely for 30 or 40 pitches, because normally during the season, after two days rest, Wednesday would be his throw day. Keuchel would not put a pitch limit on how much he could be used.
"It's Game 7, I'll empty the tank," Keuchel said.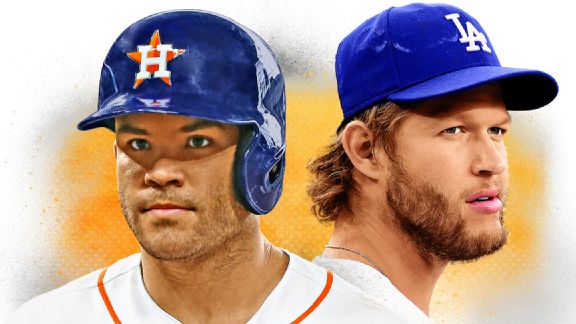 Keep up with the latest as baseball's top teams contend for the title.
• Ultimate playoff guide » | WS Picks »
• Dodgers beat Astros' best, force Game 7 »
• Your moment-by-moment WS MVP »
• Game 5 shows up Game 2 craziness »
• Can L.A. rebound? Puig guarantees it »
• Is the World Series baseball too slick? »
• Insider: Projections » | Player ranking »
• Schedule » | Complete coverage »
The Astros didn't use relievers Brad Peabad, Will Harris or Chris Devenski in Game 6. With two days of rest, those three are expected to be fully available. Ken Giles, Houston's struggling closer, also didn't pitch in Game 6, but it would seem unlikely that Hinch would go to Giles unless he was forced to by the game's circumstances.
Darvish also struggled in Game 3, with both fastball command and the grip on his slider and lasted just five outs as the Astros pounded him for six hits and four runs. He threw 49 pitches in the outing and induced just two swings-and-misses out of 26 total swings. In the second inning, the Astros hit seven line drives off him, two of them hard outs.
After Game 6, Darvish addressed his Game 3 performance.
"After the first two games I heard that [Dallas] Keuchel and [Justin] Verlander were talking about the ball was flying, and I knew that. But before the bullpen on towards the third game, I threw a bullpen session with a regular-season ball. I didn't really realize until I got to the mound, and I knew that my slider wasn't breaking and sharp. And after the game I came back and I realized that my slider, I couldn't finish my pitches. I couldn't get that final touch. And then it just didn't make sense.
"And then I read about the ball being slick. And I really didn't know if it was my physical thing and mechanical adjustment that I had to make or the ball. I can't really say it. But that's it. And I just need to learn from it and go tomorrow night."
Darvish did use a World Series ball in his bullpen session prior to Tuesday's game and said his slider was "better."
Should the Darvish struggle, the Dodgers could go to their ace, Clayton Kershaw. He was in the bullpen in Game 6 and will definitely be down there in Game 7.
"Same thing as tonight," he said after Game 6. "I'll be in the bullpen and ready to go in the first inning. Whatever they need."
Kershaw joked that he could give the team 27 innings. He would be pitching on two days of rest after throwing 94 pitches in Game 5, when he allowed six runs in 4.2 innings.
If he makes an appearance, it would be a similar scenario to 2015, when Madison Bumgarner started Game 5 for the Giants and then threw the final five innings in relief as the Giants beat the Royals 3-2, or last season, when Jon Lester started Game 5 for the Cubs and threw three innings and 55 pitches in Game 7.
Brandon Morrow has appeared in all six games for the Dodgers, but threw just 14 pitches in Game 6.
Kenley Jansen threw two innings on Tuesday, but retired all six batters he faced while throwing an efficient 19 pitches. Considering the quick hooks Dave Roberts has employed all postseason with his starters, the expectation is Darvish probably won't pitch deep into the game, so the Dodgers will likely use some combo of Kershaw, Morrow and Tony Watson before going to Jansen.
Kenta Maeda has thrown 81 pitches since Game 3, so would be on a very short leash to face a right-handed batter or two. Darvish went five-plus innings and 6.1 inning in his starts in the NLDS and NLCS, throwing 74 and 81 pitches while allowing one run each game.
"We're the two best teams in baseball," McCullers said. "I think that has been solidified by how amazing this series has been. And I expect all of our guys to come to the park ready to win tomorrow, just like I would expect all of them to come into the park ready to win tomorrow. Which is what I think is what makes this series so great, is you've got two teams with a bunch of dogs in the clubhouse. No one is afraid to back down. And I expect a great Game 7."
[ad_2]
Source link