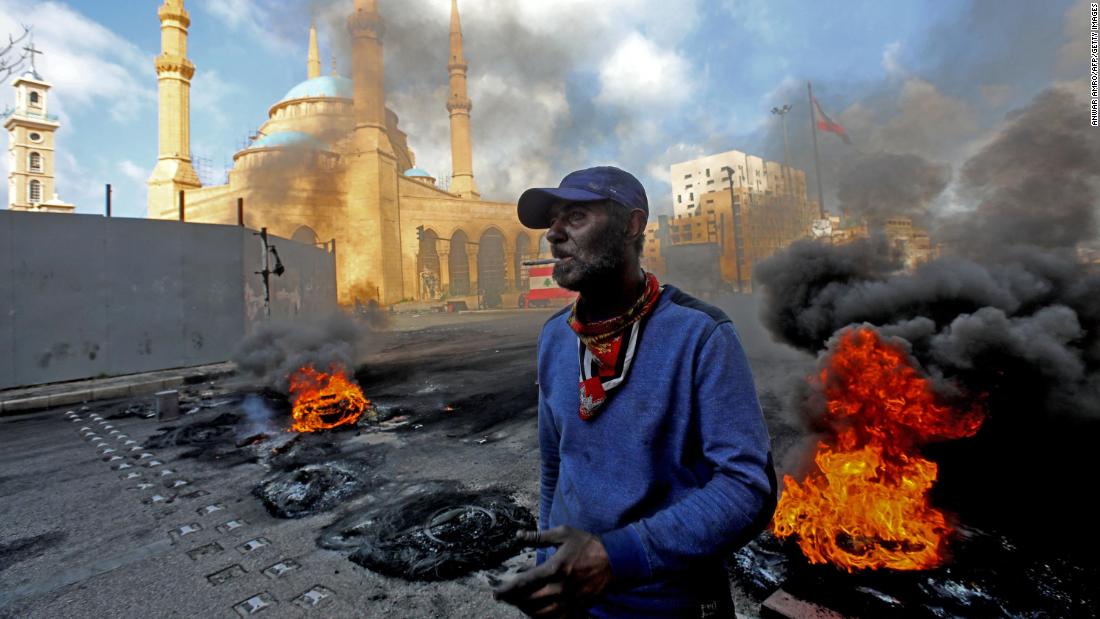 Hellish scenes threaten to get worse.
Increasingly, Lebanese officials and politicians raise the specter of internal conflict. This comes just 31 years after the end of the country's horrific 15-year civil war. That black chapter came to an end with a modus vivendi that critics say systematized government corruption, culminating in a financial collapse that has brought Lebanon, once again, to the brink.
In a statement to CNN this week, Lebanon's interim interior minister, Mohammed Fahmi, said there was an increased likelihood of "security breaches such as explosions and assassination attempts" in the country.
That fear is shared by many high-profile politicians who cite conversations with intelligence agents. In a televised speech on Wednesday, Iranian-backed Hezbollah Secretary General Hassan Nasrallah also warned of civil war, drew a grim prognosis for the security situation and called on the country's fractured political class to come together to curb the financial nosedive.
But on the streets of Lebanon, that same political elite is overwhelmingly unpopular. Even the most fervent supporters of the dominant parties are calling for an overhaul of the country's confessional power-sharing system, which allocates seats by sectarian groups. MPs publicly admit their failures and some of them say they too should resign. Left-wing groups, such as the communist party, have called for an "escalation" in the country's popular uprising, which began in October 2019 with the aim of overthrowing the ruling class.
But there is little or no agreement on the future of governance in the country. A cabinet formation process has been stalled for four months by disputes between Prime Minister-designate Saad Hariri and President Michel Aoun. Hariri has vowed that his future government will halt Lebanon's collapse and re-engage with the International Monetary Fund (IMF), which last year halted negotiations with the government on a bailout.
But Hariri faces the daunting task of ushering in poignant economic reforms at a time when his popular tenure has dramatically diminished. The fledgling parties that have emerged in recent years in an attempt to replace the elite also appear to lack the necessary political clout to dislodge the status quo.
That leadership crisis has exacerbated Lebanon's financial problems on a spectacular scale. In its fall 2020 report, the World Bank described Lebanon's economic depression as "deliberate."
The report details exactly what that means: a rapid slowdown in economic growth, a sinking currency, small depositors bearing most of the economic losses, a surprising depletion of the country's resources, including its human capital, and a poverty rate that will exceed 50% in 2021..
The catastrophe could have been largely avoided, says the World Bank. Lebanon's leaders, to the surprise of even some of the most cynical observers, have steered clear of enacting policies that could mitigate financial decline.
The state has done little or nothing to alleviate poverty. No formal capital controls have been put in place, nearly a year and a half after banks began limiting cash withdrawals to depositors on a discretionary basis. That practice led to capital flight from the super-rich, while the working and middle classes watched helplessly as their deposits lost most of their real value.
The country also does not have an official exchange rate platform, leaving the lira plummeting at the mercy of dark black markets and the ever-present possibility of currency manipulation.
The economic outlook is getting bleaker almost daily. The country's black market currency has now lost 90% of its October 2019 value. As Lebanon depletes its foreign exchange reserves, Acting Energy Minister Raymond Ghajar raised the possibility of 24-hour power outages. , 7 days a week during a press this month, plunging the country into "total darkness."
Subsidies for food, fuel and medicine that served as the country's lifeboat could also disappear soon. This week, Acting Prime Minister Hassan Diab said Lebanon would cut those subsidies, adding that most of them could only be sustained until June.
The loss of subsidies could be the watershed moment that threatens to lead Lebanon into scenarios similar to Venezuela's, exacerbating existing food, fuel and medicine shortages.
Families living on a minimum wage, now less than $ 50 a month, will not be able to afford staples as inflation soars. Already tense security forces, grappling with the frustrations of their newly impoverished bases, will have to contend with rising crime rates and the possibility that long-simmering political tensions will come to a head.
The only ray of hope is the possibility of an imminent political resolution that in turn produces an efficient and effective government. But to most of those familiar with the largely miserable track record of the political elite, this seems like a pipe dream. In the absence of leadership, the economy could continue to plunge into the unknown.