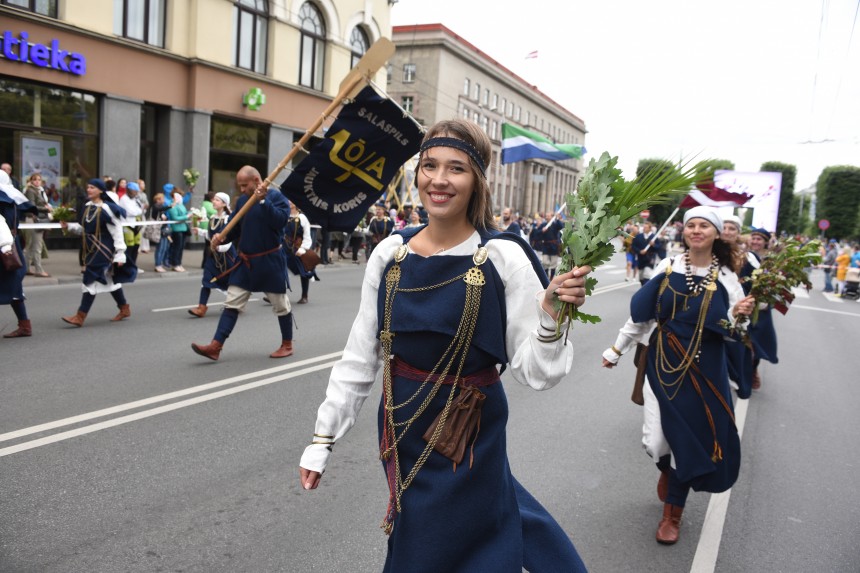 Riga this week is filled with a special atmosphere and an all-round vibrant holiday feeling – the XXVI General Latvian Song and XVI Dance Celebration have begun.
Song and Dance Celebration this week in Riga has gathered several tens of thousands of festive performers – additional vehicles, including large buses for festive occasions, and the number of people in the city is definitely felt, especially around the venues. It is clear that this has also caused a number of inconveniences for the inhabitants of Riga in particular, who live near the holidays, and are on a daily basis able to move and park their vehicles without additional restrictions. The traffic has become slower and in many places in Riga, from June 30 until July 9, significant traffic restrictions are set. The biggest restrictions are scheduled from July 7 to 9 in the vicinity of Mezaparks and the Daugava stadium, but during the week until July 9, it is forbidden to stop and stand in different sections of the downtown district. We pay attention – if drivers leave their cars in parking lots, where this week it is forbidden, a fine will be imposed and these vehicles will be evacuated to another free parking place. We invite citizens to be tolerant and understandable about these restrictions during the holidays.
Also, before going on the road, we invite you to get acquainted with the traffic restrictions, schedule another route and calculate additional time on the road. If there are additional questions or uncertainties about traffic restrictions in Riga, contact the Free Information Phone of the Traffic Control Center: 80003600, as well as traffic restrictions you can find here: http://rdsd.lv/jaunumi/2018/06/dziesmu-un-deju- svetku-laika-riga-expected-vital-traffic-restrictions
Among these participants of the Song and Dance Festival there are also children for whom security should be considered especially. We invite parents and children representatives to recite what to do if they happen, for example, to get lost from their collective. We also remind our parents that they are delivering daily and expecting their matches at the venue for them in Riga – talk with their collective representatives, not only leave the children to the venue. This way, you will avoid cases when a child may be lost in search of a place of worship. Also on these festivities, after the festive procession and opening ceremony at the event, the order guards helped some of the fallen party participants find their own collectives and parents.
We also encourage you to have a mobile phone with each child and contact him if necessary. The phone may be hanged in a wallet in the neck or hidden in an inner pocket – it will definitely not dazzle the glitter of the people's wear, but will be very useful for the child if there is an urgent need. We also invite other party members and team leaders to agree on appointments, exchange contact lenses, and speak out a plan of action in situations when they happen to happen or delay.
Unfortunately, we have also received an application for the theft of personal belongings from the venue, therefore, we are calling actors to protect their belongings and leave them unattended! On the other hand, if you lose your belongings, they can immediately be seen on the organizers' information boards located at the venues, and later they will be transferred to the nearest police station. It should also be noted that there are also a number of limitations in the major venues for the introduction of various objects in the area, such as umbrellas, food, beverages, etc. A list of all these things can be found on the Song Celebration homepage.
Again draw attention: during the holidays drones – no! The festival is filmed from the top only by a co-ordinated official barefoot aircraft, from which the material obtained will be usable without copyright restrictions, with reference to the photo / video of the archive of the Latvian National Cultural Center. Any other use of unauthorized unmanned aerial vehicles is prohibited and punishable. We control! It should be noted, however, that any participant or viewer may both shoot and take a photo of a holiday (without trippers), the restriction applies directly to the drones.
On the other hand, they are concerned about the safety of the participants and visitors of the Song and Dance Celebration and the peaceful, beautiful feast, this week in all Police and other operational services will be on duty at the festivities. In the event of a breakdown of your team or any misfortune, we encourage you to contact one of the service representatives – we will help!
We will take the rules, take care of ourselves and the safety of our people, we will be understandable and tolerant – so that we all succeed and beautiful these celebration!
Source link