[ad_1]
Khloé Kardashian may have just won the unofficial title of Queen of Halloween with her couple's costume with beau Tristan Thompson. And in the process, Khloé Kardashian may have also confirmed reports that she is pregnant. The reality star has been living it up in Cleveland, Ohio, seeing as Thompson is busy being one of the star players on the Cleveland Cavaliers, and the couple attended fellow player LeBron James' party. To get in the spirit, Kardashian and Thompson dressed to the nines in some truly spectacular costumes, which she let fans see on her Snapchat. The two dressed as Khal Drogo and Khaleesi, aka Daenarys Targaryen, and honestly, their costumes are top-notch. And they also might feature some pregnancy clues.
It's not that surprising that Kardashian went all-out for her Game of Thrones inspired costume, she's said before that she has a bit of an "obsession" with the series after watching it with Thompson. And, in case you're forgetting all of the craziness of Season 1 of Game of Thrones, Daenarys and Khal Drogo were married and expecting a child (even though, in true Thrones fashion, things didn't end so well for them). Were Kardashian and Tristan's costumes a subtle way to announce things? Maybe, but that's not the only clue from Kardashian's Halloween Snapchats.
In response to the below photo, posted to Kardashian's Snapchat, some fans are saying that she could be sporting a bit of a baby bump underneath her Queen of the Seven Kingdoms garb. One fan tweeted about the snapchats that, "khloe kardashian def looks pregnant in that snap". Another said on Twitter, "The fact that @khloekardashian dressed up as pregnant khaleesi…" along with some excited emojis.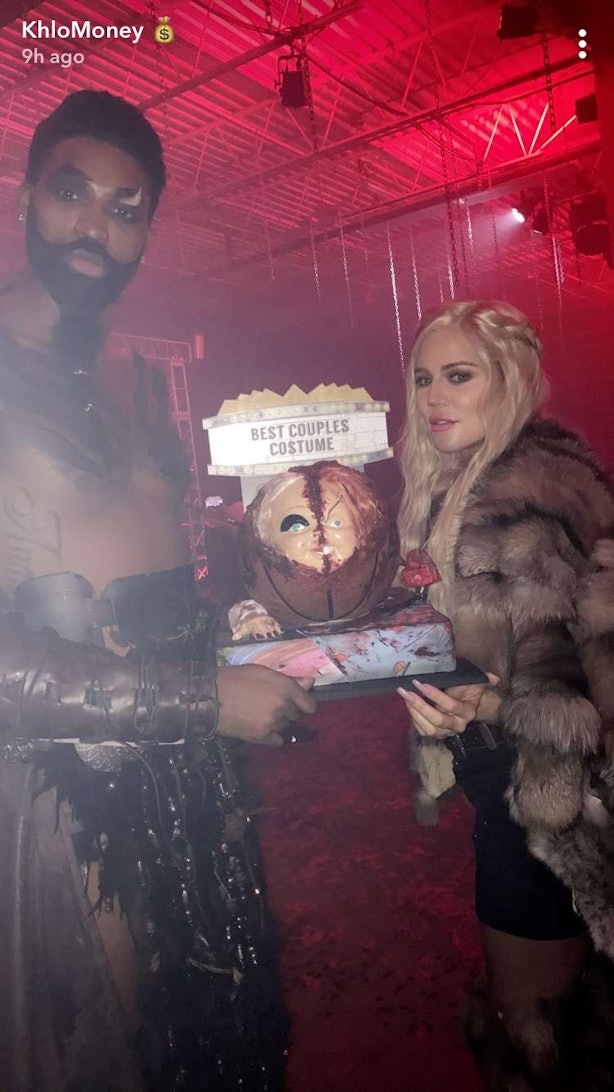 In case Kardashian dressed as a possibly "pregnant Khaleesi" isn't enough of a confirmation, she also posted a snap of Thompson with the caption, "That's daddy."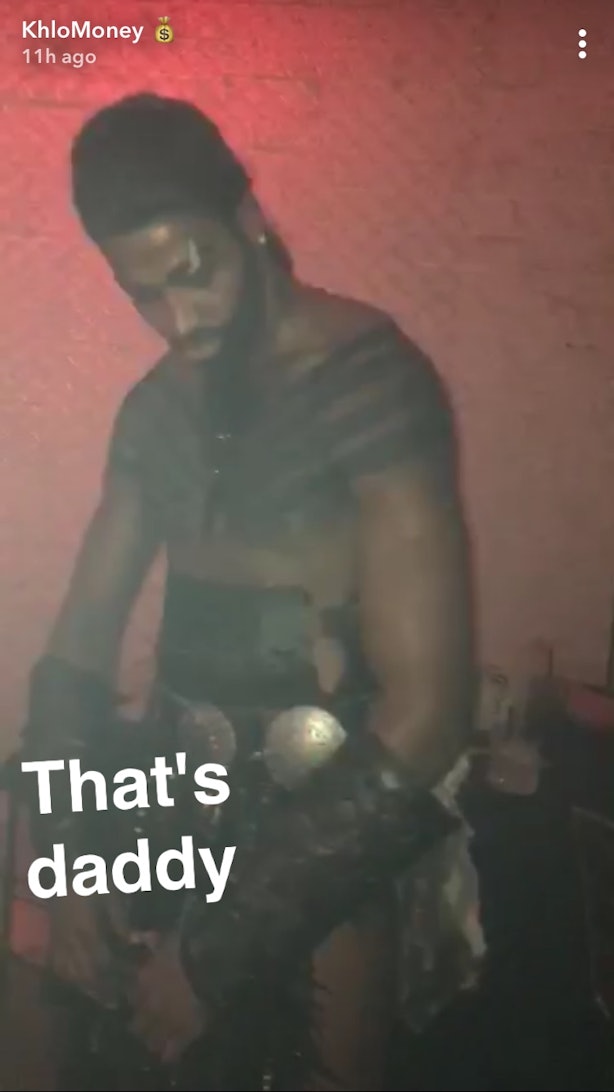 This isn't the first time that Kardashian has referred to her man as "dad" in one of her captions. In June, the Keeping Up With the Kardashians star posted a photo that showed Polaroids of herself and Thompson with the caption "mom and dad."
The picture was posted in June, which would coincide with when she was supposedly first pregnant (she was four months along as of September 2017, according to Us Weekly). Maybe she's posting these kinds of captions as a way to subtly confirm that the two are expecting a baby — a baby boy according to Us Weekly.
Even if Kardashian's Snapchat posts aren't an all-out confirmation that she is pregnant, some fans were simply too impressed with the couple's Halloween costumes to even care about whether she posted a Snapchat featuring her baby bump. As shown in one of Kardashian's photos, their costumes were so great that the two even won the Best Couples' Costume at the event they attended. One fan tweeted, "Omfg @khloekardashian & @RealTristan13 are dressed up as characters from Game of Thrones. I AM SHOOK, YASSS KOKO!!!" Another fan said on Twitter, "Omg, @khloekardashian and @RealTristan13 are Khaleesi and Khal Drogo for Halloween. Goals…level 100″. One Kardashian fan said, "I love that @khloekardashian and Tristan were Daenarys and Drogo … so cute!!! #SunAndStars". And this fan summed it up well with:
It's so fun to see Kardashian and Thompson out and about in their Game of Thrones costumes and getting in the Halloween spirit. They truly deserved their award for Best Couple's Costume. And if their costumes were also a subtle way of announcing that the two are expecting their own heir to the Iron Throne? Well, that's just a fun bonus.
')}()}()

[ad_2]
Source link