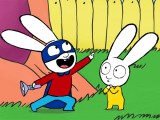 Paris-based producer and distributor GO-N Productions will launch a series of preschool Simon on the CTV RTVE channel of Radiotelevision Espanola in 2019.
Based on a series of books by Stephanie Blake, Simon (52 x five minutes) It has to do with a little rabbit who challenges his parents, school life and the world in general as he grows up. Co-produced by GO-N Productions and France Télévisions, the second season currently in production. The Christmas themed episodes completed will be broadcast on France Télévisions, TF1 and Lagardere in France in time for the holiday season of 2018.
GO-N International, the commercial arm of GO-N Productions, also signed an agreement with El Ocho to manage the Spanish and Portuguese licenses for the property. The agreement with Clan takes place immediately after the transmission agreements with Netflix (worldwide), NHK (Japan), Disney Junior (Southeast Asia and LatAm), Channel 5 (United Kingdom), NRK (Norway), RUV (Iceland), RTS (Switzerland). ), HOP (Israel), ERR (Estonia), Jetsen Huashi Wangju Kids (China) and TV5 (worldwide).
Simon It is also available on TVE (Spain), Cartoonito (Italy), Cartoon Network (EMEA), Télé-Québec (Canada), SVT (Sweden), YLE (Finland), VRT Ketnet (Belgium), Super RTL and KIKA (Germany) , BBC (United Kingdom and world) and Disney Channel (world).
Source link