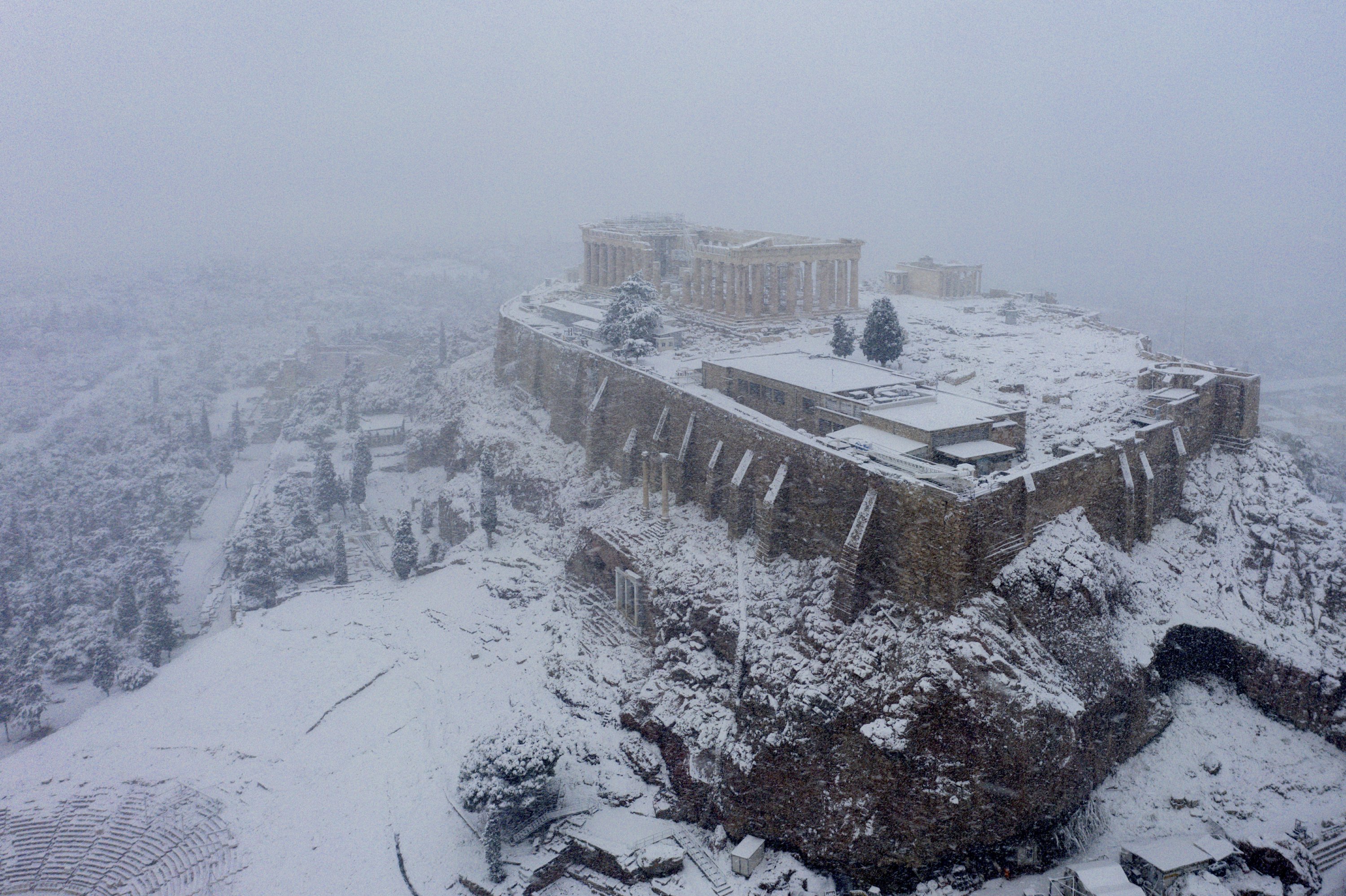 ATHENS, Greece (AP) – Heavy snow covered the Acropolis and other ancient monuments in Athens and halted COVID-19 vaccines in the Greek capital on Tuesday as many services across the country came to a halt.
Snow, an unusual sight in the city of more than 3 million people, also stopped most public transportation services, while downed trees caused blackouts in several suburbs in the mountains.
Sections of Greece's main highway were also closed, most ferry services to the islands were canceled, and flights from regional airports to Athens were interrupted.
Fire Service spokesman Vassilis Vathrakoyiannis said the service had received more than 600 calls for assistance in the Athens metropolitan area.
"The calls mainly concerned downed trees and transporting people trapped in their vehicles to safety, but also transporting kidney dialysis patients for treatment," he told state television.
"Vaccines have been postponed, but we have helped transport doctors and medical personnel to where they are needed and we have helped power technicians reach pylons in areas where access was difficult," he said.
Power and water outages were also reported in central Greece, and Prime Minister Kyriakos Mitsotakis was meeting with emergency response leaders to assist residents in darkened areas and snow-isolated villages.
Snow is common in the mountains of Greece and in the north of the country, but it is much rarer in the capital, especially heavy snowfall. On balconies and in the streets, some Athenians cautiously stepped outside, taking photos.
The snow came as Athens and other parts of Greece remain locked in due to a recent surge in coronavirus infections. The closure closed schools, most stores, and kept residents indoors during the nightly curfew.
Some kids skipped online classes Tuesday to play in the snow.
Outside Parliament, in the city center, orange snowplows cleared the streets of ice and snow, while presidential guards, dressed in traditional pleated kilts and pom-pom-tipped shoes, were given thick woolen coats. to face the cold.
The cold snap, which has already caused snowstorms across much of Europe, kept temperatures around freezing in Athens on Tuesday, but was expected to rise sharply with highs of 14 degrees Celsius (57 degrees Fahrenheit) for Thursday. ___ Follow Becatoros at https://twitter.com/ElenaBec and Gatopoulos at https://twitter.com/dgatopoulos ___ Thanassis Stavrakis, Petros Giannakouris and Srdjan Nedeljkovic in Athens contributed.