In its February Short-Term Energy Outlook (STEO), the EIA forecasts this month's global oil consumption at 96.7 million barrels per day (mbpd). The supply of oil, however, is much lower, just 93.6 mbpd, with the difference of 3.1 mbpd necessarily being drawn from crude oil and refined products inventories. By historical standards, a sustained extraction of 3 mbpd is large and we would expect prices to rise in such circumstances.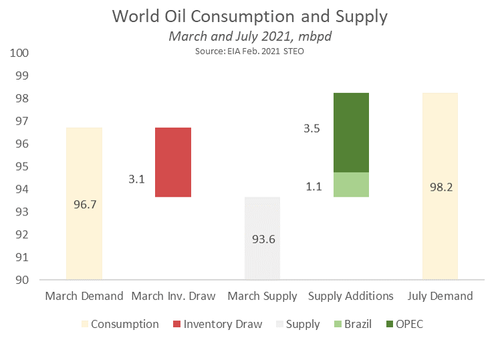 The EIA forecasts that demand will continue to recover apace until mid-year, with global oil consumption forecast in July at 98.2 mbpd (but still some 4 mbpd below "normal"). This incremental demand is being materially supplied by two sources, Brazil and OPEC. We could accept Brazil's crude oil production growth as given, letting the timing be a month or two. Instead, the fundamental question is OPEC's intentions.
The EIA uses a volume (or demand) driven model, which implies that OPEC will passively increase production to meet demand and thus keep oil prices low. But why would OPEC do this? If OPEC simply maintained current production levels, the world would be out of supply at 3.5 mbpd by the middle of the year. A deficit of 3.5 mbpd, 3.6% of world consumption, is a lot. It would quickly drain any remaining inventory surpluses, leaving only oil prices to mediate between supply and demand, just as the global economy is showing strength and momentum as the pandemic ends. In other words, in the coming months consumers will be prepared to compete for available barrels of oil, and that should send oil prices up sharply.
Related Video: Can the Saudis Defend Aramco From the Houthis?

That's the '$ 100 / barrel' thesis.
Some Important Notes and Warnings. In many cases, traders must commit to producing barrels before knowing what the price will be. In this case, OPEC can allow prices to rise and add barrels at its discretion. This gives OPEC great control and flexibility over oil prices. Certainly higher oil prices are better, but more barrels can be added on fairly short notice if OPEC believes the market is overheating. This should encourage OPEC to test higher and higher price levels.
And, of course, Middle East politics are complicated. The complex interaction of Iran, Saudi Arabia and the United States can produce unexpected results. If Iran were more composed, it could probably get the United States back to some sort of deal in no time, thus freeing up Tehran to increase oil exports and lower oil prices. On the other hand, the Houthis' attack on Saudi Arabia's oil facilities at the Ras Tanura cargo port may push the Saudis back into America's embrace and motivate the Kingdom to keep oil prices lower in order to win. the favor of the Biden administration.
It is difficult to know where the balance comes out. However, now is OPEC's best opportunity to earn real money in the short and medium term. They would be foolish to pass up the opportunity.
For Steven Kopits of Princeton Energy Advisors via Zerohedge.com
More top reads from Oil.eu: