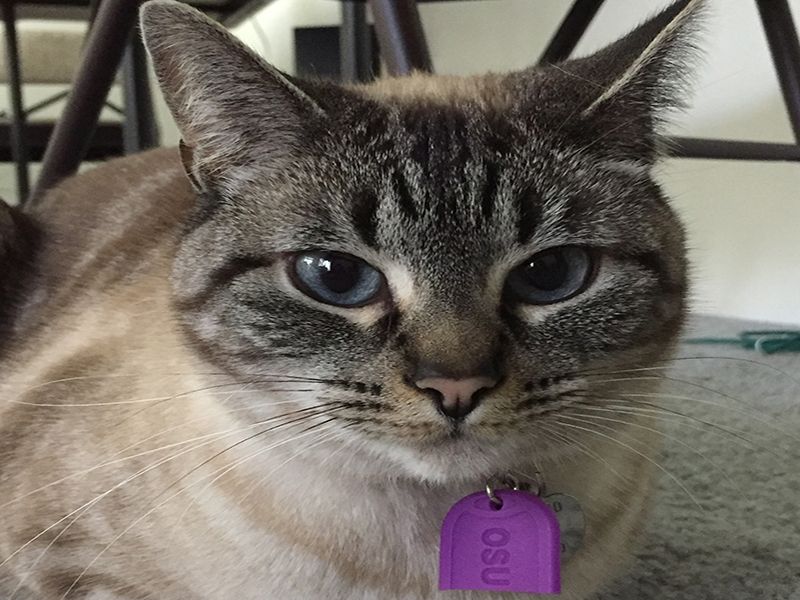 Cat wearing one of the tags used in the study.
In Spanish
WEDNESDAY, July 10, 2019 (HealthDay News) – Will the new flame retardants used in many household products make cats sick?
A new study says that it is possible.
According to researchers, the rates of hyperthyroidism, the most common endocrine disease among older cats, have skyrocketed since the first case was diagnosed in 1979.
Cats with the disease experience weight loss, increased appetite and increased thirst and urination. Symptoms may also include vomiting, diarrhea and hyperactivity.
Scientists have long suspected that the increase in cases is related to new flame retardants in homes, the study authors noted in a press release from the American Chemical Society.
In 2004, flame retardants of polybrominated diphenyl ethers (PBDEs) began to be phased out gradually due to environmental and health problems. They were replaced by alternatives, including organophosphorus esters (OPEs), such as tris (1,3-dichloroisopropyl) phosphate (TDCIPP).
The researchers explained that the research had linked PBDEs (known endocrine disrupters) with hyperthyroidism in cats, but OPEs had not been investigated in that context.
In this study, toxicology researcher Kim Anderson of Oregon State University in Corvallis, Oregon, and colleagues observed 78 house cats who were 7 years old or older. Half of the cats had hyperthyroidism and the other half did not. The cats were equipped with silicone pet tags that can pick up volatile and semi-volatile organic compounds.
Silicone wristbands have been used in previous studies to assess people's exposure to chemicals.
The cats in this study used the silicone labels for seven days. Then, the researchers analyzed the labels and found higher levels of TDCIPP on the labels of cats with hyperthyroidism.
Among cats without hyperthyroidism, there was a relationship between exposure to TDCIPP and the concentrations of the cats of a hormone that is elevated in hyperthyroidism.
The highest levels of TDCIPP on cat tags were associated with the use of air fresheners in the home, houses built since 2005 and a preference for naps on upholstered furniture, according to the researchers.
The study was published on July 10 in the journal. Environmental Science and Technology.
More information
For more information on feline hyperthyroidism, visit the Faculty of Veterinary Medicine at Cornell University.
SOURCE: American Chemical Society, press release, July 10, 2019
Last update:
Source link