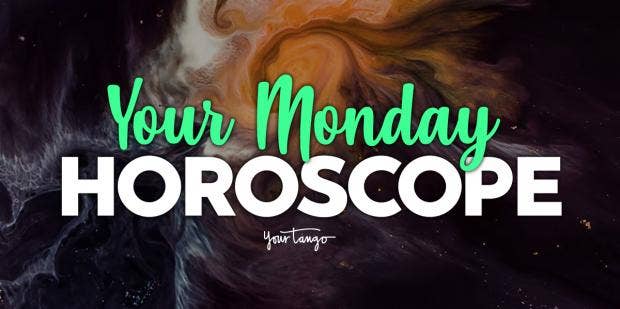 Your horoscope for today, February 15, 2021, is here with an astrological forecast for all the signs of the zodiac as of this Monday.
It's a great energetic day at the beginning of the week.
The Sun will spend the day in the zodiac sign of Aquarius.
The Moon will start the day in the zodiac sign of Aries after an emotional weekend in the zodiac sign of Pisces.
The Moon spends the day in Aries geared towards action, but not everything is ready for rock and roll, at least not without a game plan.
The Aries Moon will square the stern of Saturn in Aquarius keeping things under control, it is a good idea to double check your schedule before scheduling things last minute.
If your birthday is today:
If February 15 is your birthday, you are a sign of the Aquarius zodiac ruled by the planet Uranus.
You love trying new things. You are always ready for an adventure.
You learn by doing things yourself. Sometimes you can be unpredictable.
Aquarius celebrities who share your birthday include American actor and comedian Chris Farley, and American women's rights activist Susan B. Anthony.
You are more compatible with the zodiac signs Gemini, Libra and Aquarius.
This is what all zodiac signs can expect from today's astrology and horoscopes on Monday, February 15, 2021.
Today's horoscope for Aries (March 21 – April 19)
The Moon remains in the zodiac sign of Aries, and this can bring out the warrior in you. Evaluate your role in a difficult situation, especially if you feel attacked.
It is never too late to review things or admit when things are not right and you want to improve them.
Take responsibility for your part in the process and ask for suggestions on how to work on the issue.
Today's horoscope for Taurus (April 20 – May 20)
The Moon in Aries will give you a watchful eye for the worst situations you have to handle.
The energy is there for you if you need it to do something difficult. You are emotionally charged and you won't find it difficult to put forward an idea and make an opportunity happen, even when it doesn't come naturally.
Team projects and things that require more than one person involved can play a role.
Review who is most helpful and take note. Some people may be more accessible to help at this time.
Today's horoscope for Gemini (May 21 – June 20)
You might be surprised to find that not everyone thinks the same way as you do when the Moon is in the sign of Aries.
Even playful jokes can lead to a disagreement. Don't take the bait. Arguing with a dumb person will get you nowhere, so don't even waste your time.
You have more important things to do while your ruling planet, Mercury, is in retrograde.
Get on with your shadow work and be aware of what you are thinking and why.
Today's Horoscope for Cancer (June 21 – July 22)
It's easy for you to make a quick, solid first impression on people you meet for the first time.
You may find that you have strong allies in your network.
This is a good time to search for career opportunities or solicit leads for sales or business opportunities.
Today's horoscope for Leo (July 23 – August 22)
You are motivated and driven by career success, and it has the potential to have a positive impact on the work you are doing now.
If you've been working remotely during the pandemic, try not to work too much at home.
You may be prone to reviewing, revisiting, and finding new things to do.
Try not to waste your energy concentrating only on tasks.
Channel some of what you long for for success into social activities or sport this week.
Today's horoscope for Virgo (August 23 – September 22)
Your mortality and the things that make you leave a legacy may be on your mind this week.
But this doesn't mean you have to feel kinky about it. This is the time to take the initiative and do the things that are important and necessary.
If you don't have a will, compile a list of resources on the web and get quotes for an attorney who can help you.
If you have family photos or things you want to pass on, write down the names of who gets what so you can get the process started.
Today's horoscope for Libra (September 23 – October 22)
Take time for yourself and others while keeping things simple and fun.
As much as you love being with another person, you also long for your time for yourself.
It is a good day to try to find the perfect balance between the time you spend with someone close, but also a little time that you spend on yourself doing the little things you love.
Today's horoscope for Scorpio (October 23 – November 21)
You may easily get bored with things that are routine and uneventful, but try not to let that cause you a problem that you can't handle in a day.
Instead of taking things out to organize the storm, visit a bookstore or a mall and window store.
See things in your neighborhood by taking a walk or driving at night to look at the stars.
Today's horoscope for Sagittarius (November 22 – December 21)
It is a wonderful day to connect with your inner child, or if you have little ones around you, to play and have fun. Color. Painting.
Go to a craft store and find a new project that you like to do.
Do something that fuels your imagination and leads to fantastic dreams and adventures.
Today's horoscope for Capricorn (December 22 – January 19)
It is not always your way or otherwise. You may accept the fact that the people you love don't always bow down just because you want them to.
There can be a showdown of egos if you push your goals or dreams onto someone who just wants to relax and take it easy this week.
Try to stay in line when you have a hard time making things happen.
Today's horoscope for Aquarius (January 20 – February 18)
You can speak impulsively and say too much if you are not careful while the Moon is in your solar house of communication.
Even if you feel agitated and have a reason to be upset, do your best to manage your emotions that could lead to breakups that you really don't want to have in your life.
Today's horoscope for Pisces (February 19 – March 20)
Be careful to spend more than necessary when the Moon is in the sign of Aries.
You will find it hard to resist sales or things that sound so good that you don't want to miss out.
If you're on social media and are easily attracted to marketing ads, put a limit on your spending or simply log out.
Aria Gmitter, MS, MFA, is the lead editor for horoscopes and spirituality at YourTango. She studies at the Midwest School of Astrology and is a member of the South Florida Astrological Association.