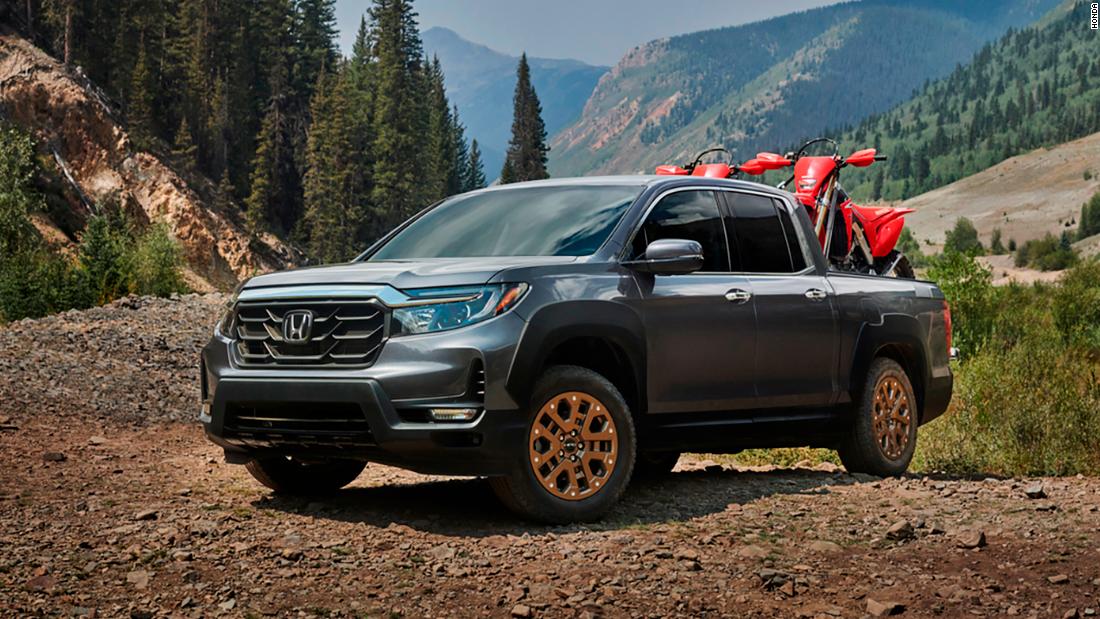 And Honda has Ridgeline.
Okay, maybe the Ridgeline isn't the world's most intimidating truck. It has more of a personality – and engineering – of a tightened crossover SUV with a cargo bed.
However, Honda is getting sick due to being a Mr. Nice cow. So, for starters, the company unveiled a redesigned Ridglin with a larger, vocal grille. Soon, the Honda Pilot and Passport alike are about to get a more aggressive look. (The CR-V, America's second bestselling SUV after the Toyota Ray 4, will retain its friendly design.)
That's also the weird "Bing-bong!" The front door tone is getting a remix as part of a new advertising campaign from every Honda TV commercial. A new commercial show shows Honda SUVs and trucks surrounded by rock-covered mountain roads and, initially, a "bump-bump" bass drum riff that is recognizable as a variant of the Honda Doorbell sound. It is like pounding someone at the door instead.
After that, you hear the deep ringing voice of former WWE pro wrestler John Cena tell you that, if you yourself thought Honda trucks and SUVs were fragile machines, "you would be wrong."
The commercial pilot shows passports and ridglin, mostly, gravel-covered trails. They do not hit the boulder in the trackless desert or eject themselves from axle-deep mud.
No one, even Honda, is claiming that these vehicles are ready to deal with the truly brutally off-roading Jeep that Ford has said Ford Can handle your new Bronco.
"We're not talking about the Rubicon Trail or anything as extreme as that," said J. Joseph, the marketing head of the American Honda Motor Company, referring to the California trail, where Jeep tests its SUV, but Certainly the fire is going on the streets. Or reaching gravel roads or campsite. Our vehicles are a lot more capable than you might already expect. "
In other words, if you want to see what you can do – or not – without stopping, you might just go ahead and get a jeep. But if you want to do outdoor stuff like hiking, dirt biking or camping that takes you down non-stop, then these Honda trucks and SUVs make up for it. This is the message that Honda thinks people must have disappeared because they used their pilots and passports to drive their family and city.
All of this is part of Honda's effort to sell more SUVs and smaller trucks in the market, which makes them hungry.
Overall in the US, SUVs and mid-size pickups made up more than two-thirds of all passenger vehicle sales last year, but only slightly more than half of Honda's US sales. Ridgeline in particular had a much smaller market share than competitors from Toyota, Ford and General Motors, according to data from the automotive website KBB.com. (The comparison is not perfect, Honda says, because competitors offer to take down low-priced trucks, not Honda.)
Still, Honda had 10 straight years of increasing truck and SUV sales in the US, Joseph said. But they made up a small portion of Honda's sales in the American market. Part of this is, of course, because Honda just happens to sell two of the most popular sedans in the US, the Civic and Accord. Last year, according to Edmunds.com, the Honda Civic was the best-selling car in the US and not an SUV.
The fact that other automakers have – largely or even completely – given up on the sedan has helped Honda, but it may not go on forever, Joseph said.
"It gives us some opportunities in the short term," he said, but the long-term trend is that people are more comfortable in light truck vehicles, whether it's packaging or the ability to go anywhere and dream of utility. "
So Honda kills hard dreams. Or at least as difficult as the Honda Ridglin, according to Honda, is much harder.
    .