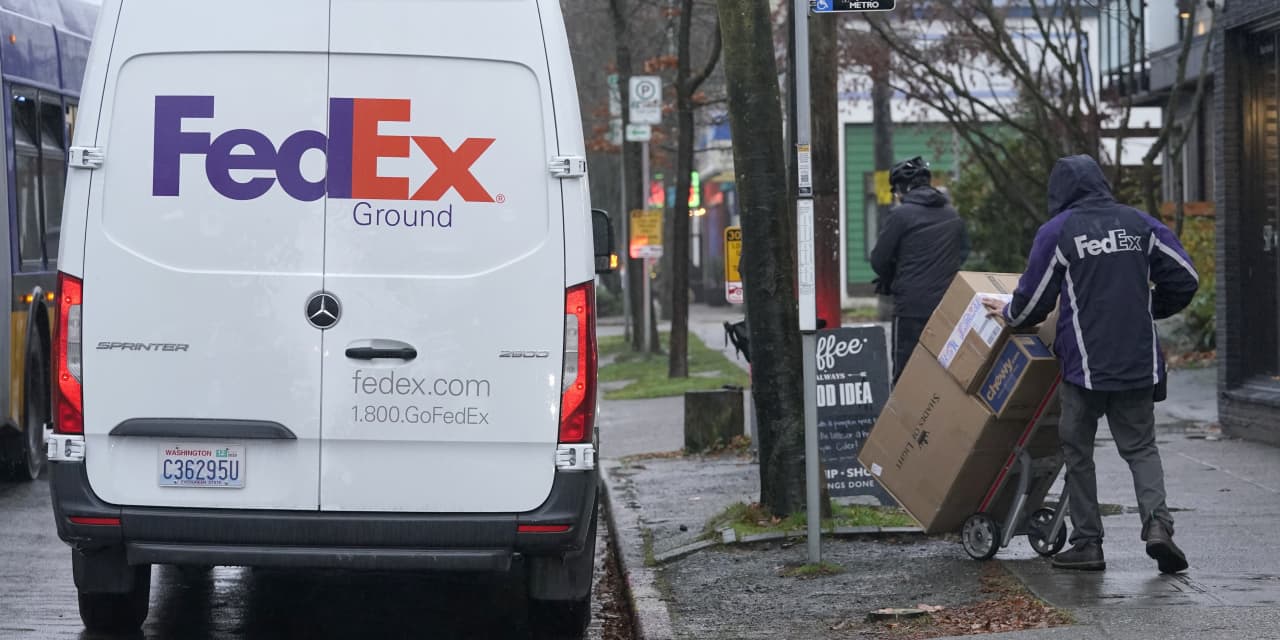 FedEx Corp. reported fiscal third quarter earnings and sales Thursday night that beat Wall Street expectations, saying it expects demand for its logistics and delivery business "to remain very high for the foreseeable future."
FedEx FDX,
-0.88%
said it earned $ 892 million, or $ 3.30 per share, in the quarter, compared to $ 315 million, or $ 1.20 per share, in the third quarter of fiscal 2020. The stock was up nearly 2% in the extended session after the end of the regular trading day down. 0.9%.
Adjusted for one-time items, the logistics giant reported earnings of $ 939 million, or $ 3.47 per share, compared to adjusted EPS of $ 1.41 per share per year.
Revenue increased to $ 21.5 billion from $ 17.5 billion a year ago.
Analysts surveyed by FactSet expected adjusted earnings of $ 3.30 per share on sales of $ 19.97 billion.
The company attributed the increase in profits and sales to "strong volume growth" in US residential package deliveries amid pandemic-related online shopping and FedEx international services. These were partially offset by costs "to support strong demand and expand services, variable compensation expenses, higher labor rates and a shorter operating day," he said.
The company guided fiscal 2021 earnings between $ 16.80 per share and $ 17.40 per share before adjustments related to its retirement plans. He asked for adjusted earnings between $ 17.60 per share and $ 18.20 per share for the year.
Capital spending was estimated at around $ 5.7 billion, an increase from a previous forecast due to changes in the timing of aircraft payments and an "acceleration" in the expansion of ground delivery capacity, it said. .
Severe winter weather in February reduced FedEx's quarterly operating income by an estimated $ 350 million and hampered operations at several of the company's largest facilities, including its main FedEx Express hub in Memphis and FedEx Express hubs. in Indianapolis and North Texas, he said.
The stock has gained 165% in the last 12 months, compared to gains of around 64% for the S&P 500 SPX Index.
-1.48%.