The 12 children and their soccer coach who were recently rescued from a cave in northern Thailand have appeared in video messages from their hospital beds, in which each of them thanked officials and supporters for their help and support.
Interested in
Thailand Cave Rescue?
Add Thailand Cave Rescue as an interest to stay up to date on the latest news, videos and badysis from Thailand Cave Rescue of ABC News.
Patient gowns and surgical masks, the children sat in their beds in a hospital in Chiang Rai province while individually giving brief statements, filmed on Friday and published by officials at a press conference on Saturday.
Adul Sam-on, 14, delivered his in English.
"Hi, I'm Adul," he said to the camera. "Now, I'm very well, I'm very grateful to help me, thank you very much."
The other children, who spoke in Thai, echoed Adul's feelings of gratitude and joy, and mentioned what foods they expected to eat.
"I'm healthy," said Panumas Saengdee, 13. "Thank you for caring about us and coming to help us, do not worry anymore, I'm safe now."
"I want to eat [crispy pork belly stir fry]," said Pornchai Kamluang, 16. "Thank you to everyone who supports and inspires us. We want to thank you."
"I'm healthy," said Sompong Jaiwong, 13. "I want to eat [stir-fried pork with basil and fried egg]I want to thank everyone who supports us and everyone from around the world who comes to help us." Thank you. "
The 25-year-old coach, Ekapol Chanthawong, thanked the doctors, the Royal Thai Navy and the prime minister.
"Now, I'm healthy as usual, I can eat normal," said Ekapol in Thai. "Thanks [everyone] that support us and every ministry that helps me".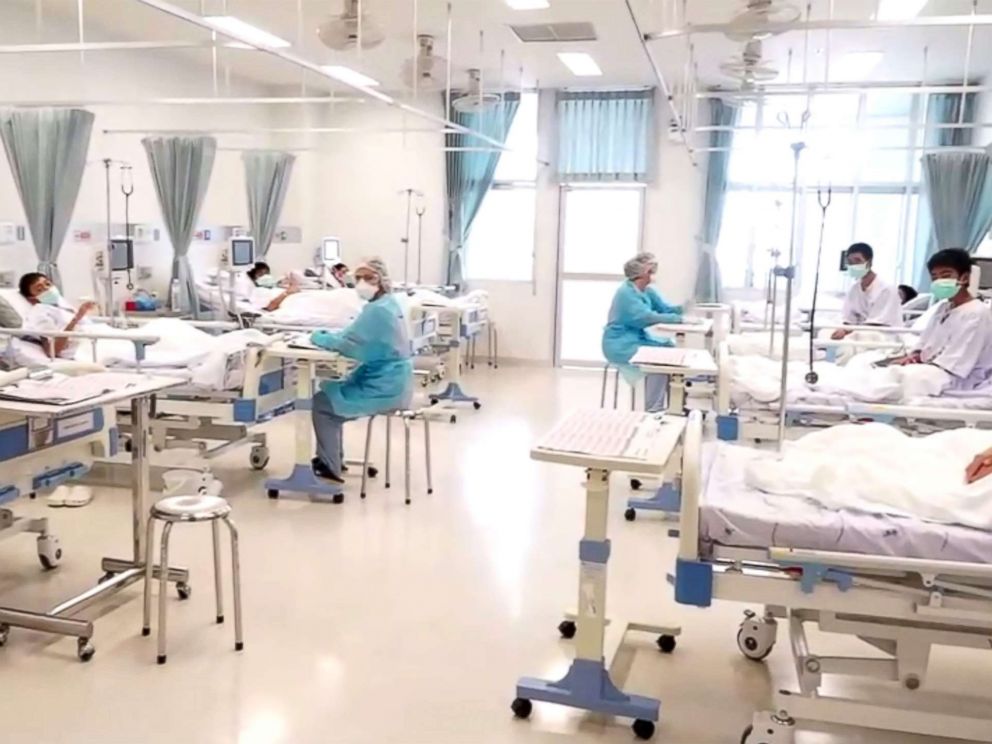 Officials at Chiangrai Prachanukroh Hospital told reporters at Saturday's press conference that the 13 are tentatively scheduled to be discharged on Thursday.
The public health minister of Thailand, Piyasakol Sakolsatayadorn, said the group is "physically active and healthy".
Some of the children lost as much as 11 pounds during their ordeal. Now, most of them have gained 4 pounds each since they were rescued.
"Everyone is healthy, without fever and strong," Piyasakol said in Thai at Saturday's press conference. "Everyone has a good appetite and they want to eat so many types of food."
Piyasakol said that family members no longer need to wear surgical masks when they visit patients and now they can stay by their beds, instead of staying away, a protection against the infection that doctors instituted in the first days after the hospitalized group
The results of the blood tests showed no signs of infectious diseases that they might have contracted during their weeks stranded in the depths of a partially flooded cave near the village of Pong Pha. The group must complete a seven-day cycle of antibiotics prescribed by doctors, according to a statement published Thursday by Jedsada Chokdumrongsuk, permanent secretary of the Ministry of Public Health.