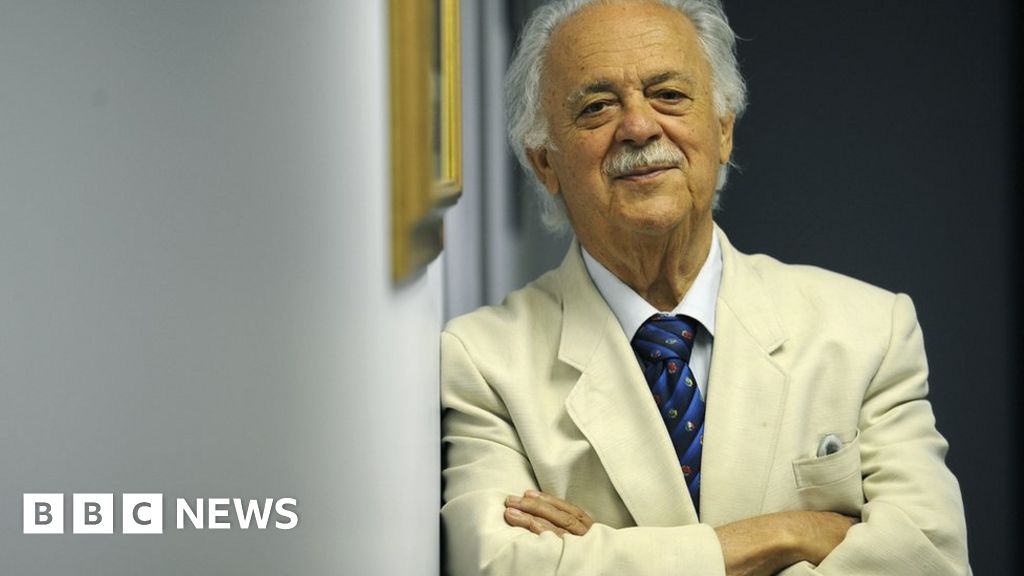 By Andrew Harding
Africa correspondent, BBC News
His soft voice, silver mustache, and gentle demeanor gave George Bizos a lawyer who famously defended Nelson Mandela and died at the age of 92 in the presence of a retired country doctor.
And indeed, personally, he was famously polite and respectful. During the long struggle against apartheid in South Africa there was no air and grain for a man – and no easy retirement – who could easily earn his reputation as a hard-working man.
But for most of the struggles of his generation, a life of service meant just that – a life.
And George Bizos remained active and vocal in his tenth decade.
The air of quiet politics that accompanied him till the end was not false.
But it masked a fierce and unrelenting devotion to justice and human rights, and a belief that the law was a weapon, used correctly, had at least as much power in the form of guns and speeches.
I met him several times in the last two decades of my life to interview him about the stolen elections in Zimbabwe – his simple saying that an election is meaningless until both sides accept the outcome, my Sticking together – fighting over Mandela's desire about his mediating role in a difficult family, and about his determination to fight for justice for the families of those shot by police in the 2012 Marikana murders.
Barrister's instinct
But this is a journey I took with him a decade ago, to remodel my first law office in the middle of Johannesburg, which now comes to mind. I remember after Bizos when she used to move slowly over a shabby looking café in Fox Street.
After passing through the crowd at lunch, Manyata's smile went away after he woke up.
By then, the Chinese man behind was complaining of trouble in the area.
"There's a derelict building on the next block there. Chancellor's House. It's full of criminals," he said.
Bizos' back became straight. His barrister's instinct became cautious.
"That house," he patiently explained, "is occupied by dozens of squatters who have no alternative accommodation.
"They should not be carelessly classified as criminals."
It was a good 50 years since Bizos first bought lunch at this cafe.
He and his friend Nelson Mandela would come at least once a week to pick up a couple of pis and take him back around the corner to Mandela's office.
As a white man – born in Greece – Bijos could eat at the café.
But black people were banned from sitting in those days.
While going out that day, two men in worker's clothes stopped Bijos and asked if they could shake their hands.
'Lots of memories'
Fox Street, a block in front of the magistrate's court, was abusive, a three-story building complaining about a Chinese man.
The walls were blackened by the fire. Half a dozen young men were standing outside it. There was a strong smell of marijuana and rub.
"A lot of memories," Bizos said, smiling at the crowd then slowly climbing the pitch-black staircase of Chancellor's House, to the water-filled landing on the first floor.
Finally – Mandela's office was once opened in Mandela's office, the first black law firm in South Africa – to be surrounded by clients.
At the time the 38-year-old was captured by an old unemployed electrician – Dick McComery – and his growing family. There was a mattress on the floor. Utensils. Drying some clothes by a bordered-up window.
"Sorry," Mr. Macomari said, removing some old newspapers. "This is a special place. I don't have the power to make it any more well."
Bizos looked around in frustration.
"If we had brought Mr. Mandela here now, he would have been heartbroken," he said.
Bijos pointed to a corner of Mr. Macomari's bedroom.
"We want to have a computer here and a library," he said.
There were plans to turn the Chancellor's House into a legal resource center for young black lawyers.
Bizos said, "Not a tombstone, but something alive. Something to honor Mr. Mandela.
Mr. Macomari nodded enthusiastically.
'I hate generalization'
But there was a delay. The city council was supposed to provide alternative accommodation to 60 or so people living in Chancellor House.
But the legal negotiations had lasted for over a decade.
"It's not good for you, and it's not good for Mr. Mandela. The reputation of the city council is for being a little shrill, to say the least. It's almost an uneasiness. Nobody takes responsibility," Said Bijos.
I asked him if the fate of Chancellor House had said anything about modern South Africa – its growing struggle with corruption, poor service delivery and a stable economy.
"I hate generalizations," he said.
And he was right, of course. The Chancellor House will eventually be renovated as he hoped.
Service life
Bizos arrived in South Africa at the age of 13 in 1941, fled from Nazi-occupied Greece
Someone dropped out of education for a while after arriving in Johannesburg with English
He later trained as a lawyer, completing a degree in 1950
Studied at Johannesburg University of Witwatersand, where he met a fellow student, Nelson Mandela.
Represented some of the country's most famous political activists during the apartheid years
Part of the team defending Mandela and others during the 1964 Rivonia Trial when they were accused of overthrowing the apartheid government
Credit for adding the words "if needed" to Mandela's famous speech in the trial, in which he said he was ready to die
Became an architect of the new constitution of South Africa after the end of apartheid in 1994
Represented the families of anti-apartheid activists who were killed during apartheid at the Truth and Reconciliation Commission
In 2004, late Zimbabwean opposition leader Morgan Tsvangirai was acquitted of charges of conspiring to kill then-President Robert Mugabe.
In his last major trials, he received government payments for the families of 34 workers at the Marikana mine killed by South African Kashmir in 2012
We headed east along Fox Street towards the Central Business District.
"Look at this," he said, pointing to Main Street. "It used to be a slum. Now it's like a French boulevard with a cafe on the sidewalk."
You might also be interested in:
Overview: Nelson Mandela

Excerpt: Mandela's Rivonia Speech
And it was true – there were large parts of central Johannesburg, and still changing dramatically.
Crime-chasing businesses are now returning in the 1990s.
A group of lawyers standing outside the magistrate's court all changed and smiled at Bijos as he walked past in the sunshine.
"I am optimistic about South Africa," he said.
"But you should keep in mind that I was optimistic in the 40s and 50s, and the 60s and so on. I have always been optimistic."
Apartheid

Nelson Mandela
South Africa
Obituaries