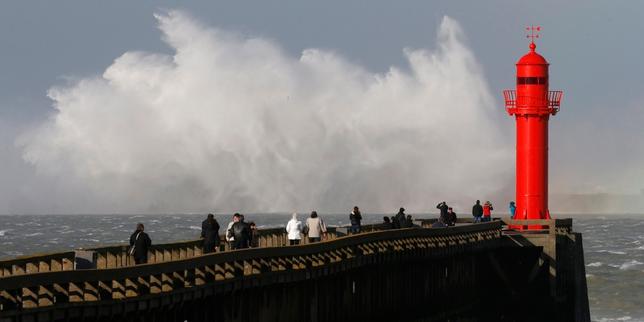 The wind blew at 120 km / h on the French coast. Around 4,000 households were without electricity in Corsica and the North. The Netherlands and Germany are on red alert.
The violent storm David (also called "Friederike") has killed nine people in northern Europe, Thursday, January 18. After Corsica, the Hauts-de-France were swept into the night of Wednesday to Thursday by strong winds caused by the passage of the storm, which also resulted in a significant rainy passage. The North and the Pas-de-Calais, placed in vigilance orange for high winds on Wednesday, experienced gusts up to 122 km / h at Cape Gris-Nez (Pas-de-Calais), reported Thursday Météo France, in its morning bulletin
The two departments were exposed Thursday morning to the strongest winds. Gusts have exceeded 100 km / h in the interior and 120 km / h on the coast. The department of the Somme was also concerned at the margin with gusts near 100 km / h on its coast. The wind was expected to weaken in the late morning and the orange alert was lifted.
Some 3,000 households were deprived of electricity in the north of the country, where orange vigilance for high winds was lifted in the morning.
Netherlands and Germany on red alert
The "Friederike" storm killed nine people, including two firefighters, in northern Europe. A 59-year-old man was killed by the fall of a tree in Emmerich-Elten, North Rhine-Westphalia (Germany). A 68-year-old truck driver died in a road accident, according to Rhineland police. In the same area, one fireman died during an operation, another died in Thuringia.
In Brandenburg near Cottbus, about 120 km south of Berlin, a truck driver caught by a gale died on Highway. A 61-year-old driver died after losing control of his vehicle and struck a heavy truck in Mecklenburg-Pomerania (east). In the Netherlands, two men, aged 62, were killed by tree falls in Zwolle (north-east) and Enschede (east). A motorist in Belgium was killed by the fall of a tree on his car in the southern suburbs of Brussels.
In the region of North Rhine-Westphalia, the most populous land in Germany, 100,000 people were deprived of electricity. The DWD, the German meteorological service, reports a gust of 158 km / h on the Zugspitze, a mountain in Bavaria. In all areas on alert, the wind begins to exceed 100 km / h
Chaos in transport
At Amsterdam-Schiphol airport, 320 flights were canceled. Several The flights also had to be canceled at the German airports of Düsseldorf (west) and Munich (south).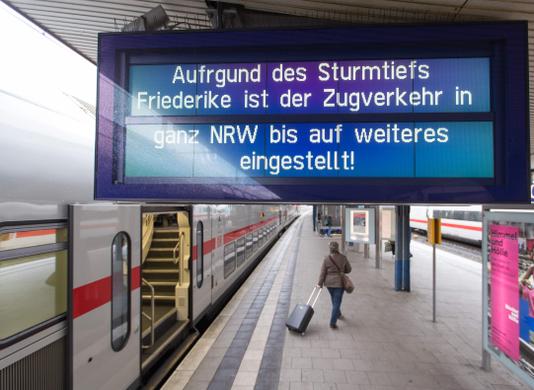 Source link