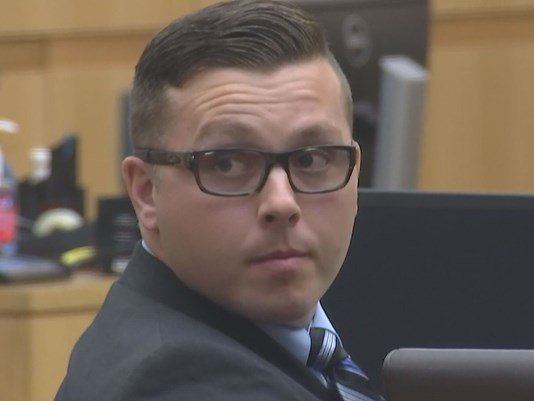 [ad_1]
Former Mesa policeman declared innocent in deadly shooting
12 News and Todd Unger, KPNX
11:19 PM. CST December 7, 2017
PHOENIX – A jury has found former Mesa police officer Philip Brailsford not guilty of second-degree murder.
Brailsford was charged with the shooting death of Daniel Shaver, 26, at a Mesa hotel in 2016. The father of two children was from Granbury.
Officers had been called to the scene after reports of a man pointing a rifle through a window. According to the witnesses, Shaver had a pellet gun that he used for his extermination business.
Prosecutors accused Brailsford of being too quick to pull the trigger, and tried to use another officer's testimony and images of the body's camera to convince a jury that he was "reckless."
RELATED: YO: Granbury was drunk when he was shot by Ariz. Police
Brailsford's body camera showed Shaver on all fours, crawling toward officers and sobbing. He reached for his waist and Brailsford fired.
An internal investigation found that Shaver might have tried to take off his pants.
Five other officers were in the hall, but Brailsford was the only one who fired.
When the verdict broke down, Brailsford's lawyer put his hands on his client's shoulder.
Laney Sweet, Shaver's widow and other family members left the courtroom without comment.
It is expected that in the next 24 hours an unedited version of the camera images will be published, showing when Shaver was killed.
© 2017 KPNX-TV
[ad_2]
Source link