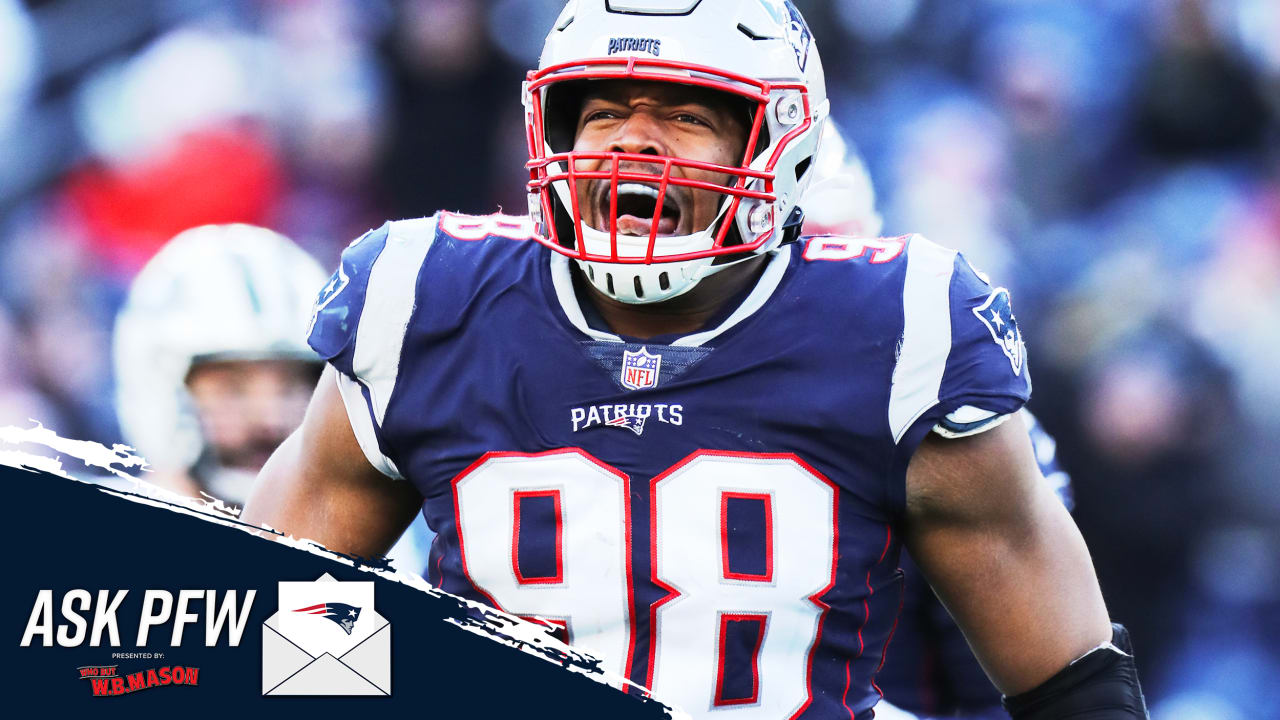 Hello PFW! Great fan of your neighbors in the north! In my opinion, in terms of free agency, our top priorities should be to re-sign Trey Flowers and Trent Brown. I think both were very important pieces in our most recent Super Bowl career. My question is, what kind of contract do you think each of those players will need to keep the Pats? Do you think they will be able to pay them both? Do you think either of you will be a candidate for the franchise tag? I'd love to hear your guys' opinion! Thank you.
Hi guys, the Pats have a key FA amount this year and, obviously, they will not be able to sign all of them again. In my opinion, the two main priorities are Flowers and Brown, although it is safe to say that at least one of them will go ahead. My question … if you can only re-sign one of them that would be your choice. Thank you.
There is no doubt that Flowers and Brown are the two most important names on the list of potential free agents of the Patriots. Both are young, they are developing talents in brand positions that come from impressive seasons for a Super Bowl champion. In free agency, that is a recipe to receive payment. Or, as Brown said about his wishes during the season, a way to "beat the lottery." Both could get bids north of $ 12-15 million per season or "totals" beyond $ 60 million or more. Due to its versatile play and impact on both the edge and the interior, some have projected that Flowers could get more than $ 17 million per season, especially considering the great deals between the likes of Chandler Jones, Aaron Donald and Khalil Mack. in recent years. years. For Brown, his desired composition is probably the contract that Nate Solder had to go from New England to the Giants in the offseason. My perception is that Brown will play in another place with a big contract next season. With first-round selection Isaiah Wynn returning from a torn Achilles, the Patriots have a replacement in the company and are probably not looking to lock Brown in the long term. I'll be honest, although he had a good season, I do not see him as a true elite left tackle. I would also worry that once you get a lot of questions, the questions about your weight, conditioning and work ethic that got you out of San Francisco could come back. On the other hand, flowers are practically a perfect player in terms of work ethic, attitude, durability and almost all other factors besides elite production. The only question is its value. I would love to see the Patriots try to reach an agreement with him before he reaches the open market, because I think that once he sees the money that is there, it will be difficult for him to reject it, even if he really does. I love playing in New England. I would definitely consider using the franchise or transition tag in Flowers, something that I think the team will consider doing. I'd love to see Flowers back in the Patriots uniform moving forward, but it's hard to imagine New England paying the amount of money it could get on the open market. Therefore, the ball may be in its court. I will not be surprised if both end up somewhere else. I would be surprised if they both came back.
Thank you and everyone who is there for another great season of news and Patriots reports. I wanted to know your opinion of re-signing Patterson. While his numbers are not astounding, he was a valuable asset throughout the season. His versatility was impressive. When the ball was in his hands, he ran strong and never hesitated. I know he's not a great WR, but he can be used throughout the field, and he looked comfortable in the field. Now, with a full season with this offense, I think it can do even more. From the free agent WR on the list, I think he should be the one that must be returned at the correct price.
I think it is necessary that Patterson's obvious value is his versatility. He can do a lot for an offense, and as an initial kick returner, even if he will never be a reliable receiver of all kinds. Although I am not sure that his role could increase much in the future, he would do everything to return it to the "right price". There seems to be a lot of uncertainty and a possible rotation in the receiver's position this offseason. It would be nice to have Patterson back as a unique weapon for the new look offense. I could watch him go by.
Is it reasonable to pay a 32-year-old Devin McCourty, about $ 10M per year (capped at $ 13M) while allowing key young defender Flowers to walk and not pay him $ 10M per year?
The future of McCourty in Foxborough is certainly worth seeing. His comment about retirement before the Super Bowl made it seem like a different possibility if the team beat the Rams. Therefore, it will not surprise me if you decide to call it a career at this time. Probably, that would be the easiest thing for all parties involved, because he is right to question the value of veterans' security in a maximum amount of $ 13 million. He is a leader, captain and key communicator in the back. But the team already pays Duron Harmon's initial money in the position as a possible replacement. Could McCourty be open to a contract restructuring and a reduced salary? Perhaps. The future of McCourty is just one of the many decisions and uncertainties facing the defending champions in this interesting offseason.
We have had many changes in the coaching staff. Given how much our receivers block, do you think Nick Caley could be the WR / TE coach at the same time? Do you think Bret Bielema will be the next coach of the defensive line? Who do you think is going to be the next linebackers coach? I read somewhere that DeMarcus Covington was already doing these tasks with Flores as a gambling player. Do you think Steve Belichick will be the defensive backs coach or another corner coach will be promoted?
These are all fair questions and, although I do not have definitive answers, I can offer my opinions. Bielema seems to make sense as a defensive assistant after a year as an adviser to the head coach. He has a record on the defensive side of the ball as coordinator and coach of linebackers. Therefore, a job on the defensive line or linebackers could be online. Brian Belichick could certainly be a consideration for a promotion to position coach, an upgrade from his current job as assistant coach in which he seemed to spend a lot of time with the defense. The fellow coaching assistants, Cole Popovich (who has worked with the offensive line among his other duties), DeMarcus Covington (who could be an option as coach of linebackers) and Mike Pellegrino (reportedly a rapid increase in staff) They are legitimate options for internal promotions Beyond the reports that Greg Schiano will join the staff to lead the defense, another name of the university to monitor would be the former head coach of Arizona State, Todd Graham. There were reports last summer that he could join the Patriots' staff. Graham has a history on the defensive side of the ball and works with linebackers. Another wild card name would be Nick Caserio, New England players 'personnel manager who previously coached the Patriots' wide receivers in 2007. He is one of the most versatile head office players in the game and could certainly serve as a position coach. if necessary. Large enough, although balancing that with your exploration duties might be a little too much. It will be very interesting to see how the Belichick staff is formulated this season, both in terms of roles and titles.
Hi. I just read Samsonite's article Make Your Case: What is the Patriots most needed area to enter the off-season? – And I started thinking. The linebacker was not even an option. Do not get me wrong: I like what I see when I look at the current entrees. Dont & # 39; a Hightower and Kyle van Noy are amazing, but I see them mostly external linebackers, edge defenses, hybrid rusher pass players. I am also aware that two promising rookies (Christian Sam and Ja & # 39; Whaun Bentley) will return healthy next season. Albert McClellan has shown that it is a valuable addition. Still, I have a hunch that this team could use a side-by-side stallion Mike in the cast of Leighton Vander Esch. I understand that the best prospect LB (Devin White) is projected to slide towards the middle of the first round, would you change to catch it? What do you think would be needed to achieve this agreement? Would our first-round selection and a second round be enough? Would you try to grab a central linebacker in the second round? I guess this Tuesday, Andy Hart will answer this question and, as a former linebacker, I would love to read his thoughts on this topic. My second question is about rookie QB Danny Etling. What do you think about him? Do we see him as a successor to Tom Brady? Do we see him as a successor to Brian Hoyer? I would love to see much more of the young boy. The last preseason I liked what I saw of him. (Although that was not much …) Thanks in advance!
While I did not participate in this week's Samsonite Make Your Case debate, I would not have put the linebacker at the top of the list. Any team would love a young linebacker, but it is a matter of using their resources to meet their needs. The Patriots will have urgent needs in the wide receiver and tight end. There is a great possibility that they have great needs in the defensive line and security. The field marshal always has to be a consideration. As you said, as it is now, the team has three solid veterans returning at Hightower, Van Noy and Elandon Roberts. I am very intrigued by what I saw in a limited sample of Bentley. Sam is an athletic choice. There is talent and depth in the linebacker that simply does not exist in many other positions. So, although a guy like White is a pretty obvious talent, I do not think he uses the assets to change it for him. There are more pressing needs, especially if the team is as tall in Bentley as it seems from afar. As for Etling, he looks like a great kid and a good athlete. I'm just not sure I see a rise in the caliber of the NFL as a precise and timely passer. However, without a doubt, he deserves the opportunity to prove himself this summer with a full season in the system and the possibility of showing the always hopeful jump of Year 2. Maybe he has made great advances, but at this moment I do not think that He is the heir of the position and I'm not even sure if it will be a reliable backup. But we will all know more by the end of August.
Is it true that something like 6 of our 9 draft picks in 2018 ended up on IR? If so, how often does a team lose two-thirds of its draft class to IR? Should not they be healthy for the next season? Does not that mean we get two-thirds of our draft class back? Combine last year's recruits who returned from IR with the 2019 draft class and that seems like a ton of potential for coaches to add youth, fill in the gaps in the list, add depth and at least make a training camp more competitive That makes me quite optimistic. Yes, I know we have to wait and see how everything develops, but I'm a guy half full of men. What is your opinion about all this?
Yes, six of the nine draft picks landed on IR, although Duke Dawson, of the second round, returned to the active list at the end of the season. Getting first-round offensive lineman Wynn, Dawson and Bentley back could be a great addition to New England in 2019. All three could fight for starting jobs or key rotating roles. The rest are much longer shots, although I will not discard Braxton Berrios due to the many openings and uncertainties that may arise in the receiver's position. While Wynn returns from a torn game of the Achilles bears as summer begins, I have not heard anything that indicates that the second-year players will not be ready for next season. His return, as well as the addition of this year's rookie class, could certainly offer a youth competition this summer and the opportunity to help a list of seniors become younger in various places. As I said, I look forward to what Wynn, Dawson and Bentley can bring to the team.
Wow, what a coach exodus this year. Now we all know the mantra "as long as BB is a HC" … Even in his army unit, captains, lieutenants and even sergeants do matter. Not only do you need to find able replacements, but also prepare them, and that takes years. Do you already have these replacements at home?
As I said in the previous answer, I think there are some interesting and interesting options among the young coaching assistants to help fill in the gaps in the coaching body. But, I will not overlook the losses of the tested attendees and I will certainly observe how all the new coaches and new roles meet this summer and fall. While Schiano has a long history with Belichick and some of the veteran players in the defense, that's not the same as working with someone 20 hours a day, seven days a week for months through the ups and downs of the season. No one can know for sure how it will develop. The same goes for all other training changes. The large number of changes in personnel is a situation that is far from ideal. Having Belichick supervising everything is a great positive. Like the return of Josh McDaniels, Dante Scarnecchia and Ivan Fears to oversee the offensive led by Tom Brady. That should allow Belichick more time in defense, where his input, experience and leadership may be needed more this year than ever.
Is this the first time so many assistant coaches left at the same time to go to the same team? Do you think the 4 coaches going to the Dolphins make them a threat to the Pats? Bill changed his position on allowing players to have more freedom in what they are allowed to tell the press? make reference to what Chung said in dismissing and to Gronk on several occasions.
This is undoubtedly the largest rotation in the coaching staff we have seen in recent years, and most of the departures join Flores in Miami. It's worth noting that given the success ex-patriots have had in the past, including last season, when Mike Vrabel and Matt Patricia got surprises about New England. Certainly the games in Miami have often been a challenge in recent years. That will not be easier with a family staff on the other side of the ball. But, until Miami has an elite quarterback to build, the Patriots remain the team to beat in the AFC East. Regarding the comments made by Gronk, Chung and others, it seemed that some veterans felt a little more liberated this year. Gronk admitted that the team not only embraced the critics, but used the noise as motivation. A number of players have said similar things. I'm not sure this has been a spoken relaxation of the limitations that Belichick places on the comments of his players, but there may be more trusted veteran leaders who feel comfortable in their roles and voices.
Hi guys, we just try to look forward to the free agent class for 2019. Obviously, we have to lock up Trey Flowers and some others first. A couple of players that I think should be on the radar for BB would be Tyler Eifert (if Gronk leaves) and Devin Funchess, Ha Ha Clinton Dix and Dante Fowler Jr. They wanted to know what he was thinking.
As I said before, re-signing with Flowers would be a great start to a low-season plan, although the finances of such an arrangement could be interesting and potentially prohibitive. As for the possible objectives in the open market, I do not hate the idea of ​​persecuting Eifert, although obviously his problems remained healthy. I'm not that tall in your other goals, though I thought Fowler played very well in the Super Bowl for L.A. and showed that he can be more than a simple pass broker, which would be required of him in New England. A name that would keep an eye on the recipient's position, a point of clear need, is Golden Tate, who was considered a potential target through trade last fall. There are many options in many places this spring and Patriots.com will have a complete summary of the possible comings and goings in free agency in the coming weeks.
I know it was not a factor in the result, so obviously there is not as much attention as the obvious interference of the defensive pass in the NFL Championship Game, but I wondered why Jared Goff could not throw the ball to the line of scrimmage. when I was standing in the final zone it was not marked as a penalty to intentional land and a security was judged. This was midway through the third quarter when it was still a 3-point game, so I could have extended the Patriots' lead to 5. As long as the Competition Committee sees reviewable moves, and if it extends what can be challenged, does it? Do you think you play? Would it be mentioned?
There was an obvious intentional catcher in the vicinity, so the ball does not have to return to the line of scrimmage. Same as when Brady and other QB throw the ball to the ground at the feet of a runner in a failed screen pass. As long as there is a receiver in the area, it is not an intentional ground connection. If / when the repetition of the penalties becomes an option, this is certainly a move that could be seen. And I think that the call in the field would have been confirmed correctly through the reproduction. At least that's the way I saw it.
It seems that Nick Foles wants to leave the Eagles. What do you think of the Foles coming to New England, sitting behind Brady for a year or two and then taking over? Do you think McDaniels could improve the game of Foles? Belichick rarely changes to get a good rookie to work or take a quarterback in the first two rounds.
I'm not as enamored with Foles as many seem to be. At the age of 30, looking to make initial money (for example, $ 25 million) and far from being a proven product, I simply do not see the long-term appeal. He has had some good plays in the NFL, including the Patriots postseason that earned him a Most Valuable Player in the Super Bowl. However, in general, I think it's just a backup. And if the Patriots had two quarterbacks earning more than $ 20 million on the list, they should have / could have kept Jimmy Garoppolo. For me, Foles is not really an option for the Patriots and I really would not want it to be.
Gentlemen. Now that the dust has settled, I'm still surprised that Pats' defensive performance has not yet earned the national recognition it deserves. Apart from the fact that Steve Young described BB's game plan as brilliant and compared it to a "Rembrandt" or Michelangelo's "Sistine Chapel", people have not been as enthusiastic as one might expect. Having a team with an average of 33 points per game (and with a 1,200-yard runner and two 1,200-yard catchers along with an offensive wizard as a coach) at 3 points is no less than remarkable and this game plan should be considered with Reverence for the next generation.
On another note, tell me among those who were pleasantly surprised that this team did it. I thought, based on the road record of 3-5 with the five losses to teams without playoffs, that this team simply did not have "IT" this year and that they would lose to KC. I am surprised that the Patriots turned this "doubt" into a motivating factor because, under any fair analysis of their performance, their record and their work until December, they did not deserve to be favored to win the Super Bowl. But I guess that's what makes this so special to them and to us. . . ..
I'm going to have to disagree, Tom. I have listened, read and seen endless praise for the defense of the Patriots and their players. Many thought it unfair that someone in the unit did not win the Super Bowl MVP LIII, even though many can not choose a particular player for individual honor. While offensive players, including Brady, Gronkowski and Edelman will always receive their praise, this was a rare game in which the defense, including its coaches, was hailed for taking home the title that many thought was unlikely. And make no mistake, it was considered unlikely as recently as the AFC title game. I can be honest, I chose the Chiefs because of the battles of the Patriots. I'm happy to say I was wrong. The transformation that this team made from December to January / February was really remarkable. And the defense, led by Stephon Gilmore, Dont'a Hightower, Kyle Van Noy and others, was a big part of that. I think most have recognized it, even if you would like them to get even more love!
Hello from New Hampshire. Hi guys, two questions. First, with Devin McCourty thinking about retiring, who do you see taking charge of his position? Second question: should Rob Gronkowski retire? Do you think Cordarrelle Patterson could move to the tight-end position? Thank you.
Duron Harmon, who is practically a starter, will be next in line to fill the full-time McCourty security position if the veteran does not return. That would probably leave guys like Dawson to complete the depth in packs with five and six defensive backs, adding the rest of the mix back. No, I can not see Patterson playing in the tight end. It is not big and strong enough to be an online blocker and it is not a sufficiently complete route corridor. He's a very versatile player, but asking him to move to the tight end is more than I think he could handle. I do not think it's productive for crime.
Please give us an update on Patrick Chung. How are you recovering from the Super Bowl injury? Fans wish you the best. It has been a big part of the defense for many years.
Based on some publications in his social network accounts, we can see that Chung had a surgical repair on his fractured arm, which left him with a large cut in the arm that closed with, apparently, 23 stitches, coinciding with your uniform number. There were also reports that Chung would have a torn labrum in his shoulder repaired this offseason. He certainly has work to do this offseason for rehabilitation and preparation for another year, but on social networks he seems to be tackling that task with the optimistic and fierce energy with which he attacks rival players. It's early, but all the signs seem positive for Chung to return to his huge and key role in the defense of New England.
Source link