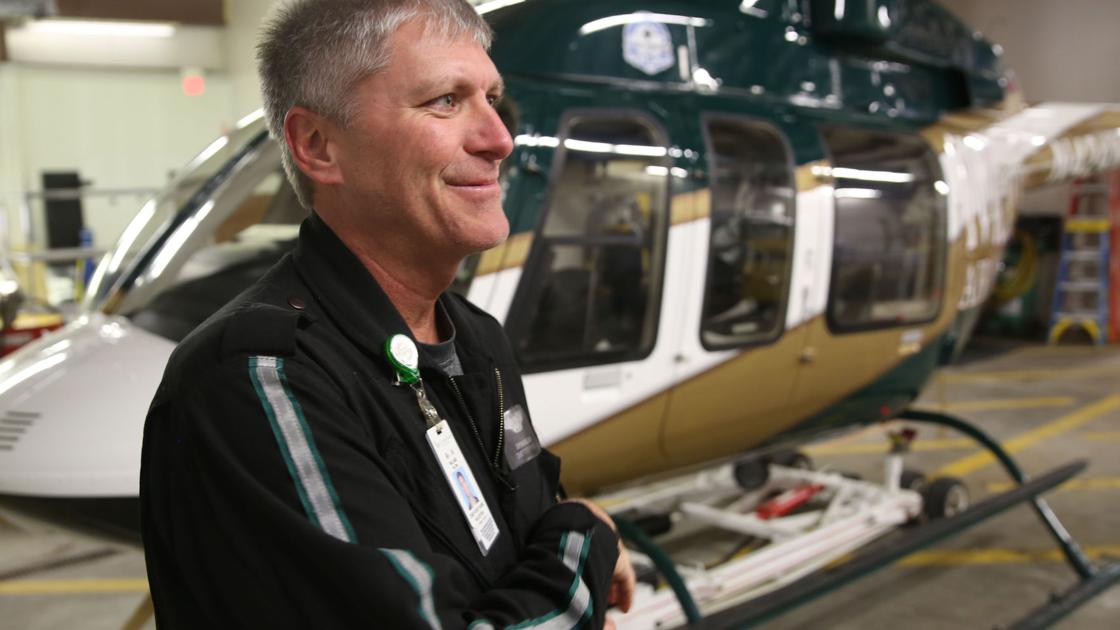 MASON CITY | A Mercy medical center – registered nurse in northern Iowa has returned from Puerto Rico with a grateful heart.
Bryan Williams, chief of flight nurses at Mercy, helped with the federal health response to Hurricane Maria in November, almost two months after the Caribbean island was hit by a natural disaster.
"Puerto Rico is probably the most rewarding mission I have ever done," he said. "The people were very grateful."
Williams, a 23-year employee of Mercy, including 12 in his current position, has served as a member of the Disaster Medical Assistance Team, commonly known as DMAT, since 2005. [19659003] The Medical Assistance Team at Disasters is part of the National Disaster Medical System, a federal program that supports communities with medical care and mortuary assistance during disasters or public health emergencies at the request of states. The program is among the resources made available by the Office of the Assistant Secretary for Preparedness and Response of the US Department of Health and Human Services. UU
In early November, Williams and more than 30 others were sent to Fajardo, Puerto Rico, an hour east of San Juan, to reduce pressure on local hospitals by providing medical care to residents affected by the hurricane.
"I probably had four or five people whose appreciation, gratitude was one of those that simply makes you cry because they were so grateful that we were there to help them," he said.
During the response, staff from the National Disaster Medical System, along with officers from the United States Public Health Service Corps, provided care to more than 32,100 residents affected by the storm.
Williams said his team treated about 120 patients per day during the 12-hour period when he opened his camp.
"He used to smoke, we were cooking all day," he said.
The team, made up of doctors, nurses, paramedics, death management professionals and experienced command and control personnel mainly from the Midwest, provided medical care in a camp composed of tents for treatment, triage and pharmacy for residents.
Williams said the team most commonly treated "general respiratory diseases" caused by mold as a result of wet and warm conditions after the storm, as well as other conditions observed "working normally (emergency room)." [19659003] The National Disaster Medical System consists of approximately 5,000 public health and emergency management medical professionals, organized in more than 70 response teams.
Williams and the staff of the National Disaster Medical System respond to national and international disaster needs when they overwhelm local and state resources to help with the response.
He returned to the city of Mason before the Day of Action of the authorities and hospitals in Puerto Rico were prepared to accept patients.
Williams said his experiences in his mission to Puerto Rico, similar to what he had in 2005 after Hurricane Katrina, will stay with him for years.
"(A conclusion for me) was how good we really have it and that we can definitely be more grateful for what we have because that's what I saw of the people there," he said.
According to a press release from the Office The staff of the Assistant Secretary for Preparedness and Response, Health and Human Services deployed in the US Virgin Islands. UU and Puerto Rico provided life-saving care, helped to stabilize health care systems, including suppliers and regulated industries in the territories, and restored services to meet the needs of residents with a focus on services for people with health conditions. Chronicles.
Williams said he helped with the federal medical response after Hurricane Katrina and Fargo, North Dakota, flooding, as a member of DMAT, and credited his team at Mercy for supporting his service.
"I'm lucky to have a team that is amazing," he said. "My team is incredible."
Contact reporter Ashley Stewart at 641-421-0533. Follow her on Twitter at GGastewart.
Source link