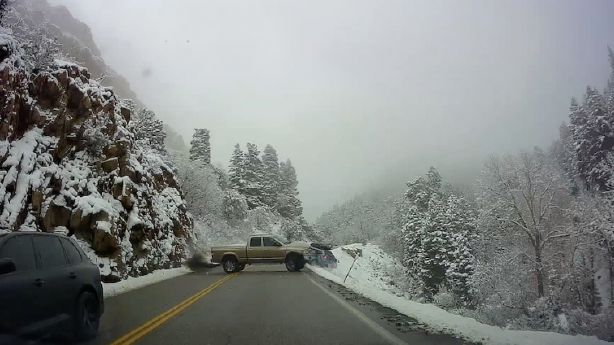 SALT LAKE COUNTY – A wild accident involving Big Cottonwood Canyon was captured on tape, showing that two vehicles had gone right to shore.
Everyone survived, but a woman trapped inside one of the vehicles had to be carefully rescued.
Brian Anderton, head of a battalion with the Unified Fire Authority, said, "Looking at the video of those cars, that would be terrible." "Just with a very narrow shoulder, the road falls about 75 feet down the steep embankment."
Anderton was part of the team called to rescue the victims of the accident.
"We were of great concern to those who were involved and knew it would be technical and would probably be a lengthy operation to get them out safely," he said.
The accident happened around 2 pm on Sunday afternoon.
Just below the "S-Curve" can be seen a pickup truck down the valley that ejects the dash cam video and kills a Subaru. Both vehicles fell away from the shore and the pickup truck fell straight into the drain.
At Subaru, three people got out safely, along with the driver of the pickup. But a female traveler was another story. He gets stuck in the truck, overturned.
"The rescue itself was certainly difficult and dangerous. The steep cliff-covered hill that was snowy and icy." It was cold for the victims and cold for our workers who had been in the water for quite some time. "
Rescuers brought Jaws to life to cut open the truck. They then had to build a complex rope system, which leads to the roadside.
After about two hours, they had the woman safe in an ambulance and while being taken to the hospital.
"I think all things were considered, we some people got very lucky from there, rolling that car up that hill, overturning, turning upside down in the creek," Anderton said. "Between cold weather and water, there are a lot of things that can go wrong."
×
The photos
Related Stories
You may be interested in more stories
.