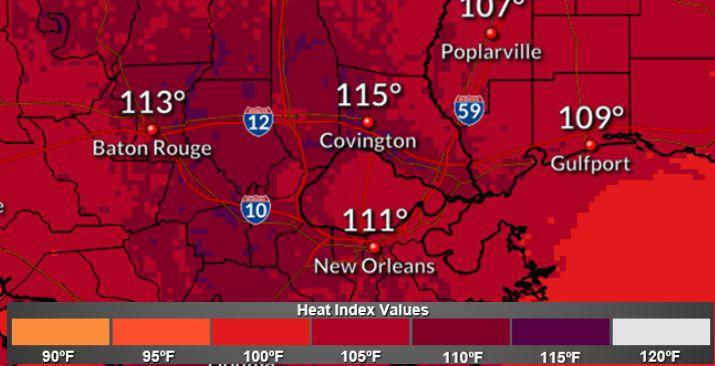 The office of the National Weather Service in New Orleans issued an excessive heat warning, the highest possible heat alert, for southern Louisiana on Sunday.
An excessive heat warning means dangerously hot conditions with heat rates greater than 113 degrees.
The parishes included in the warning are located in the metropolitan areas of New Orleans and Baton Rouge. Specific parishes include Pointe Coupee, West Feliciana, East Feliciana, St. Helena, Washington, St. Tammany, Iberville, West Baton Rouge, East Baton Rouge, Ascension, Livingston, Asunción, St. James, St. John The Baptist, superior Lafourche, St. Charles, Upper Jefferson, Orleans, Upper Plaquemines, Upper St. Bernard, Upper Terrebonne, and Tangipahoa parishes.
The notice lasts until 8 pm on Sunday.
High temperatures will hit the mid-1990s on Sunday, forecasters say.
Louis Armstrong New Orleans International Airport set a record 99 degrees on Saturday. The heat index there peaked at 116.