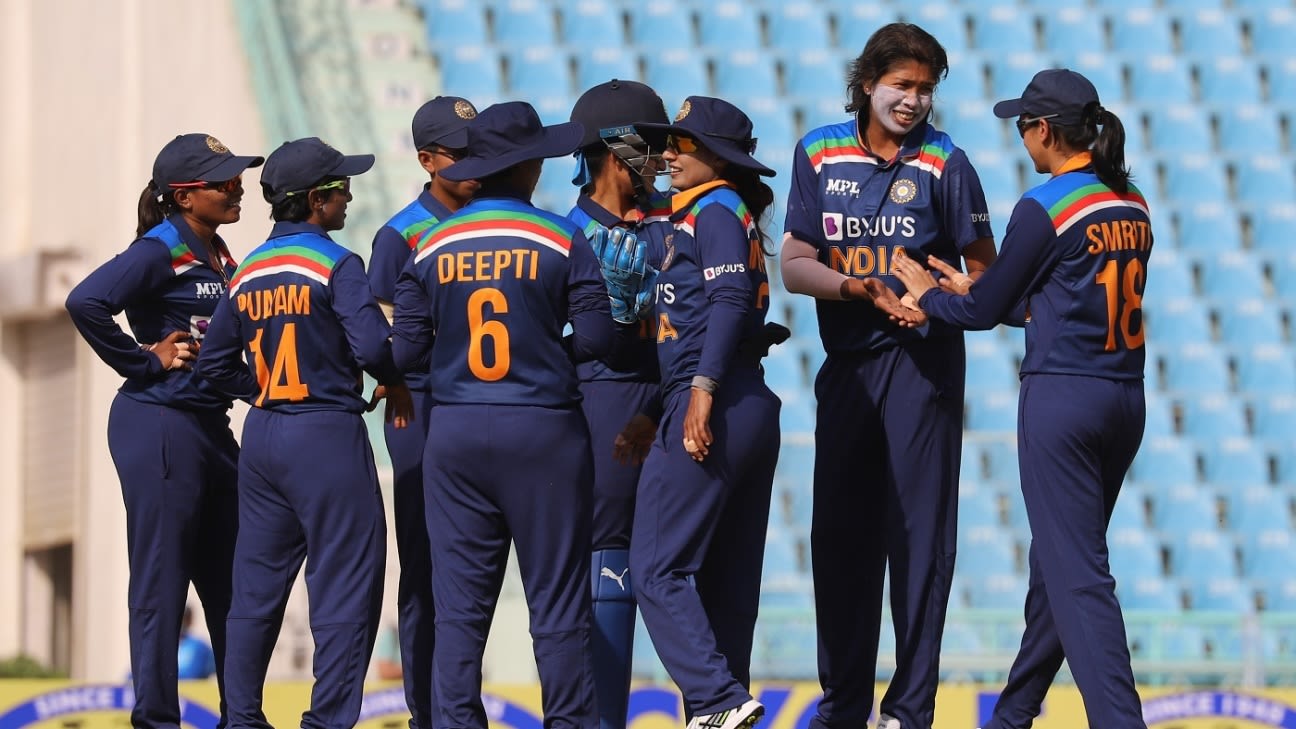 India 160 for 1 (Mandhana 80 *, Raut 62 *) beat South Africa 157 (Goodall 49, Goswami 4-42) for nine wickets
India Women tied the five-game series against South Africa 1-1 by polishing a small goal with 21.2 overs to spare and denying South Africa a record eighth consecutive victory. The victory was India's greatest margin of success against South Africa by terrain.
The roles were completely reversed from Sunday's game when South Africa fought their way to an eight-wicket victory after opting to chase, and restricted their opposition with a clinical on-field display. The hosts improved a lot with that performance, they had clearly shaken off any rust and created several opportunities on the field. Jhulan Goswami spearheaded their effort with four windows and was well supported by returning closer Mansi Joshi, who has not played ODI since October 2019, and the spinners. Rajeshwari Gayakwad contributed three windows and ensured that South Africa's middle order was not allowed to settle or score freely.
Lara Goodall was South Africa's best hitter and was one less than her second ODI half a century, but only one more player, backup captain Sune Luus scored more than 12. South Africa only had an association of more than 20 runs thanks to Goodall and Luus, who posted 60 for the third wicket, and their last six wickets fell for 44 runs.
On the contrary, the undefeated position of the second Indian wicket was worth 138 and both Smriti Mandhana and Punam Raut reached the middle of the centuries and had no problems in the fold. They mitigated South Africa's attack and took Shabnim Ismail for 46 runs in six overs to prevail in a bowling group that had very few runs to work on.
Mandhana hit Ismail for six straight in the first over, both with short balls. His first shot, a spinning pull, was imposing, but the second, a top edge on the thin leg, suggested Ismail's line of attack might work. He did, but against Jemima Rodrigues, who failed an attempt to pull the stump of his leg in the fifth over. That gave South Africa a nose, but that was pretty much all they got.
There was a chance to get Mandhana out in the next over, but Ismail didn't land a direct hit and Mandhana got an inside lead over Marizanne Kapp, but only up to her pad. After that, she was in full control.
He drove with authority and timed the ball perfectly to give Raut time to get in. It took 31 balls before Raut reached the limit, when he charged Nonkululekho Mlaba and passed the middle of the wicket, then danced down the court to hit her. Up to the middle. Mandhana went up his fifties in 48 balls with optimistic momentum through the caps and led India to 100 runs in 21 overs.
Raut should have come out in the next over when he raised Ayabonga Khaka to long time, but Nadine de Klerk invaded. Mandhana should have been out after that when he hit Luus' half, but the delivery was declared off the ball for height. South Africa couldn't create more chances, Raut hit fifty of 79 balls on a ramp shot and freed his arms to meet the limit twice more, but let Mandhana hit the winning runs with a direct shot to the ground. .
Ultimately, the ease with which Mandhana and Raut could hit was created by the Indian bowlers, who were well led by captain Mithali Raj, who brought the closers back at crucial moments.
Goswami hit his first over when Lizelle Lee missed a flick, took a hit to the pad in front of the waist and leg and was given lbw to dent South Africa early on. Her opening teammate Laura Wolvaardt followed shortly after when a delivery from Joshi appeared and walked away and took the outside lead to leave South Africa 20-2 within six overs.
They could have been in a lot more trouble early on after Luus gave Rodrigues a tough chance in the ravine, which she couldn't hold on to, and Deepti Sharma's appeal against Luus was rejected as she missed a sweep.
Luus continued to play the shot and survived another lbw appeal two laps later, but then adjusted to using his feet and going down the track to attack the spinners. He drove Sharma over his head for four and then knocked out the consecutive limits of Poonam Yadav's opening. Luus and Goodall agreed against Gayakwad, so Raj went back to Joshi and the move paid off.
At 21, Joshi found the same road movement he had on the new ball and got Luus to drive a wide delivery to give Sushma Verma a simple catch. Goodall should have come out in the next over when she misread a Yadav googly and got a lead, but Goswami's jumping effort on the short, thin leg wasn't enough to send her on her way. Instead, it was Mignon du Preez who was the victim of a rough shot. She was duped by the Gayakwad flight and was early on the trail, giving Sharma a chance to take cover. He had to dive to the right and hold on.
Goodall brought out South Africa's century with a ground single and Kapp's two fours in two overs suggested South Africa could still score a good total if the pair stayed together. But Kapp only lasted one ball after the second drink break, when he tried to hit Goswami on the side of the leg, but got a midwicket lead. Goodall was in her mid-forties and inched toward half a century, but was defeated by Harmanpreet Kaur's first childbirth that knocked her stump out of the way.
Kaur was only used for that before Raj brought Goswami back to finish things off. Had Trisha Chetty caught in a no-ball before taking two wickets on three balls on her penultimate lap by launching both De Klerk from the inside edge and Ismail, who tried to defend a delivery that moved through her. , to end with four. Gayakwad finished the inning at 157 when Chetty overcame a long sweep to long and Mlaba caught to cover.
Firdose Moonda is a correspondent for ESPNcricinfo in South Africa
Source link