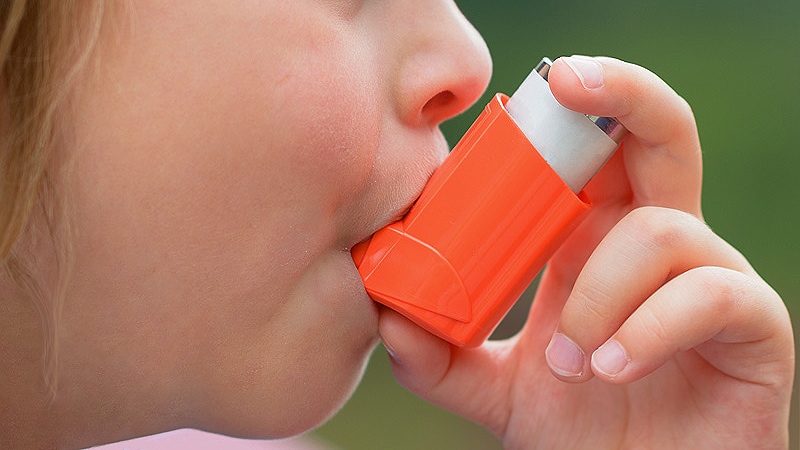 New research indicates that between 23% and 27% of new cases of asthma in children are directly caused by obesity.
"In the absence of overweight and obesity, 10% of all pediatric asthma cases in the United States could be avoided," writes Jason E. Lang, MD, MPH, of the Allergy and Immunology and Pulmonary Medicine Division of the Faculty of Medicine at Duke University and Duke Children's Hospital and Health Center in Durham, North Carolina, and their colleagues.
The findings were published online today in Pediatrics.
Previously, obesity had been linked to new cases of asthma in adults, and researchers estimate that obesity causes approximately 250,000 new cases of adults per year. The current study is the first to measure the incidence and risk in a large and diverse national pediatric population.
Lang and his colleagues used the PEDSnet clinical data research network to compare the incidence of asthma among overweight and / or obese children with children of healthy weight from 2 to 17 years old. They analyzed data from 507,496 children and 19,581,972 encounters between January 2009 and December 2015. Researchers compared individual children classified as overweight or obese in a 1: 1 ratio to children whose weight was in a healthy range. The children were also matched by demographic characteristics and insurance status. The average observation period was 4 years.
The incidence was defined as at least two encounters with a diagnosis of asthma and at least one prescription of asthma control.
In general, the adjusted risk of incident asthma was higher among overweight children (relative risk [RR], 1.17; 95% confidence interval [CI], 1.10 – 1.25) and obese children (RR, 1.26, 95% CI, 1.18 – 1.34). The adjusted risk of asthma confirmed by spirometry was also higher among obese children (RR, 1.29, 95% CI, 1.16 – 1.42).
Few preventive measures for asthma
The findings are important because there are few preventive measures to reduce childhood asthma, the authors note.
These data suggest that reducing obesity in children "would significantly reduce the burden of public health," they write.
In a companion editorial , Deepa Rastogi, MBBS, MS, of the Children's Hospital of Montefiore, Albert Einstein School of Medicine in the Bronx, New York, says the figures show another reason why these findings are so important. He explains that the prevalence of pediatric asthma has remained around 10% for many years despite advances in early diagnosis, management and mitigation of environmental factors. At the same time, obesity rates are almost 20% and are increasing among some groups, and these new data show how that could increase pediatric asthma rates.
"[W]"We are seeing a 5% increase in childhood asthma due to obesity, which suggests that over time obesity-induced asthma will become an important type of childhood asthma," he said.
Rastogi points out that one of the strengths of the study is that the database, PEDSnet, includes data from eight of the major pediatric health systems in the United States. UU., Which allows an overview of races, ethnicities and various definitions of asthma.
The comparison of children with demographic features and insurance status separated the possible confusion of those variables, he says.
Given the findings, Rastogi suggests that physicians measure waist circumference and quantify metabolic abnormalities in the evaluation of pediatric patients with obesity to better identify those at risk of developing pulmonary complications.
"Because there are normative values ​​for the circumference of the waist and for the classification of metabolic abnormalities in children, those with evidence of [one or more] "These complications related to obesity should be those that are actively examined to detect asthma," he writes.
Additional research, he says, should investigate why some obese children develop asthma and others do not, and should differentiate children who become obese as a result of asthma by those who develop asthma as a result of obesity. This knowledge, said Rastogi, will help in the development of new targeted therapies.
Children 2 to 17 years of age were eligible for inclusion in the study if they had a body mass index adjusted for age and sex in at least the 85th percentile and did not have a recorded diagnosis of asthma or wheezing at the initial visit in the study period or before. .
The study excluded children who used asthma medications without a formal diagnosis and those diagnosed with asthma within 18 months of the initial visit. Children were also excluded if they had documented cystic fibrosis, ciliary dyskinesia, childhood cancer, inflammatory bowel disease, or bronchopulmonary dysplasia.
The study was funded by the Research Institute of Patient-Centered Outcomes and by institutional development funds of the Nemours Children's Hospital and the Nemours Children's Health System.
One author reports that he works in advisory boards for Merck, Sanofi Pasteur and Pfizer, and that he works as a consultant for Pfizer, but does not receive funds from these entities.
The other authors of the study and Rastogi have not disclosed relevant financial relationships.
Pediatrics. Published on the Internet on November 26, 2018. Complete text, editorial.
For more news, join us at Twitter Y Facebook