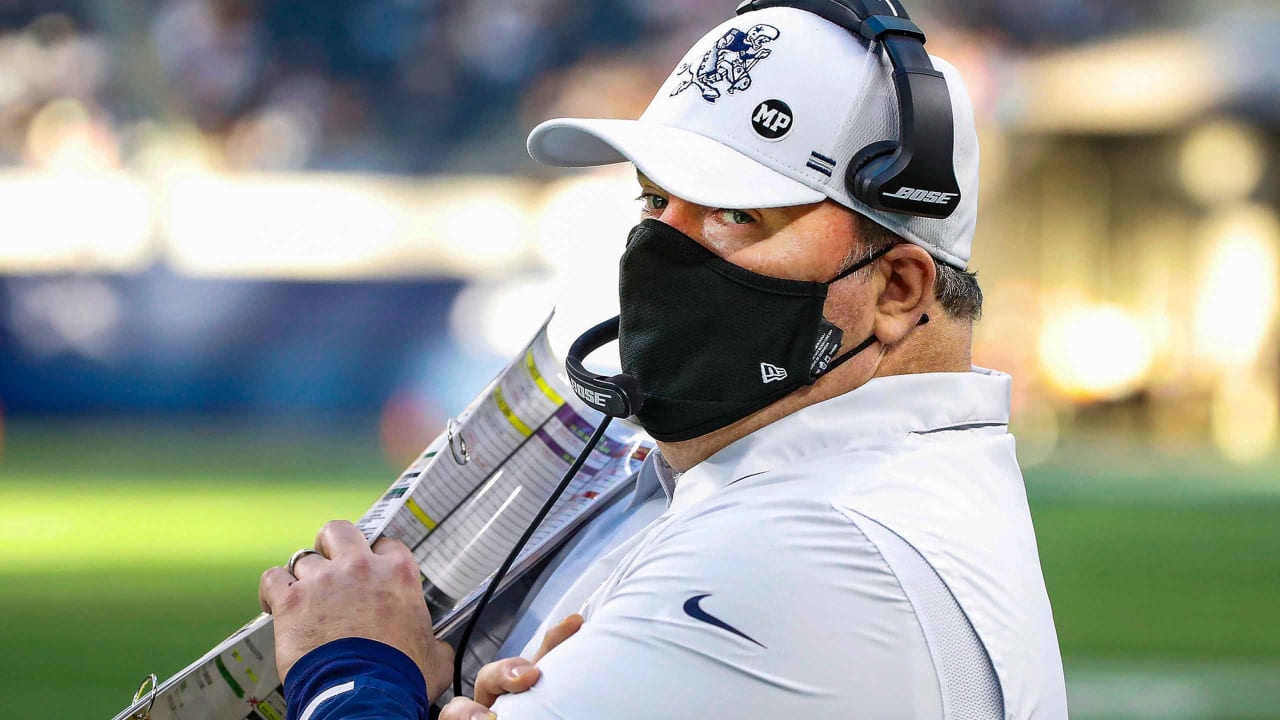 Then, contrary to popular belief, he classified unrestricted free agent Aldon Smith's situation as "fluid," when more recent reports suggest the Cowboys are moving on from the defensive lineman's return after just one season.
There was also Sean Lee. Are you retiring? Does the soon-to-be 35 linebacker still want to play for the Cowboys? Are the Cowboys interested in re-signing the 11-year veteran? Mike stopped all of that, saying they were still in conversation with him.
There was his excitement about hiring quarterback Dak Prescott, saying he was in Florida when the news broke and, ironically, claiming he started doing "cartwheels in the sand."
Let's see, there were his thoughts on the high possibility of training camp returning to Oxnard, California, that versatile free agent Keanu Neal, as he knows the safety position well, will start working with "linebackers" as starters and noted that not to give too much importance to the Pro Days he attends and the ones he doesn't. He went on and on.
Someone even reached out a bit and asked Mac if he had received his COVID-19 vaccine injections, one to which he received a very polite and unimportant response. Guessing if I had said yes, the follow-up would naturally have been, Pfizer or Moderna?
Very few stones were left unturned.
But for me, here are the slums that should make you smile more, sprouting the eternal hope of the 2021 offseason versus the despair of 6-10, 2020.
First, Dak. McCarthy walked into the conference room after seeing some of Dak's field rehab. He saw what I also saw.
"He's making progress and he's on track," McCarthy said of Prescott's ongoing recovery from surgery to repair the compound fracture and ankle dislocation. And to be honest, looking at his rehab drills, you have to ask yourself: Now what was it? Your right ankle or left ankle?
Then the elephant in the room. The defense. The one who gave up more points last season than any other Cowboys defense in the franchise's 61-year history, McCarthy said: "But I think it's obvious my primary focus is defense," and it better be that way. And again, never mind that the Cowboys signed three free agent safety, three free agent defensive linemen, rehired cornerbacks Jourdan Lewis and CJ Goodwin and tendered Antwaun Woods, the biggest and best signing is Dan Quinn, defensive coordinator.
And it sounds like a no-brainer, McCarthy knew exactly where he was headed since the Falcons head coach was fired five games into the season. I knew him. I knew his history. I knew it was available. And he knew the guy who made his bones in the NFL as a defensive lineman / defensive coordinator was being wanted.
"We were lucky to be able to do that," McCarthy said, and as someone agreed with me, Quinn's signing will be the Cowboys' absolute best move in free agency.
Then this, and this is super key, when McCarthy was asked about the fitness of starting offensive tackles Tyron Smith and La'el Collins:
"I mean, they look great."
Look, as bad as the Cowboys defense was last year, the offensive line, without Collins for the season, without Smith for 14 games, and without Zack Martin for six games, it was so bad. The run blocking was successful and mostly unsuccessful. The pass blocking was suspect at best, with the 44 yielded sacks the second-most in the past 15 seasons. But then what would you expect with two rookies making 18 starts and two sophomores making just one previous NFL start in 17 games?
Tyron Smith is running, recovering very well from surgery to repair that herniated disc in his neck. Collins, after hip surgery, is basically doing some of the same rehab exercises as Dak. Moving well.
You see, some thought last year that the Cowboys offense would have to make up for a leaky defense. He almost did it in the first five games, averaging 32.6 points. The problem was, the Cowboys were giving up an average of 36 points per game in that 2-3 start. And after Dak fell in Game 5, the Cowboys scored 10, 3, 9 and 19 while losing the next four games.
So when McCarthy was asked if the offensive line needed to be renewed, and surely in his mind he must have been thinking, renewed? In considering all the injuries the line suffered, he took the path higher than his inner thoughts, saying: "When you start on the offensive line and play 16 games in a row, you are a good soccer team … Statistically, if you look at the health of the offensive line according to the team's wins and losses, Definitely reflect.
"So to answer your question: We have to be healthy, frankly. Our veteran tackles look good. I'm looking forward to lining up and playing with those guys."
You too. Just give me Smith, Conner Williams, Tyler Biadasz, Martin and Collins, and let's go play Dak, Zeke & Co. And if a tackle misses, I know they just signed veteran offensive line free agent Ty Nsekhe, but yeah One of those tackles is his own, hey, Martin to tackle and McGovern to score, and we're going to play.
And finally, in light of the loss of backup quarterback Andy Dalton, leaving the Cowboys with Cooper Rush, Garrett Gilbert and Ben DiNucci, adding a total of two NFL starts between three and 15 games, It's good to hear that the Cowboys apparently aren't just settling for one of those guys who emerge as backup.
"Well, that's a position we'll keep looking at," McCarthy said. "You definitely want, the most important position in football, in my opinion, is quarterback, so you want so much competition, talent, young, veteran, we will continue to see it.
"There are definitely some veterans we've talked to and I'm sure they'd like the chance to be here."
That should make you smile too. The competition is good.
Now it will be a question of what the Cowboys can afford, or perhaps better yet, which one will play for what the Cowboys can afford. There just aren't many, if any, Daltons out there, a longtime veteran starter who is now willing to serve in a backup role, aside from Alex Smith. And remember, McCarthy was San Francisco's offensive coordinator when the Niners selected Smith with the first pick in the 2005 NFL Draft.
Plus, fasten your seatbelts for this draft, with teams already vying for the top-10 position, where a recent drill had five quarterbacks in the top nine picks. That means another round of quarterbacks could be available even after the draft. And I guess for teams that don't want to just release a quarterback, the selling price of trading for one will go down.
So there you have it. The state of the Cowboys union according to McCarthy. And as free agency continues, the draft is suddenly five weeks away. The NFL adding a 17th game to the season could very well take place at the next owners meeting later this month. Offseason conditioning, if agreed to by the NFL and NFLPA, with some requesting another virtual round, would be right around the corner. Then, probably after the draft, the schedule for the 2021 season will be revealed.
And for McCarthy, year 2 with the Dallas Cowboys after that false start to 2020.
"It's a privilege to be back in the NFL, and I'm enjoying it, you know," McCarthy said at the conclusion of this press conference. "When you had a chance to walk away, I'm really relishing these moments. I missed it. There were points last year that I thought, What the hell did I go back to?
"But it's really a privilege to be here in front of you and to be ready to build a team that can compete for a championship. It's just a privilege in the pressure.