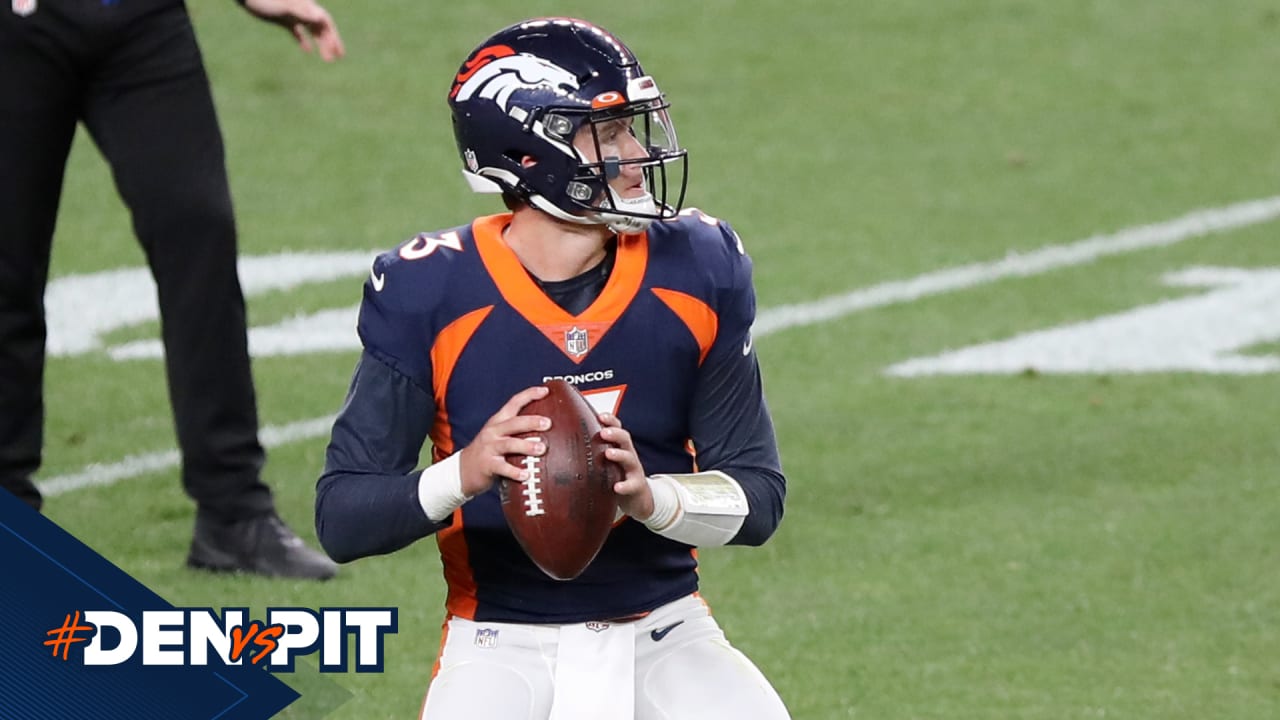 English, Colo. As the Broncos prepare for week 2 of a game in Pittsburgh, quarterback Drew Lock only wants to make simple plays.
And for a second-year quarterback that doesn't mean that just a fast slat or a dump-off goes to his running back.
"For me, a deep shot is a simple game," Locke said Wednesday after the team lost 16–14 to the Titans. "It's a one-on-one matchup with a man down the field. That's what I like to do, so I just have to keep getting better and get familiar with everyone and do it at the pace of the game."
Lock finished 22-33 for 216 yards, a touchdown and a 95.0 quarterback rating, and head coach Vic Fangio said Monday that he was happy with the way Lock played.
On deep shots down the field, however, Locke was found unable to complete. He threw four "9" routes on Monday – otherwise known as a Go route – and all four became incomplete.
Jerry Jeudy was well covered at first as Titans safety Amani Hooker flew to prevent the completion, and Locke hit his hand on another attempt. But on two other occasions, Locke took a look at an open receiver and overthrew the pass.
Tennessee is most noticeable in plays coming on third-and-8 from the 42-yard line, as Locke missed an open Dysen Hamilton in the end, likely a game-clutching touchdown.
"[I] In college [hit] A couple of slices on the golf course, "Locke said." You use it for piping in the middle and sometimes you hit a slice. I just happen to hit three in a back-to-back-to-hole to play golf. I will hit the driving range this week and try to straighten it back up and try to get people to go, hitting a pair downfield. "
Locke said continuity should help those connections to get acquainted with their receivers at the pace of the game – and it's possible that Pro Bowl wide receiver Courtland Sutton gets back.
According to Locke, decision making is also about hitting those deep passes. He said that he would have to determine whether to fire a pass on a line or bring it high into the air, and that depends on the type of receiver and route.
"I would say it depends on the person running the route and how DB is really playing him," Locke said. "It makes sense that there [are] Two ways to throw it … I think if it's … a speed guy, you probably want to get him out of there. You want to let the man who can fly down the field. If it's a big guy, you can body it and put it up, where if there's a small corner on it, he can go up and get it. … It's like a rebound in basketball. If you are a big man, you do not bring the ball down in basketball. … time for both. I should get better with the decision to throw different types of balls. "
If there is any indication last season – Locke's first touchdown pass to Sutton came on the "9" route – the young quarterback should be able to adapt soon.
"I'm excited about going into week 2 with a lot of things I can improve on this week," Locke said. "Hopefully, it will be on Sunday."