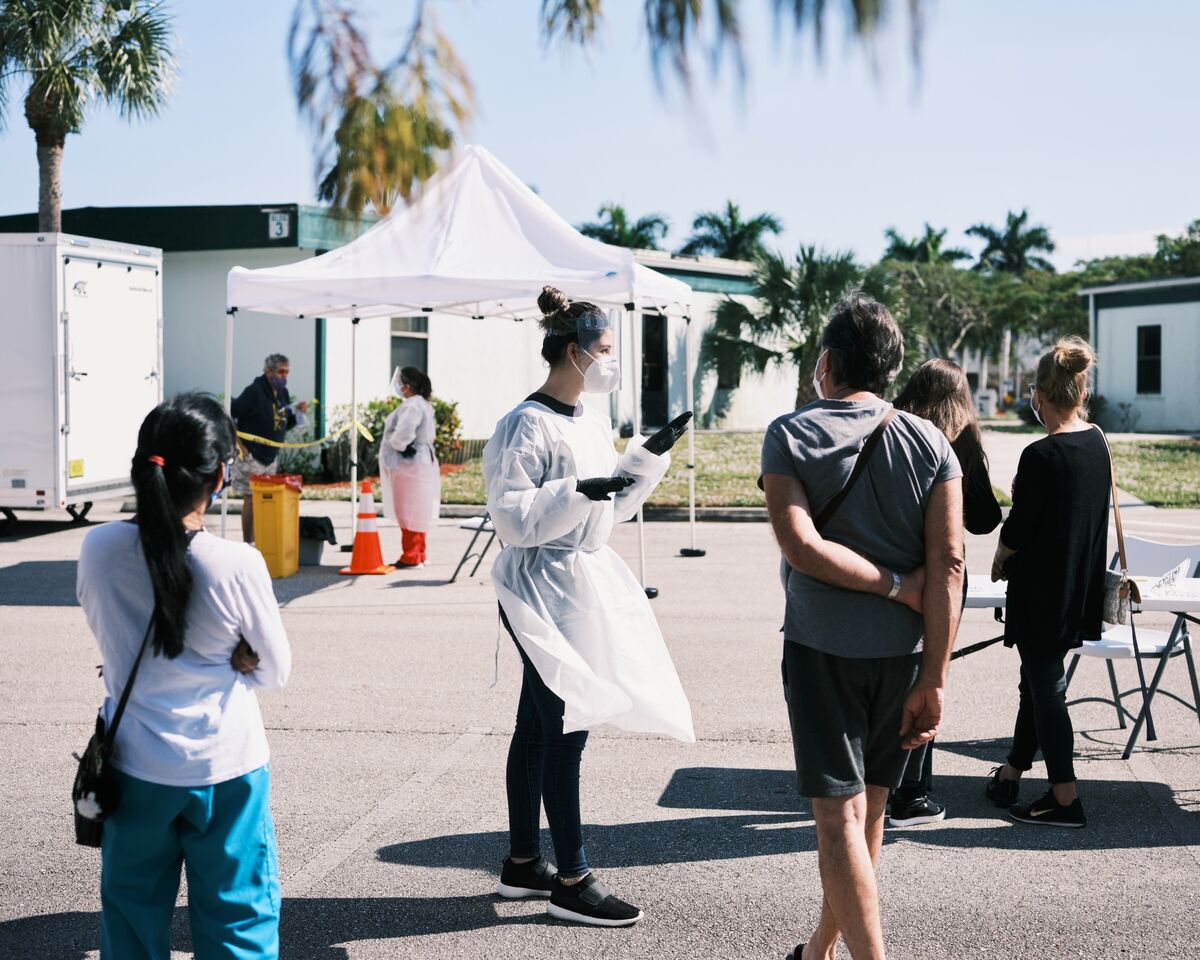 Covid cases in the US are on the rise again, reversing course after months of decline and threatening another setback in a return to normalcy.
The seven-day average of new cases jumped to 57,695 on Wednesday, 9.5% above the previous week, marking the largest increase since Jan.12, according to Johns Hopkins University data.
While that's a fraction of the mid-January peak, the change in direction is worrisome as states open their economies, variant cases multiply, and the country scrambles to vaccinate as many people as possible to avoid another. wave.
"We're not out of the woods," said Ali Mokdad, a professor of health metrics sciences at the University of Washington Institute for Health Metrics and Evaluation, which produces influential Covid-19 projections. "We are slowing down and in many places we are going in the wrong direction."
The New York case numbers reported this week by Johns Hopkins appeared artificially inflated after the data delays. But that didn't have a significant impact on the national trend, which is increasing by roughly the same degree even without New York.
"Now is not the time to give in. We have the goal in sight, we need more vaccines and we need more effective ways to get it out, "said Isaac Weisfuse, a medical epidemiologist and adjunct professor at Cornell University in Ithaca, New York. "It is really a tragedy that someone gets infected and dies at this stage."
An increase of nearly 10% should cause states to reconsider reopening plans and try to speed up vaccination, targeting the worst-hit neighborhoods, Weisfuse said. Growing pandemic fatigue among younger Americans, especially those traveling during Spring Break, is a major concern, because they are less likely to have received vaccinations.
The United States has vaccinated 1 in 4 people, and last week averaged about 2.5 million doses per day, according to Bloomberg Vaccine Tracker. That's not enough to achieve herd immunity, and many public health experts fear that another surge could occur before the immunization momentum reaches its highest expression. Texas, Tennessee and Alabama are among the slowest in the country, which may reflect vaccinations among Republicans, especially men.
While vaccines and the waning seasonality of the coronavirus play in the US's favor, that runs counter to more contagious variants, increased mobility and decreased use of masks, Mokdad said.
Case declines in large states like California, Texas and Florida have masked increases elsewhere. "We are seeing a localized increase, but we could see it everywhere," Mokdad said. "If we don't rush to mark or impose mandates to stop the increase, yes, we will see an increase in cases."
Hospitalizations in some states are also beginning to defy the downward trend. Seven states, including New Jersey, Delaware, and Maryland, reported an increase in average daily Covid-19 admissions for a consecutive week, according to a University of Minnesota data analysis from the Department of Health and Human Services.
"It's important not to ignore changes, especially when those changes become more consistent," he said. Pinar Karaca-Mandic, professor of health risk management leading the analysis.
The good news: Fewer of those hospitalizations can lead to intensive care admissions or deaths, because the vaccination campaign has focused on older Americans and those most at risk, Karaca-Mandic said.
– With the assistance of Jonathan Levin