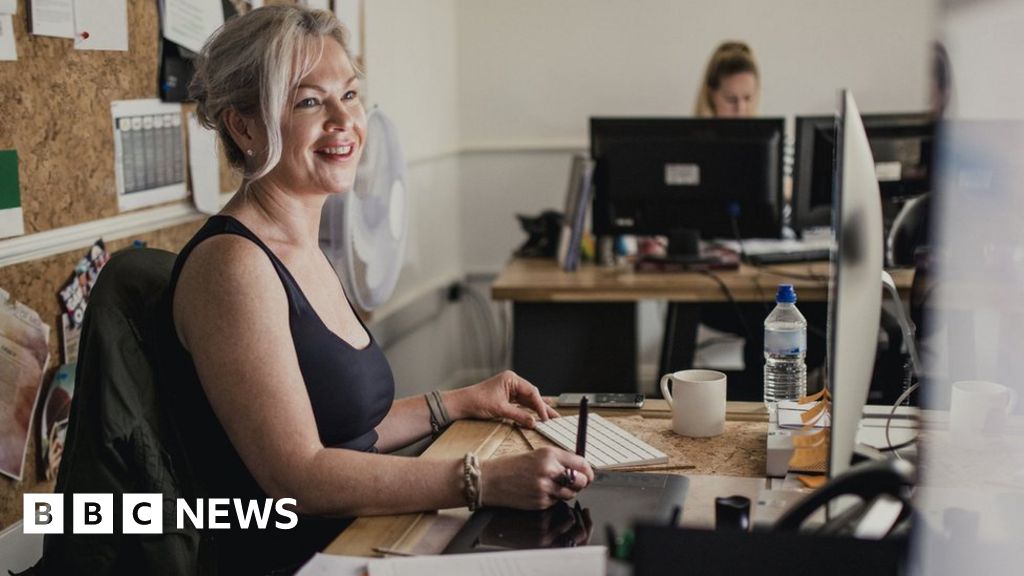 Matt Hancock said that there are no plans to make face coverings compulsory for office workers in England.
The Health Secretary told BBC Breakfast that people working in offices would not have to be covered, according to the newspaper report they would suggest.
"This is something we have seen and rejected," he said, but the added mask will be worn by the public "for the foreseeable future" elsewhere.
On 24 July, face coverings will become mandatory in shops in England.
Scotland already requires shoppers to cover their faces, while both Wales and Northern Ireland are weighing similar policies.
Mr Hancock said the coverings helped prevent the spread during short conversations with strangers, but social disturbances and hand washing were more effective for contact with people over long periods of time.
He said there is a difference between visiting a shop for a few minutes and working with colleagues at a desk for several hours.
"When you're in close proximity with someone you have to work closely with, if you're with them for a long time, a mask doesn't offer that protection."
"The same logic applies in schools – we are not recommending masks for schools because the mask does not give you protection if you are in class with children all day," he said.
Mr Hancock said face covering was effective "in a shop or public transport, for example, when you are with someone for a reasonable period of time – a few minutes – but not all day."
"The thing is that when you're interacting with people you're not normally with, this is where the mask can be particularly helpful."
He said: "We are not proposing to increase masks in offices."
Mr Hancock's remarks came as a council in Blackburn, Lancashire, told residents that they should cover the face in all public settings, as it worked to combat the "rising tide" of coronovirus cases.
Blackburn professor Dominic Harrison, along with Darwin's director of public health, said he hoped the use of the coverings, along with other specific measures, would prevent Leicester-style local lockouts in the area.
Leicester became subject to the UK's first local lockdown on 4 July following a spike in Kovid-19 cases. Social ceremonies have limitations and reopening of hotels, pubs and restaurants is not permitted.
Meanwhile, questions are asked about the use of masks by politicians.
Speaking on BBC Radio 4's Today program, Mr Hancock said he was "clearly not interested" in photographs showing clear differences in the use of face coverings by cabinet ministers.
Cabinet Office minister Michael Gov. portrays him without covering his face while shopping for food at a branch in Pret on Tuesday, while business secretary Liz Truss was seen wearing a bright blue mask later in the same shop minutes later.
Mr Hancock said: "I took those photos before announcing a change in policy in the House of Commons yesterday afternoon.
"And it is quite straightforward that since 24 July we are mandating face covering in the shop, similarly it is mandatory in public transport and the NHS."
Mr Hancock said the public needed to use face coverings in stores and for NHS facilities "for the foreseeable future".
"People have got to play their roles," he said.
'Wear a mask now'
This comes as residents and visitors in York are told to "wear masks right now" to become mandatory for shoppers on July 24.
Health officials in the historic city said there was "mounting evidence for the value of face covering".
From 24 July, those who fail to follow the new rules of face covering in England shops will face fines of up to £ 100.
Children below the age of 11, some disabled and people working in shops will be exempt.
Mr Hancock told the Commons on Tuesday that the new rule would "give people more confidence to shop safely and increase safety for those working in stores".
From 15 June, wearing of masks has been made mandatory in public transport and NHS facilities across England.
SANAYING SANE: Looking at your mental health when everything is going sideways
You, Me and the Big C: Cancer treatment during the epidemic
---
Do you work in an office What are your feelings about covering your face at work? E-mail [email protected].
Please include the contact number if you are willing to talk to a BBC journalist.