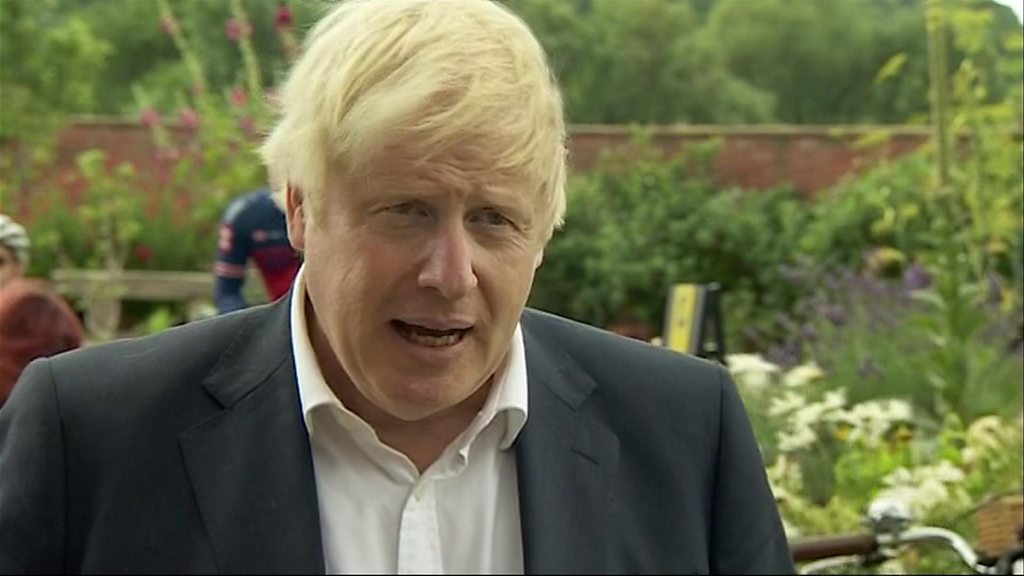 Boris Johnson warns that there are signs of a "second wave" of coronavirus in Europe, as he defended 14-day quarantines on Spain's passengers.
The PM said the government had to be "speedy" – and it would continue to take further action "where necessary".
This comes after the Spanish Prime Minister called Britain's decision to change the rules for Spain "unjust".
Pedro Sanchez said tourists in most areas of Spain would be safer with coronoviruses than in Britain.
Britain is advising against all non-essential travel to Spain, including the Balearic and Canary Islands. It also removed Spain and its islands from the list of countries that are free from the 14-day quarantine regime.
Meanwhile, Germany has also advised against traveling to three regions of Spain.
Speaking during a visit to Nottinghamshire, Mr Johnson said: "What we need to do is take swift and decisive action where we feel the risks are starting to rise again.
"Let's be absolutely clear among some of our European friends about what's going on in Europe, I'm afraid you'll start seeing signs of a second wave of pandemics in some places."
It came as the UK reported 119 coronovirus deaths – taking the official number of deaths so far to 45,878 – but the daily figure is higher on Tuesday due to delays in reporting deaths over the weekend.
An additional 581 positive cases have also been seen across the UK, a small decline in recent times.
'Stick with Guidance'
The 14-day period can be reduced as reported by the Daily Telegraph – Mr Johnson said that "we are always looking at ways that we can minimize the effects of quarantine".
"We have clung to the guidance you are giving at the moment, we have now given guidance about Spain and some other places around the world."
Asked whether the 14-day quarantine period could be cut, Transport Minister Baroness Vary said the government was looking at "a range of options" after "testing people on certain days".
Ministers are "definitely looking" at the idea of ​​a ban on travel to regions rather than entire countries, he said during an urgent question in the House of Lords.
Mr Johnson said that if Britain saw signs of a second wave in other countries, it was the government's duty to prevent travelers from returning and spreading disease.
"It is important that when people are coming back from abroad, if they are coming back from a place where I fear there is another outbreak, they have to go into quarantine," he said.
"So the action we have taken and we will continue the entire summer, to take such action where it is necessary."
Scottish First Minister Nicola Sturgeon echoed Mr Johnson's concerns, saying, "We are currently concerned about the revival of Kovid in European countries."
He warned potential travelers not to accept quarantine measures, when they return, the same will remain at the time of booking the holiday. He said: "I will not be booking foreign vacation right now."
The Health Department said there were some suspected cases this month where a person tested positive for coronovirus after returning to Spain from Britain.
But it was added that these were not a factor in the evidence presented before the ministers and that the decision to resume a quarantine for those coming from Spain was taken there due to rising rates of infection.
'Britain's error'
In an interview with Telecinco TV Network, Mr Sanchez of Spain said that his government was "talking with British authorities to reconsider the decision".
He said that Britain had made an "error" in view of the infection rate for the whole country.
He stated that "64.5% of the new cases registered are in the two regions" and that in most of Spain the Kovid-19 trend was "far inferior to the numbers registered in the United Kingdom".
According to the latest figures from the European Center for Disease Prevention and Control, the rate of infection in Spain is 47.2 per 100,000 people, while the UK ranks 15th.
While the outbreak is under control in many parts of Spain, some areas – particularly in Catalonia in the north-east, including the city Barcelona, ​​and the neighboring region of Aragon – have seen a huge increase in infections.
As of July 19, the rate of infection was lower in the Balearic and Canary Islands than in mainland Spain.
Speaking to BBC Breakfast, Minister for Local Government Simon Clarke said "we have seen a very rapid increase in cases in Spain".
"There has been a 75% increase in cases reported between the middle of last week and the end of last week. That is why we have taken action."
On Tuesday, the UK government included Estonia, Latvia, Slovakia, Slovenia and St. Vincent and the Grenadines in the list of countries that are free from quarantine regimes.
If not included in the list, travelers returning from the UK – including Spain – must now self-segregate at the registered address for 14 days.
Those who do not commit self-segregation can be fined up to £ 1,000 in England, Wales and Northern Ireland and those returning to Scotland can be fined £ 480 with fines of up to £ 5,000 for consecutive offenders .
Government sources told the BBC that there are no plans to start trials at airports and the priority is to get the walk-in centers up and running.
Some travel agents say they are struggling to understand the advice of the UK government.
And MP Chris Bryant, who chaired the all-party parliamentary group for Spain, said: "The Canaries – who are further away from Barcelona than Barcelona, ​​are on the UK list – on mainland Spain's list, I'm just not understanding.
"And there are many areas of Spain, which have much lower infection rates than many areas in the UK. I think it's handled very badly."
Labor said the government was "chaotic" in dealing with the restrictions, and urged it to take steps to protect jobs in the travel industry.
"The transportation industry and passengers need clarity," said shadow transportation secretary Jim McMahon.
Holiday companies Jet2 and Tui were among those announcing extensive flight cancellations following the UK announcement.
Easyjet, British Airways and Ryanair said they would continue to operate the full schedule of flights to Spain, although Easyjet said its holidays would be canceled for the next few weeks.
Cases increase as Spain rushes to save tourism
Sun, Sea and Saints: How will your vacation be?
Among the thousands affected by the change in travel advice and the need for quarantine was Jason Ward, who changed the rules when he was on vacation in Ibiza with his wife.
The couple from Stevenage, Hertfordshire, came on a two-week holiday on Saturday and now had to separate themselves for the same amount on their return to Britain.
"We are both prominent activists and have worked through lockdowns," Mr Ward told the BBC.
"We feel safe here then back home."
He called on ministers to "remove quarantine and allow businesses here to have a chance to survive".
Transport Secretary Grant Shaps was also impressed, having flown in from Spain on Saturday, which was known to be due to a decision on quarantine policy, and then said he would leave his family to return to Britain this week.
IEN GUIDED BY SCIENCE ': A dangerous gamble with people's lives or a sound scientific outlook?
I MAY DESTROY You: Landslide drama making headlines in lockdown
---
Has your travel plans been affected by the new government advice? Have you returned to the UK and are facing problems due to quarantine? Are you still stranded in Spain? Share your experience by email [email protected].
Please include the contact number if you are willing to talk to a BBC journalist.
WhatsApp: +44 7756 165803
Tweet: @BBC_HaveYourSay
Please read our Terms and Conditions and Privacy Policy