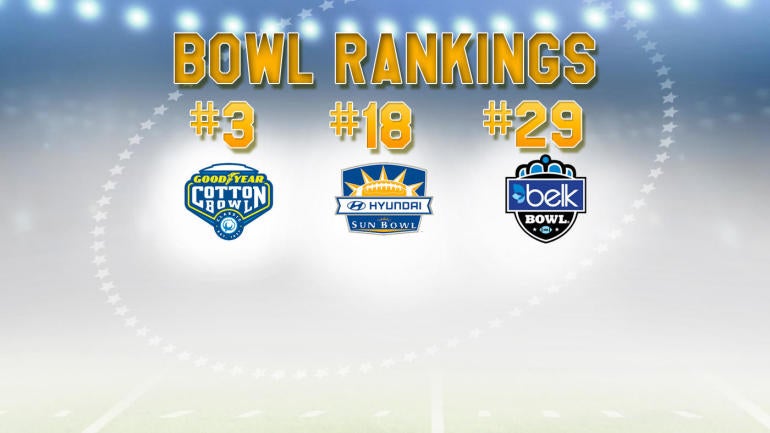 [ad_1]
There's nothing like bowl season. If you're a college football player, it's the best time of the year. There is a college football game almost every day for a period of three weeks in December, which means that you always have something to do that is not working, running errands or interacting with other human beings outside your home.
It's wonderful.
Of course, this is still college football, and one of the fundamentals of the sport is that we have to sort things out, just like I do every year here on CBS Sports, I've rated all the bowl games. I even have a method that is not purely my own opinion. Here, I am clbadifying the quality of the game, not only because of how well the teams play, but because of how well they are in terms of talent. So, even if the two teams in the game are not the 50 best teams, if they are of similar stature, they should offer an entertaining game, and that's what the bowl season is mostly about.
Regarding the rankings, to be clear, all the bowls are wonderful, and even the bad ones are good. The gap between No. 13 and No. 39 is not huge, and unlike the College Football Playoff Selection Committee, I say that when I say that.
So, without further ado, here are the Final Bowl Rankings 2017-18.
All times Eastern
39. Independence Bowl – Southern Mississippi vs. Florida State – December 27, 1:30 p.m. : I suspect that Florida State was much more interested in keeping the bowl streak alive than it will be in fact playing in the bowling game itself.
38. Military Bowl – Virginia vs. Navy, December 28 – 1:30 p.m. : I do not expect many points or a lot of emotion in general, but I do hope it is a quick event. game. That is something of a blessing.
37. Boca Raton Bowl – Akron vs. Florida Atlantic – December 19, 7 p.m. : I just do not like this pairing. I would have preferred that FAU play as one of the best teams of the MAC or Sun Belt. Give me Toledo here, and I think we have a top 15 game at worst.
36. Arizona Bowl – State of Utah vs. State of New Mexico – December 29, 5:30 p.m. : Listen, I'm very happy that the State of New Mexico is in its first bowl game since 1960, but this is not exactly a must.
35. Cure Bowl – Western Kentucky vs. State of Georgia – December 16, 2:30 p.m. : Hey, at least it will cure your desire to look for something to watch during the commercials of other games happening at the same time.
34. Gasparilla Bowl – Temple vs. FIU – December 21, 8 p.m. : The name Bad Boy Mowers Gasparilla Bowl is amazing. The game is simply good.
33. Quick Lane Bowl – Duke vs. Northern Illinois – December 26, 5:15 p.m. : Admit it, yawned a little when reading the confrontation.
32. Cactus Bowl – Kansas State vs. UCLA – December 26, 9:00 p.m. M. : This game is knocked down a few pegs because of my suspicion that UCLA quarterback Josh Rosen will not play in it. Even if he does, I'm not very happy with the pairing.
31. Idaho Potato Bowl – Central Michigan vs. Wyoming – December 22, 4 pm : Come to the game that might be interesting, stay for the pet that induces the nightmare.
30. Frisco Bowl – Louisiana Tech vs. SMU – December 20, 8 pm : This game could be pretty good, but all I can think about now is the Frisco Melt from Steak & # 39; n Shake.
29. Belk Bowl – Wake Forest vs. Texas A & M – December 29, 1 p.m .: I caught some points for having a team playing under an interim coach. Always a question of how badly a team wants to be there in such a situation. If the Aggies appear, this game could be a good time.
28. Camellia Bowl – Middle Tennessee vs. Arkansas State — December 16, 8 pm : There's not much appeal here, but as is often the case in these games, there's potential for a thriller.
27. Texas Bowl – Texas vs. Missouri – December 27, at 9 p.m. : Do you know how many people would have seen a Texas Bowl between Texas and Texas A & M? This game could be good, but it could have been great.
26. Foster Farms Bowl – Arizona vs. Purdue – December 27, 8:30 p.m. : This game features one of my favorite players (Khalil Tate) going against one of my favorite coaches (Jeff Brohm).
25. New Mexico Bowl – Marshall vs. Colorado State – December 16, 4:30 p.m. : two teams that did not spend much time watching this season offering them the potential of a close – – if low score – game.
24. Bahamas Bowl – UAB vs. Ohio – December 22, 12:30 p.m. : Bahamas Bowl goes crazy. Never leave a Bahamas Bowl without supervision.
23. Heart of Dallas Bowl – Utah vs. West Virginia – December 26, 1:30 p.m. : This pairing would have been more attractive in September than it is at this time.
22. Hawaii Bowl – Fresno State vs. Houston – December 24, 8:30 p.m. : I'm a little upset because the Hawaii Bowl usually has two teams that I do not care about and I can easily ignore while I'm with my family on Christmas Eve. Now I want to see, but it will be played while my family wants to watch NFL games.
21. Music City Bowl – Kentucky vs. No. 21 Northwestern – December 29, 4:30 p.m. : It's a Wildcats battle in Nashville. Honestly, this game could be good, but I do not think you could have found a Big Ten-SEC showdown more boring if you tried.
20. Outback Bowl – Michigan vs. South Carolina – January 1, 12 p.m. : Oh, wait, maybe you could. Still, I'm going to watch this game for the replays of Jadeveon Clowney decapitating Vincent Smith in the 2013 Outback Bowl. In fact, the game should have both players back to flip the coin before the game. Clowney should call heads, obviously.
19. Las Vegas Bowl – No. 25 Boise State vs. Oregon – December 16, 3:30 p.m. : If Willie Taggart is still with the Ducks, then this game should be improved a little bit. Here is a great potential for a big one.
18. Sun Bowl – No. 24 NC State vs. Arizona State – December 29, 3 pm : More than anything, I hope Herm Edwards will appear at the booth trying to explain exactly what his job at Arizona State will entail.
17. Pinstripe Bowl – Iowa vs. Boston College – December 27, 5:15 p.m. : In a way, I feel that Iowa and Boston College are two brothers lost for a long time, who finally find each other. , but none of them realize who the other is.
16. Armed Forces Bowl – State of San Diego vs. Army – December 23, 3:30 p.m. : This game should be close, fun, interesting, and complete in less than three hours and 15 minutes.
15. New Orleans Bowl – Troy vs. North Texas – December 16, 1 p.m. : Remember when Troy defeated LSU earlier this season? It seems like it was a long time ago. Anyway, the Trojans and an amazing team from North Texas should offer an entertaining game on the first day of the bowl season.
14. Holiday Bowl – No. 18 Washington State vs. No. 16 State of Michigan – December 28, 9 p.m. : Here are somewhat contradictory play styles! These games have a wide range of possible outcomes, and the ceiling is high enough to put it on the n. 14. However, there is a bankruptcy factor that must be taken into account.
13. Birmingham Bowl – Texas Tech vs. South Florida – December 23, 12 p.m. : Listen, if you are going to watch this game, be sure to clear your calendar. You will have many big plays, very little defense, and it will last almost five hours.
12. TaxSlayer Bowl – Louisville vs. No. 23 Mississippi State – December 30, 12 pm : This game would have been more important if Nick Fitzgerald was healthy because a Fitzgerald-Lamar Jackson showdown would have been great. Still, it's his last chance to see things from Lamar Jackson Make Lamar Jackson in a college game.
11. Dollar General Bowl – Appalachian State vs. Toledo – December 23, 7 p.m. : Dollar General Bowl? More like the $ 100 Special Bowl because this game features two of the best teams in the Group of Five. It's a rematch of the Camellia Bowl last season, which the Appalachian state won 31-28. I expect a similar game this year.
10. Liberty Bowl – State of Iowa vs. No. 20 Memphis – December 30, 12:30 p.m. : This game has all the potential of the world. I have it in the n. ° 10, but by the end of the bowling season, this could be the one that is considered the best game of the bowl season.
9. Alamo Bowl – No. 13 Stanford vs. No. 15 TCU – December 28, 9 pm : I hope the free time is enough to heal Bryce Love's ankle because the idea of ​​going against a Gary Patterson defense is intriguing to say the least.
8. Citrus Bowl – No. 14 Notre Dame vs. No. 17 LSU – January 1, 1 pm : We watched this showdown at the Music City Bowl a few years ago, and it was a great game. I would take a repeated performance in Orlando.
7. Camping World Bowl – No. 22 Virginia Tech vs. No. 19 Oklahoma State – December 28, 5:15 p.m. : Two Orlando bowl games separated by four days actually, but only one place in these rankings. I love this pairing and its potential for ridicule.
6. Peach Bowl – No. 12 UCF vs. No. 7 Auburn – January 1, 12:30 p.m. : I love that UCF has the opportunity to prove its worth against a team with two playoff team victories. As always in these games, there is a breakthrough factor, especially with Scott Frost taking the Nebraska spot. He is expected to train in this game, but it will be interesting to see how he manages to have two jobs at a time.
5. Orange Bowl – No. 6 Wisconsin vs. No. 10 Miami – December 30, 8 p.m. : I'm not sure what will happen here, but I would take it from below. These are two balanced teams in defense and offense, so I expect a close match with a lower score. But not the boring guy. In addition, Wisconsin needs to create a cheese curd before this game begins.
4. Fiesta Bowl – No. 11 Washington vs. No. 9 Penn State – December 30, 4 pm : None of the teams had a shot at a playoff spot for a while, which caused it to be overlooked a bit in recent weeks. Do not overlook this game because I love this pairing. We could be in a game similar to Penn State's defeat to USC in the Rose Bowl last year.
3. Cotton Bowl – No. 8 USC vs. No. 5 Ohio State – December 29, 8:30 p.m. : I mean, it's USC and Ohio State. The two teams that got lost in a playoff spot. It's a Texas Rose Bowl, and once Texas went to the Rose Bowl it was great, so let's see if the two things go together.
2. Rose Bowl – No. 3 Georgia vs. No. 2 Oklahoma – January 1, 5 pm : Every year we hear that the Big 12 offensives would not be as good against the real defenses, and that the SEC's defenses never face real crimes. Well, here you are. And in a semifinal of the playoffs no less. In the Rose Bowl, too. My God, I can not wait for this game.
1. Sugar Bowl – No. 4 Alabama vs. No. 1 Clemson – January 1, 8:45 p.m. : The rubber match! What would be the college football tie without a game between Clemson and Alabama? Of course, this is not a title game, but it is for a title shot.
[ad_2]
Source link