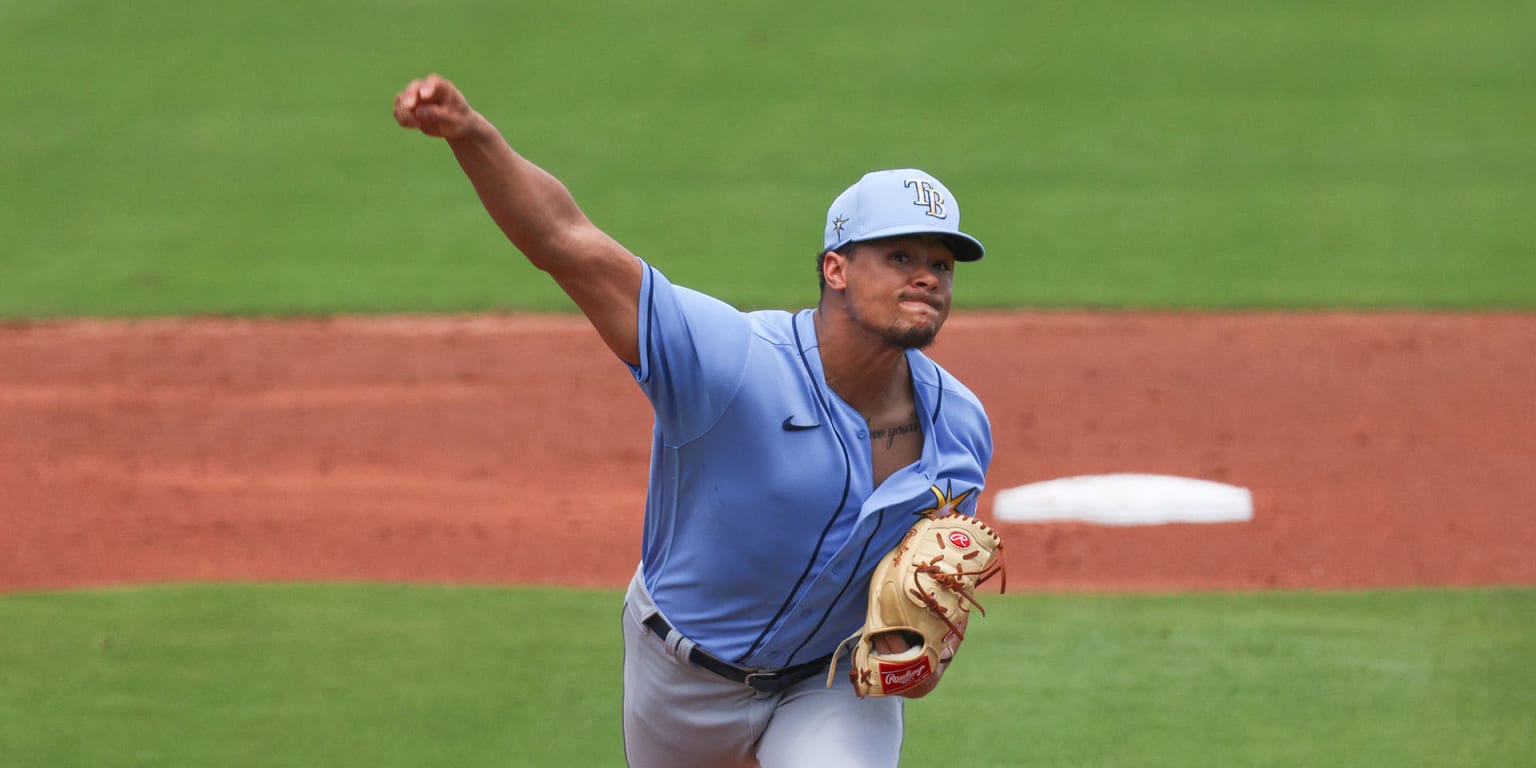 When Chris Archer returned to Tampa Bay as a free agent, he said one of the first things he said to general manager Erik Neander was that he is willing to work in whatever role is best for the team. Most of the time, that will mean being a starter like you always have been. That could also mean pitching after a first game.
When Archer makes his official return to the Rays on Saturday, it will mean pitching from the bullpen after Rich Hill, another veteran starter who joined in the offseason. Hill is scheduled to start against the Marlins at Loan Depot Park Saturday night (6:10 ET, live on MLB.TV), and Archer is also scheduled to pitch sometime in the game.
The two veterans will be separated to pitch on different days the next time through the rotation, but this arrangement made sense for both, given the Rays 'early schedule and their attention to pitchers' workload this season. Tampa Bay has a day off on Sunday and another on Thursday, so there wasn't much of a need to start the season with a traditional five-man rotation.
Instead, Hill and Archer can start the season with each pitch of a handful of innings in a kind of tandem start, one that could be quite effective considering the different challenges each presents on the mound.
"I think that's the point of this first game, to have that contrast, to allow us not to try to carry too much of a load from the beginning, and I'm looking forward to it," Archer said. "I really want to follow him and, every time my number is called, run in and out."
Manager Kevin Cash said he will speak with pitching coach Kyle Snyder to get an idea of ​​what kind of use Hill and Archer are prepared for and who might bounce back to a higher pitch count when they break up next time. The Rays understand the value of throwing different looks at opposing hitters, and they're not much different from Hill and Archer. Hill is a southpaw who relies on his curveball and fastball that has averaged 89-90 mph in recent years, while Archer pitches in the mid-90s with a slider as his main break ball.
"It's just going out and running," Hill said. "I think the complementary part will be great, but again, it's coming out and getting ready to perform. That is all. That's really the most important thing for me, for Chris, for everyone. "
Archer hasn't pitched from the bullpen in a regular-season game since Sept. 29, 2012, but he had an idea of ​​what it takes to prepare in spring training. On March 19, Hill worked 2 2/3 innings against the Red Sox, then Archer took over in the fourth and worked 2 earned innings with 2 strikeouts.
Archer said he didn't feel physically ready on that outing, despite the results. So don't be surprised if you see Archer moving around the bullpen during the game or playing long outfield pitches between innings.
Archer said he'll be so focused on his preparation, in fact, that the meaning of getting back on the mound in a Rays uniform for the first time since 2018 might not even take hold until after he's finished pitching.
"There will be more nostalgia, but it will probably be more from the point of view of reflection because at the moment I will have a job to do. And it's a job that's kind of weird, so I'm going to have to focus a lot on that, "Archer said. "I'm glad we got all of this sorted out in the spring. I have already released several games. I'm out of the bullpen. So at this point, I just have to get out there and run, and I really want to do it in the blue sky. "
• Cash previously said the Rays intended to involve all of their position players immediately, and that turned out to be true Friday when he shuffled the bottom half of the lineup. Joey Wendle had the start at shortstop, Manuel Margot in center field and Francisco Mejia behind the plate while Willy Adames, Kevin Kiermaier and Mike Zunino did not start. The top five hitters remained the same: Yoshi Tsutsugo, Austin Meadows, Randy Arozarena, Brandon Lowe, and Yandy Diaz.
• Thursday was the 37th 1-0 win in club history, but only the second time in franchise history that the Rays threw a shutout on Opening Day, joining their 7-0 win over the Twins in 2000. Since at least 1901, there have been 44 Opening Day 1-0 shutouts, and the Rays became the first American League club to win a 1-0 road game on Opening Day since Los Angeles. Indians 1946.
• Glasnow's dominant start on Opening Day was his ninth scoreless start since joining the Rays. He didn't have any before he was moved to Tampa Bay.
• On Thursday, Austin Meadows became the Rays' fourth player with multiple opening day home runs, joining Evan Longoria (four), Gerald Williams and Ben Zobrist (both two). It was the ninth time since at least 1901 that a solo home run represented the only run of an Opening Day game and only the third time it was true for an American League team.