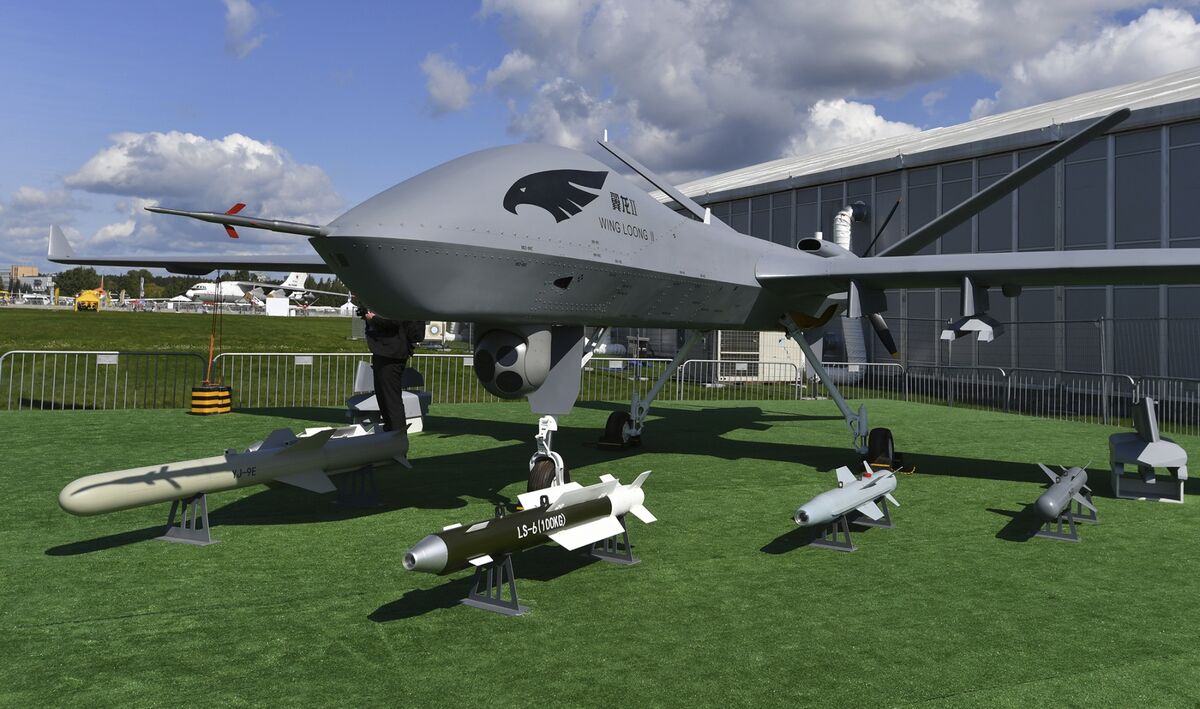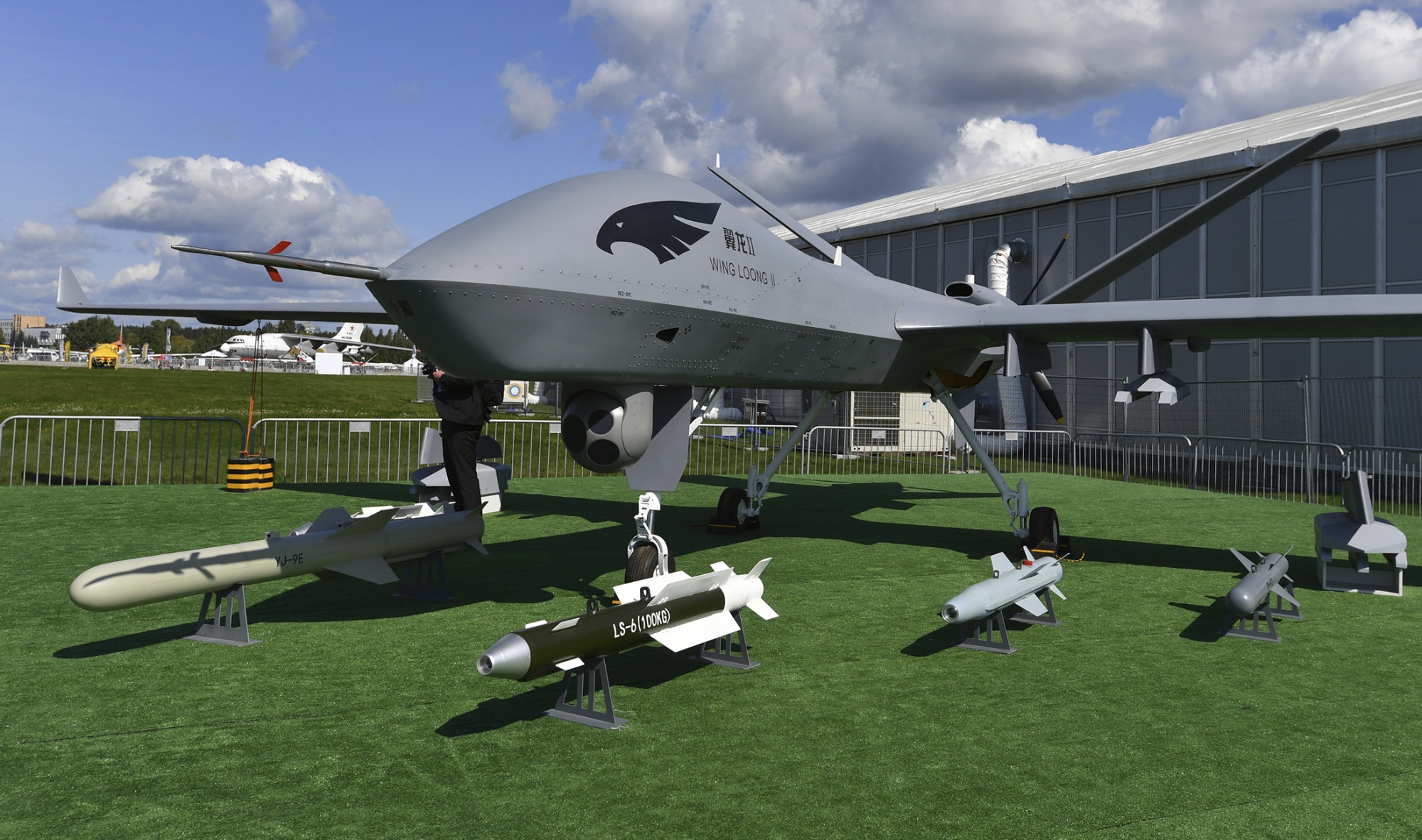 A dozen years after its fight with the Islamic insurgent group Boko Haram, Nigeria is getting some new weapons: a pair of Wing Loong II drones from China. The deal is one of a growing number of state-owned sales. Aviation Industry Corp. of China (AVIC), which has exported dozens of aircraft. The UAE has used AVIC drones in Libya's civil war, Egypt has targeted rebels in the Sinai with them, and Saudi-led troops have deployed them to Yemen. The company's drones "have now been battle tested," says Heather Penney, a fellow at the Mitchell Institute for Aerospace Studies, a think tank in Arlington, Virginia. "They have been able to incorporate the lessons learned into its manufacture."
Nigeria is getting the second generation Wing Loongs from AVIC (the name means "pterodactyl"), which can fly as fast as 230 mph and as high as 30,000 feet, with a payload of a dozen missiles. Since 2015, when AVIC introduced the newest model, it has produced 50 for export and a number unknown to the Chinese People's Liberation Army. And it's working on even more advanced aircraft, such as a stealth fighter drone with a flying wing design similar to that of the US B-2 bomber.The drone program, combined with deliveries of fighter jets, trainers, transporters and assault helicopters, has propelled AVIC into the upper ranks of the global arms trade. In 2019, it sold military equipment valued at $ 22.5 billion, according to the Stockholm International Peace Research Institute (Sipri), placing it sixth in the world, behind five US companies.
AVIC's drones have two big selling points: They're cheaper than comparable planes from US producers or Israel, the other primary manufacturers, and China doesn't care much about how they're used, says Ulrike Franke, a researcher at policies at the European Council on Foreign Relations. "China is willing to export armed drones to almost anyone," he says. AVIC did not respond to requests for comment.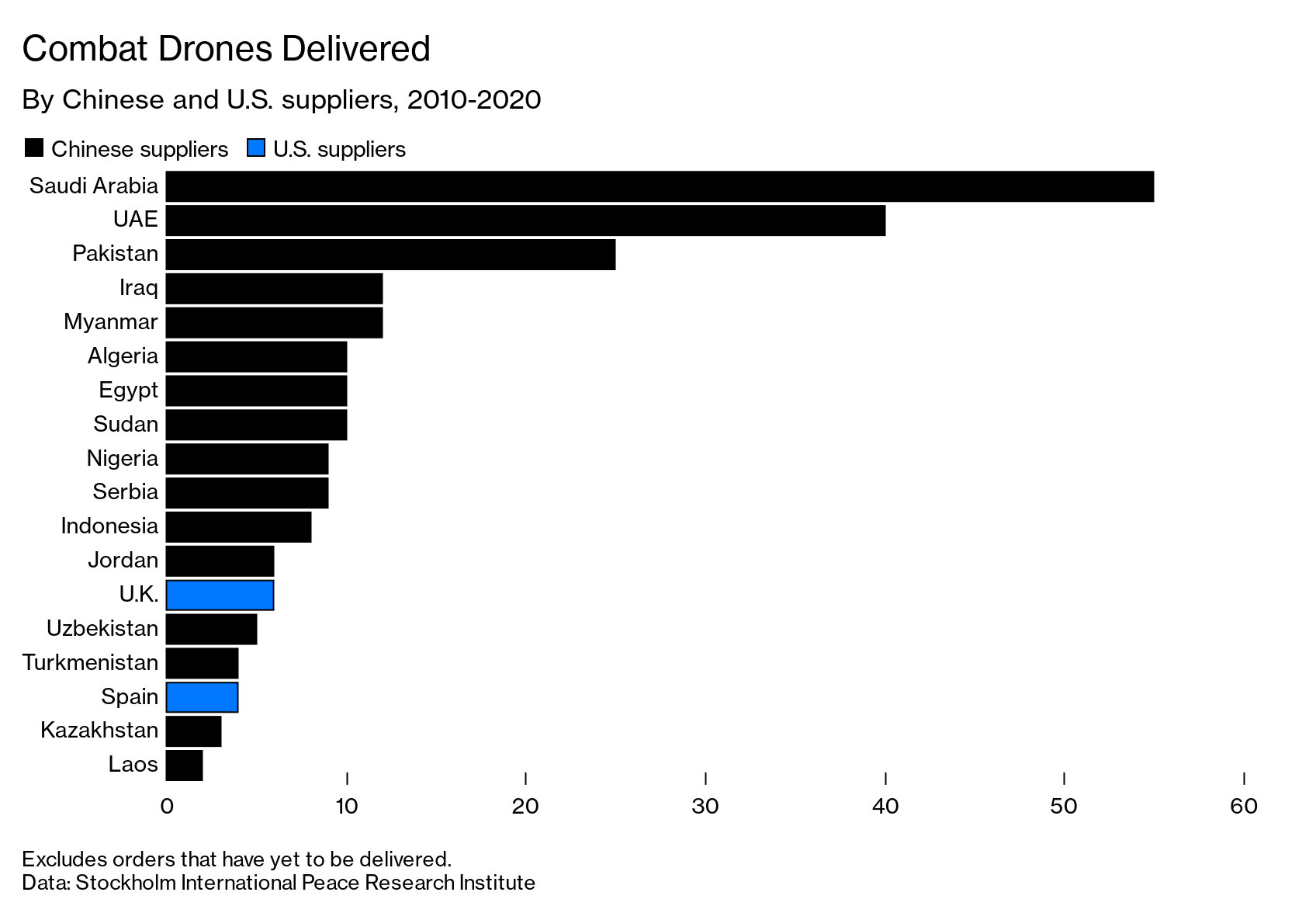 Over the past decade, China has delivered 220 drones to 16 countries, according to Sipri. That prompted other nations to boost their capabilities in the field, says Michael Horowitz, a political science professor at the University of Pennsylvania. Japan, South Korea and Belarus are developing drone technology. Turkey supplied drones that helped Azerbaijan defeat Armenia in last year's conflict in Nagorno-Karabakh. Russia agreed in January to send drones to Myanmar and is working on longer-range models. Serbia and Pakistan say they intend to use China's purchases to seed their own programs. "The proliferation of armed drones is inevitable due to Chinese exports," says Horowitz.
The Chinese government rejects the accusation that it is fueling an arms race, saying it only aims to improve the defensive capabilities of its clients. And unlike the United States, it refrains from meddling in its internal affairs, Foreign Ministry spokeswoman Hua Chunying said during a press conference in February. "We are prudent and responsible in arms exports," he said. "This is totally different from what the United States does."
The Chinese drone push presents a challenge for President Biden as he tries to move beyond the independent foreign policy of the Trump administration. Last fall, Trump considered AVIC and its subsidiaries part of the Chinese military, restricting their access to American technology. But last summer he reinterpreted the Missile Technology Control Regime, a 1987 agreement, signed by more than 30 countries, that had long kept U.S. drone exports at bay. allow the sale of many of these aircraft.
Despite criticism from Democrats, Trump agreed to sell 18 General Atomics MQ-9 Reaper drones to the United Arab Emirates. In November, the administration approved a $ 600 million deal to provide Taiwan with four Reapers; And the following month, Trump's State Department informed Congress of a contract to sell four Reapers to Morocco following the establishment of diplomatic relations with Israel. Although Biden has said it is reviewing the sale in the UAE, all three deals are on track to be finalized.

AVIC is at the center of China's broader push to develop its aerospace industry, both civil and military. China Aerospace Science & Technology Corp. has sold combat drones to Egypt, Iraq, Saudi Arabia and Serbia, the first time a European country has deployed Chinese drones. China North Industries Group Corp. completed development of its Communist Party-controlled Golden Eagle drone helicopters in November. Global times The newspaper said they were "designed to meet the demands of the arms trade." China's Commercial Aircraft Corp., owned 12% by AVIC, is developing an airliner to compete with the Boeing 737 and Airbus A320. And AVIC has joint ventures with about 10 multinationals in China-centric civil businesses, such as aircraft components and avionics.
AVIC's growing experience is paying off in quality improvement, says Pawel Paszak, director of the China Monitor program at the Warsaw Institute, a think tank in the Polish capital. Although their drones don't match the best offerings from American and Israeli companies, they are increasingly competitive, and the price difference is significant: AVIC's best drones cost between $ 1 million and $ 2 million each, compared to more than $ 15 million for a comparable American. model. "Maybe the Chinese drones are not as good as the American ones," says Paszak. "But 15 drones instead of one, and without any human rights issues? This is a good deal. " —With Lucille Liu, Colum Murphy, and Nick Wadhams
BOTTOM LINE –
AVIC sold $ 22.5 billion worth of drones and other military equipment in 2019, making it the sixth largest arms exporter in the world, behind only US companies.