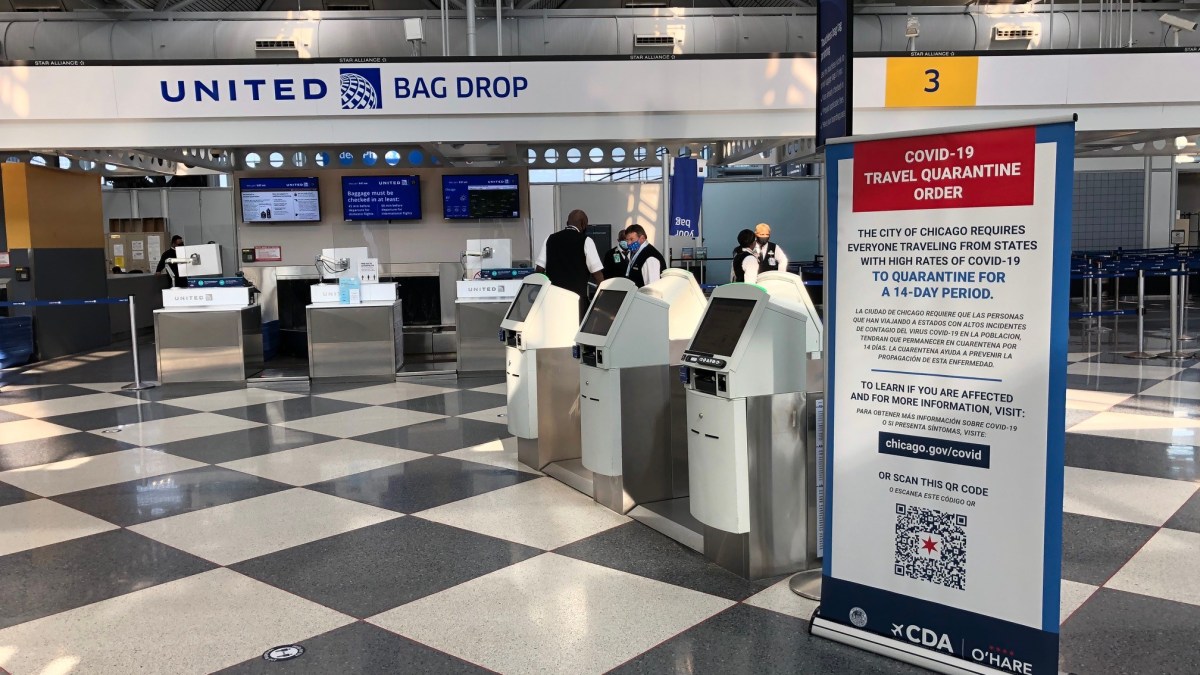 (NOTE: Governor JB Pritzker and Chicago Mayor Lori Lightfoot's daily press conferences will air live on the old player. Check back for updates.)
The new Chicago travel order requires anyone entering or returning to the city from more than a dozen states to be quarantined for 14 days.
The order comes after a long vacation weekend that took many trips.
Here are the latest developments on the coronavirus crisis today (July 6):
Illinois reports 614 new cases of coronavirus, 6 additional deaths
Health officials in Illinois have reported 614 new cases of coronavirus statewide in the past 24 hours, along with six additional deaths.
According to data from the Illinois Department of Public Health, the state's total number of coronavirus cases during the pandemic is now 147,865 after new confirmed cases Monday.
The six additional deaths, linked to Sunday by the lowest increase in single-day deaths since late March, bring the total number of coronavirus-related deaths in the state to 7,026.
IHSA Releases Phase 4 Guide to 'Back to the Game'
The Illinois High School Association has released its long-awaited guidelines for playing again in phase four of the Illinois reopening plan.
The new guide went into effect Sunday after being approved by the Illinois Department of Public Health and includes restrictions for both fans and gamers.
The guidelines allow teams to meet up to 50 coaches and players at the same time for practices and competitions, but the guidelines for social distancing will still have to be maintained.
Per the rules, players should be screened before each event for symptoms of coronavirus, and students will be limited to five hours of participation per day.
"Security remains at the forefront of everything IHSA is doing as we move toward Phase 4 and beyond," IHSA Executive Director Craig Anderson said in a statement. "We appreciate the collaborative efforts of SMAC and IDPH to recognize the physical, mental, and emotional benefits to our student athletes and coaches as they advance in training in a more traditional practice setting. Our focus now shifts to continuing to work with state leadership to determine how to provide the safest possible environment for fall sports. "
The guidelines allow for a total of 20 contact days between June 30 and August 9.
Here's a look at the guidelines for "summer contact days."
Chicago Mayor Lori Lightfoot to launch utility bill relief program
Chicago Mayor Lori Lightfoot will announce the launch of a new utility bill relief program in the city.
The announcement, which is scheduled for 1:30 pm CST, will include City Comptroller Reshma Soni and CEDA leadership, his office said.
Watch it live in the player above.
Chicago travel order begins, requiring quarantine for travelers from 15 states
Chicago's emergency travel order began Monday morning, directing anyone visiting one of the 15 states in the United States that is currently experiencing an increase in cases of coronavirus to quarantine for 14 days.
The order went into effect at 12:01 am and remains in effect until further notice.
Dr. Allison Arwady, Commissioner of the Chicago Department of Public Health, said travelers entering or returning to Chicago from "states experiencing an increase in new COVID-19 cases" should be quarantined "for a period of 14 days from the time of last contact within the site identified state. "
The states included in the order are: Alabama, Arkansas, Arizona, California, Florida, Georgia, Idaho, Louisiana, Mississippi, North Carolina, Nevada, South Carolina, Tennessee, Texas and Utah.
Illinois reports the fewest deaths on a single day since late March
Illinois health authorities reported 639 new coronavirus cases on Sunday, but only six deaths, as the state reported its lowest single-day increase in deaths since late March.
According to data provided by the Illinois Department of Public Health, 7,020 people have died from coronavirus-related complications. The additional six deaths on Sunday are the smallest increase in the number of total deaths since March 25, when three deaths were reported statewide.
With 639 new cases on Sunday, the total number of cases across the state since the pandemic began is now 147,251.
.