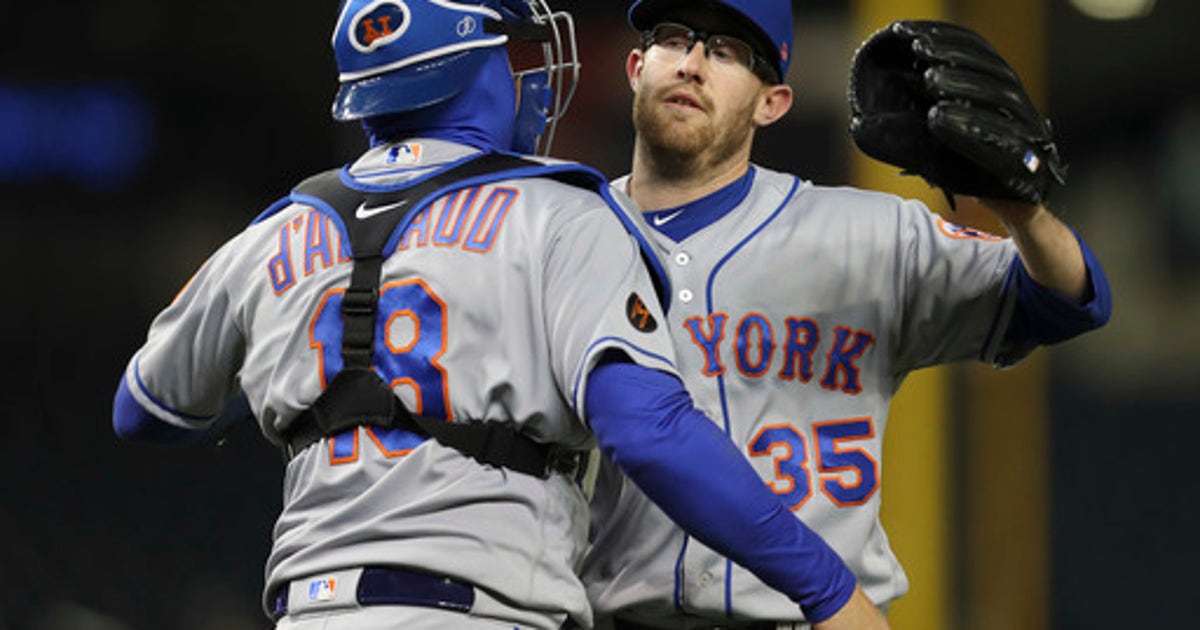 WASHINGTON (AP) manager Mickey Callaway is doing all the right moves for the sparkling New York Mets.
Yoenis Cespedes scored Juan Lagares with a broken bat in the 12th inning to help the New York Mets beat Washington Nationals 6-5 on Sunday night to complete a three-game sweep and win his fifth win consecutive in general.
"I think he's sending a message not just to the guys in the locker room, but to all the baseball," Mets said. Matt Harvey said. "We're having a lot of fun and it's been a good start."
Lagares singled to Brandon Kintzler (0-2) to start the 12th inning and was sacrificed to second by Amed Rosario. Washington intentionally dropped Michael Conforto, and then Cespedes, hitless in five previous at-bats with three strikeouts while battling flu symptoms, splintered in a soft line to center field.
Bryce Harper hit his sixth home run, hit a single twice and walked twice, but Washington fell for the fifth time in a row. Harper came walking from the ninth inning, but was left stranded, and then landed to finish the 10th inning with a man in play.
"We're nine games away, I do not know my math," joked Harper. "I did not graduate from high school, but we have, what, 154 games are left? Something like that, I have to turn the page."
Callaway rolled the dice with Harper in third and one in the ninth, walking intentionally to Howie Kendrick and Trea Turner to load the bases.
"Man in third, sac fly (he wins) and actually pulled out a couple of his best hitters and probably took us where we wanted to be in his lineup," Callaway said.
Seth Lugo (1-0), who threw three innings without allowing runs, then struck out Michael A. Taylor and Pedro Severino at the end of the threat.
Nerve-racking for Lugo?
"Yes. Yes, a lot," he said.
Asdrubal Cabrera hit a solo homer while New York won its first three-game sweep against the Nationals from September 7 to 9, 2015 in Washington.
"I'm not very worried," said Nationals manager Dave Martinez. "Play as we are able to play, we will be fine".
Jacob Rhame got his first professional rescue. The Nationals left 14 men at the base.
The Nationals lost 5-4 until Taylor tied with a two-out single in the seventh.
Both incumbents left after five entries. Harvey took the lead after allowing four runs and nine hits, while Tanner Roark of Washington allowed five runs and five hits. Nine Mets came to the base against Roark, all with two outs.
The Nationals took a 2-0 lead in the first when Harper homered on the right field line in a 1-1 fastball.
With two outs in the second, Roark walked three consecutive hits before Gonzalez homered the Nationals' bullpen on the first pitch. It was the sixth Grand Slam of Gonzalez and the second of the Mets.
WHEELER & # 39; S DEAL
Callaway said that Zack Wheeler will be called from Triple-A Las Vegas and will launch in Miami on Wednesday, when the Mets will need a fifth starter. In his first start in Las Vegas, Wheeler allowed a run in five innings. It would be the first time that Noah Syndergaard, Jacob deGrom, Steven Matz, Harvey and Wheeler make a rotation together.
HITTING HARVEY
After starting his career 0 for 21 against Harvey, Harper has 5 for his last 11 with two homers against him.
COACHING ROOM
Mets: LHP Jason Vargas (broken right hand) pitched a simulated game in Florida on Saturday. "He did great, I went up and down six times," Callaway said. "He's making good progress"
Nationals: 2B Daniel Murphy (right knee surgery) needs another week to run the bases at full speed before a possible rehabilitation assignment.
TOP NEXT
Mets: RHP Noah Syndergaard (1-0, 5.40 ERA) starts when the Mets open a series Monday in Miami. He is 3-0 with a 1.64 ERA in five starts in his career against the Marlins, who will start RHP José Ureña (0-1, 4.91).
Nationals: RHP Max Scherzer (1-1, 1.64) will face Julio Tehran of Atlanta (0-0, 10.13) on Monday when the Nationals host the Braves in the first of three games. Scherzer is 7-6 with a 3.92 ERA against Atlanta.
–
More AP baseball: https://apnews.com/tag/MLBbaseball
// Create a new script and configure the basic concepts. let script = document.createElement ("script");
script.async = false; script.src = url;
// Attach the script label to the page (before the first script) so that the magic can happen. let firstScript = document.getElementsByTagName (& # 39; script & # 39;) [0]; firstScript.parentNode.insertBefore (script, firstScript);
}; leave googlePixelLoader = function () {
window ['google_conversion_id'] = 832239217; window ['google_conversion_label'] = "TccACP23rXkQ8ezrjAM"; window ['google_remarketing_only'] = false;
getScript (window.location.protocol + & # 39; // www.googleadservices.com/pagead/conversion.js'); }; let fbPixelLoader = function () { / * from https://fng-jira.fox.com/browse/FSCOM-12494 - Facebook Pixel Code * / ! function (f, b, e, v, n, t, s) {if (f.fbq) return; n = f.fbq = function () {n.callMethod? n.callMethod.apply (n, arguments): n.queue.push (arguments)}; if (! f._fbq) f._fbq = n; n.push = n; n.loaded =! 0; n.version = & # 39; 2.0 & # 39 ;; n.queue = []; t = b.createElement (e); t.async =! 0; t.src = v; s = b.getElementsByTagName (e) [0]; s.parentNode.insertBefore (t, s)} (window, document, & # 39; script & # 39 ;, & # 39; https: //connect.facebook.net/en_US/fbevents.js'); fbq (& # 39; init & # 39 ;, & # 39; 161811331078914 & # 39;); fbq (& # 39; track & # 39 ;, & # 39; ViewContent & # 39 ;, {content_name: & # 39; Mobile_App_Install & # 39;)); };
(function (b, r, a, n, c, h, _, s, d, k) {if (! b [n] ||! b [n] ._ q) {for (; s <_. length;) c (h, _ [s++]); d = r.createElement (a); d.async = 1; d.src = "https://cdn.branch.io/branch-latest.min.js ";; k = r.getElementsByTagName (a) [0]; k.parentNode.insertBefore (d, k); b [n] = h}}) (window, document," script "," branch ", function ( b, r) {b [r] = function () {b._q.push ([r,arguments])}}, {_ q: [] _ v: 1}, "addListener applyCode banner closeBanner creditHistory credits data deepview deepviewCta first getCode init link logout exchange references deleteListener sendSMS setBranchViewData setIdentity track validateCode ".split (" "), 0); branch.init (& # 39; key_live_acdMtqDFnx4gILoc1Rq9VbckBtmjzNok & # 39;); branch.addListener (& # 39; didShowBanner & # 39 ;, function () {
let iframe = document.getElementById (& # 39; branch-banner-iframe & # 39;); let btn = (typeof iframe.contentDocument! == & # 39; undefined & # 39;)? iframe.contentDocument.getElementById (& # 39; branch-mobile-action & # 39;): iframe.contentWindow.document.getElementById (& # 39; branch-mobile-action & # 39;);
btn.addEventListener (& # 39; click & # 39 ;, function (ev) { if (ev.preventDefault) ev.preventDefault ();
if (window typeof ['adwordPixelEnabled'] === & # 39; undefined & # 39;) { googlePixelLoader (); fbPixelLoader (); // configured to load only once after a click window ['adwordPixelEnabled'] = true; } }); }); branch.banner ({ Icon: & # 39; https: //b.fssta.com/uploads/2016/10/fox-sports-app-icon175x175.vadapt.175.high.0.png&#39 ;, Title: FOX Sports Mobile & # 39 ;, description: & # 39; You are the fan, we will do the rest! & # 39 ;, openAppButtonText: & # 39; Open & # 39 ;, downloadAppButtonText: & # 39; Install & # 39 ;, sendLinkText: & # 39; Send link & # 39 ;, phonePreviewText: & # 39; 123-456-7890 & # 39 ;, showiOS: true, showAndroid: true, showDesktop: false, iframe: true, disableHide: false, forgetHide: 2, position: & # 39; up & # 39 ;, mobileSticky: false, desktopSticky: false, customCSS: & # 39; # branch-banner {width: 100%; z-index: 99999; font-family: "Helvetica Neue", Helvetica, Arial, sans-serif; -webkit-font-smoothing: antialiased; -webkit-user-select: none; -moz-user-select: none; user-select: none; -webkit-transition: all .25s ease; transition: all 250ms ease} # branch-banner .content {width: 100%; overflow: hidden; high: 76px; background: # f2f2f2; color: # 333; bottom edge: solid 1px # c1c1c1} # branch-banner .content .left {text-align: left} # branch-banner .icon img {width: 64px; height: 64px; right-margin: 0; radius-of-the-edge: 14px} # branch-banner-close {color: # 787878; Font size: 22px; superior: 14px} # branch-banner .title {font-size: 14px; font-weight: 400; color: # 000} # branch-banner .description {font-size: 12px; color: # 303030; height-maximum: 30px; overflow: hidden} # branch-banner .reviews {font- size: 10px; margin: 1px 0 3px; color: # ff9500} # branch-banner .reviews .star span {display: online-block; right margin: 0; color: # ff9500; position: absolute; superior: 0; left: 0} # branch-banner .reviews .star svg {fill: # fe9402} # branch-banner .reviews .review-cou nt {display: none; font-size: 10px} # branch-sms-form-container {margin-right: 0} # branch-banner .button {display: inline-block; margin-top: 0; margin-left: 5px; filling: 6px 12px; Font size: 18px; color: # 007aff; cursor: pointer; text-decoration: none; background: 0 0; edge: none} # branch-banner .button: hover {color: # 05a5ff; background: 0 0; edge: none} & # 39 ;, make_new_link: false, rating: false, reviewCount: 90, theme: & # 39; light & # 39; }, {}); } } ());
Source link