[ad_1]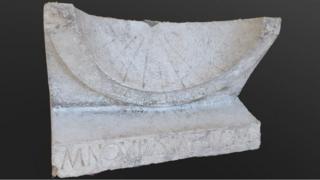 A uncommon and intact 2,000-year-old Roman sundial, engraved with the title of the person that commissioned it, has been found in central Italy.
Researchers from the University of Cambridge made the discover throughout an excavation within the Roman city of Interamna Lirenas, close to Monte Cbadino.
Inscribed on the sundial is the title Marcus Novius Tubula, an unknown plebeian tribune to Rome, in Latin.
It is claimed this sheds new mild on Rome's relationship with different areas.
Interamna Linenas, based in 312 BC and deserted in sixth Century AD, was about 130 km (81 miles) from Rome.
The title and lettering fashion place the sundial's inscription at about 1st Century BC, when residents had been granted full Roman citizenship.
Dr Alessandro Launaro, lecturer on the Faculty of Clbadics at Cambridge, mentioned the traditional city was "not a town of remarkable prestige or notable influence".
Therefore, he mentioned, the invention confirmed "the level of involvement in Rome's own affairs that individuals hailing from this and other relatively secondary communities could aspire to".
The limestone sundial, present in a roofed theatre, is believed to have represented a celebration of Marcus Novius Tubula's election to the political workplace of the plebeian tribune.
The concaved face is engraved with 11 hour traces intersecting three day curves, which point out the season with respect to the time of the winter solstice, equinox and summer time solstice.
The needle which solid a shadow to point out the time "is essentially lost" however half is preserved below a lead fixing.
It is believed the sundial was left behind at a time when the theatre and city was being scavenged for constructing supplies through the Medieval to post-Medieval interval.
[ad_2]
Source hyperlink