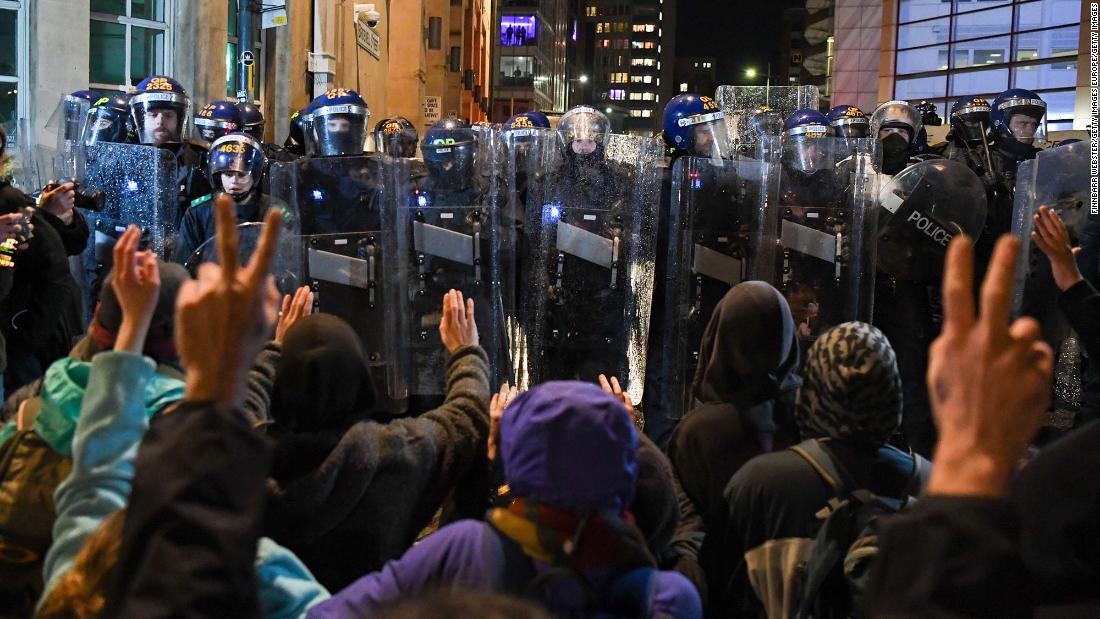 In a tweet on Saturday, Johnson said the protests saw "shameful attacks on police officers in Bristol."
"Our officers should not have to face a mob with violent intentions throwing bricks, bottles and fireworks at them causing property damage," he said.
People took to the streets on Friday night, the third protest in a week, to voice their opposition to the bill, and more protests are expected across the UK over the weekend.
Crowds marched through Bristol city center, past the site of the now toppled statue of slave trader Edward Colston, and ended up in front of the Bridewell Police Station, at which protesters threw stones at the Last weekend.
More than 1,000 people attended, according to Avon and Somerset police, and protesters could be heard shouting "peaceful protest" and "what a shame" to officers.
Videos circulating the online show appear to show protesters being pushed to the ground and beaten with riot shields.
A Daily Mirror journalist tweeted a video of officers apparently forcefully pushing him aside and apparently hitting him with truncheons as he was heard shouting, "I am the press!"
Avon and Somerset police said they were aware of the video and were trying to contact the journalist involved.
Police said items such as eggs and glasses were thrown at them, fireworks were launched at their mounted section and attempts were made to pull their shields. A total of 10 people were arrested, and officers used dogs and horses until 1 a.m. local time.
Superintendent Mark Runacres said that "most of the people acted peacefully, however there was a minority that once again showed hostility towards the officers."
Tensions were especially high when the same police force admitted Friday that reports from last weekend, which claimed officers sustained injuries, including broken bones and a punctured lung at the hands of protesters, were not true.
"Fortunately, the injuries, while still serious, did not involve fractures or a punctured lung. We believed the information had been verified, but it was not, and although we apologize for that, there was no intent to mislead," police said from Avon and Somerset. it said in an updated statement.
The proposed police bill, coupled with the violent breakdown of a vigil for a murdered woman earlier this month and the arrest of a serving police officer on suspicion of her murder, has put relations between British police and large part of the audience under great stress. .
Metropolitan Police Officer Wayne Couzens was charged with the kidnapping and murder of Sarah Everard, in a case that has been intensely followed and that sparked a renewed national discussion on intimidation, harassment and violence against women.
But police also became the target of ire when they moved on a peaceful vigil to Everard in south London on March 13 and appeared to force the women to the ground, an approach that has led to a review and scrutiny. of pending legislation that would increase their powers to dismantle mass protests and rallies in the future.
Rob Picheta contributed reporting.