[ad_1]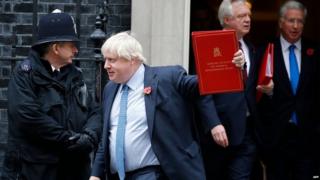 Brexit discussions are to resume next week as the UK's preparations for its departure in 2019 are being ramped up.
Brexit Secretary David Davis said he would meet his EU counterpart Michel Barnier a week on Friday to take stock of progress of talks between officials.
He told peers that the failure to secure a deal with the EU was "not impossible but very, very improbable".
No 10 said 3,000 new Brexit jobs have been created in the civil service while the Treasury has set aside £500m.
At a meeting of the cabinet earlier, Theresa May and her senior ministers discussed a range of "negotiated outcomes" leading up to the UK's departure in March 2019.
The BBC's Iain Watson said although Downing Street was insisting that the government "would be ready for all scenarios", the tone at cabinet was that the UK was "working towards a deal".
And Mr Davis told a Lords EU sub-committee that a no deal outcome – which has been talked up in recent months by some Tories – was not the best result as far as he was concerned.
Bank prepares for Brexit job losses
Following the meeting, Downing Street said Whitehall was accelerating its preparations for the UK's departure by hiring 3,000 new staff in Brexit-related roles, including 300 lawyers.
Revenue and Customs could also recruit between 3,000 and 5,000 extra staff by 2019 while up to 300 different programmes of work relating to Brexit are being pursued across Whitehall.
The Treasury has already earmarked £250m of Brexit-related spending for 2018, No 10 added.
Chancellor Philip Hammond was criticised by some MPs for suggesting last month that financial preparations for the possibility of a no-deal outcome would only begin at the last minute.
Downing Street was criticised on Monday for not publishing details of badessments into the impact of Brexit on different sectors of the economy after revealing that 58 different studies had been conducted.
Former chancellor Ken Clarke said their publication would make for an "informed debate", saying that the "suspicion" would be that they contained things that the government "does not want the public to see".
Speaking to the BBC, Mr Clarke – the only Tory MP to oppose triggering Article 50 – also defended his decision to hold a meeting with the EU's chief negotiator Michel Barnier in Brussels on Monday.
He told BBC Radio 4's The World at One that he, former Lib Dem leader Nick Clegg and Labour peer Lord Adonis were "of course not negotiating" with Mr Barnier but wanted to bring themselves "up to date" with the full implications of the UK's departure from the EU.
While he claimed that many EU politicians were "baffled" by the UK's negotiating objectives, he said he believed that Mr Barnier did want to recommend that a second phase of talks on the UK's future relationship with the EU should begin in December.
[ad_2]
Source link