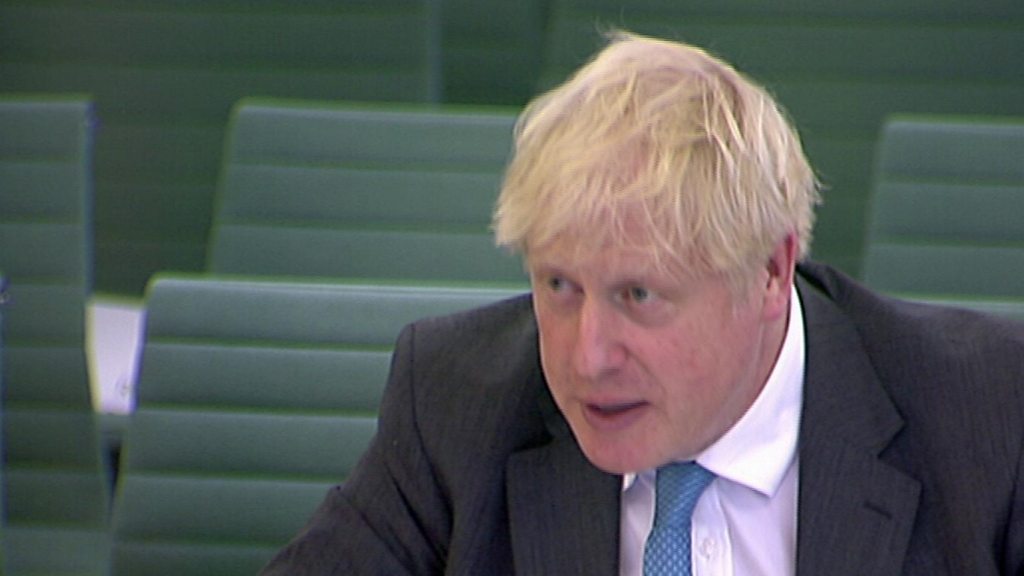 Boris Johnson has told MPs that he believes the EU cannot negotiate with Britain in good faith.
The PM was explaining why he wanted to buy parts of the Brexit deal, which he signed with the EU in January.
He said that the EU has to be stopped from behaving in an "inappropriate" manner if Britain fails to agree on a trade deal.
When pressed by Labor's Hillary Bayne whether he thought the EU was negotiating in good faith, he said: "I believe they believe they are."
This contradicted Northern Ireland Secretary Brandon Lewis, who previously told MPs that he believed the EU was in good faith.
When it was placed near him, Mr Johnson said that "it was always possible that I might be at fault and perhaps they would prove my suspicions wrong".
Potential rebellion
Both parties have a duty to act in good faith under Article 5 of the withdrawal agreement – but it is difficult to demonstrate a lack of "good faith" or "best efforts" – another phrase contained in the treaty.
The legal definition of "harmony" is stronger than the generally accepted meaning of words.
Mr Johnson told the panel committee, a panel of senior backbench MPs, that a no-deal scenario is "not what this country wants" and "it is not what our EU friends and partners want from us".
"So I have every hope and hope that it will not result."
As the PM has tried to counter a possible rebellion by Tory MPs over their plan to rewrite parts of the withdrawal agreement.
More than 30 Tory MPs were expected to vote to amend the Internal Market Bill next week.
If passed, Sir Bob Neill's amendment would have given MPs a final say on the proposed withdrawal agreement changes to the internal settlement bill.
The PM has now promised MPs "an extra layer of parliamentary oversight", the BBC understands.
'Belts and braces'
BBC political editor Laura Kuensberg said ministers were expected to "stop the rebellion next week".
Mr Johnson says the Internal Markets Bill is needed to protect the UK's "territorial integrity" if trade negotiations with the European Union fail.
He described it as a "belt and braces" measure to lawmakers in terms of "extreme" interpretations of the withdrawal agreement by the European Union.
"It was about making sure friends and partners don't do anything inappropriate," he said.
But it has provoked a backlash from the European Union, which has threatened legal action – and possible suspension of trade negotiations – if it has not been withdrawn.
Brandon Lewis admitted last week – in response to a Commons question by Tory MP Sir Bob Neill – that the bill would break international law in a "specific and limited" manner.
His words prompted the resignation of a senior government law officer and condemnation from all five surviving former Prime Ministers, who have warned that it threatens Britain's reputation for upholding treaties and international laws.
Several Tory MPs repealed, or voted against, the bill on Monday – and many of them were expected to withdraw Sir Bob Neill's amendment next week.
'Legal safety net'
Writing in the I paper, Sir Bob said that his amendment "wants the parliamentary lock on powers that the government itself wants to give".
He said: "Taking a sarcasm over the entire bill would be the wrong approach.
"There is a lot of good in it, with 51 out of 51 segments being quite comfortable for a large majority.
"However, the gravity of the three remaining sections requires, at the very least, additional investigation and balance.
"My amendment will ensure that parliamentary approval is secured before the government discharges them."
Speaking earlier, an official spokesman for Mr Johnson said that the PM and his team were "in talks with MPs about the bill and the importance of creating a legal safety net".
He confirmed that the Prime Minister had spoken to Sir Bob and said that "negotiations with MPs would continue".
What is the Internal Market Bill?
The bill sets the rules for conducting the UK's internal market trade between England, Scotland, Wales and Northern Ireland, after the end of the Brexit transition period in January.
It offers:
No new checks on goods going from Northern Ireland to the rest of Great Britain
Giving powers to UK ministers to modify or "disappear" regulations relating to the movement of goods will come into force from 1 January if the UK and EU are unable to reach an alternative agreement through a trade agreement.
Powers to eliminate previously agreed obligations on state aid – government support for businesses.
The bill clearly states that these powers should apply even if they are inconsistent with international law.
Ministers say legislation is needed to prevent "harmful" tariffs on goods traveling to Northern Ireland from the rest of the UK if negotiations with the EU on the Free Trade Agreement fail.
But some senior conservatives – including former Prime Minister John Major – have warned it of the risks that underpin Britain's reputation as a holder of international law.
The law has also proved controversial with deviant administrations concerned with how the UK's "internal market" will operate after Brexit and who will set the rules and standards.