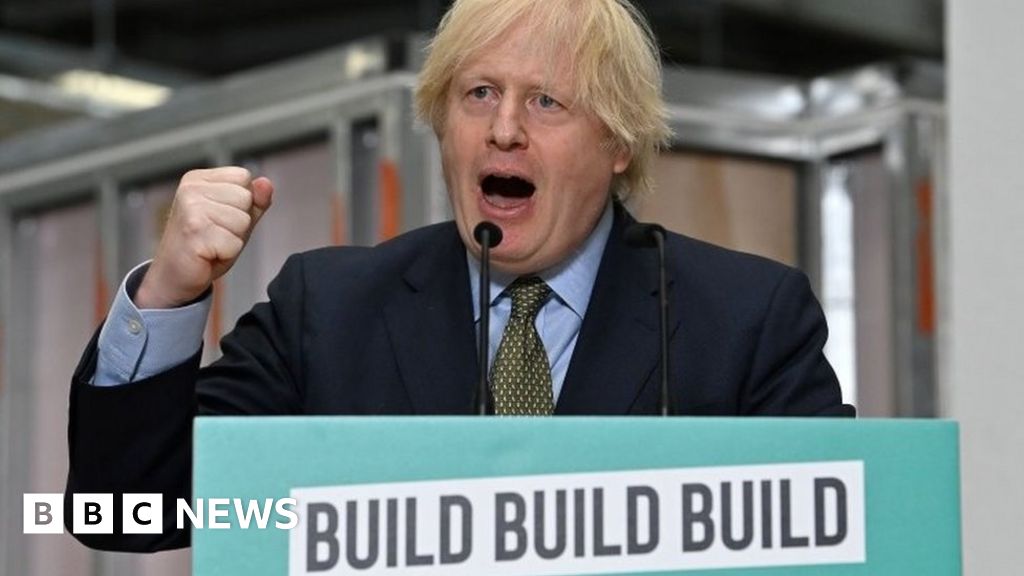 The Prime Minister has set up £ 5bn in infrastructure spending which he says will mean the UK can "recover better".
Reality Check has taken a closer look at some of the ads:
1. A new deal
Boris Johnson said, "It sounds like a New Deal … because that's what the times demand."
In the early 1930s, President Franklin D. Roosevelt's New Deal program increased the state's role in the economy and was designed to help the United States recover from the Great Depression.
Comparisons between government programs in different countries, separated by 90 years, are very difficult to make.
Furthermore, there are strong arguments that it was Roosevelt's structural reforms that involved things like banking and social security that caused the recovery.
However, there have been some valiant attempts to try to bring New Deal spending into some kind of modern context.
Remember that the New Deal ran for several years, with annual spending of between 5% and 7% of the economy's total output (GDP) each year.
Boris Johnson's £ 5 billion would be less than a quarter of one percent of GDP if spent in a single year (which is unlikely).
To get an idea of ​​the scale of the increase in public spending in the 1930s, the debt of the US federal government grew from 16% of GDP in 1929 to 44% of GDP in 1939.
2. Hospital expenses
Ahead of the speech, it was announced that £ 1.5 billion would be earmarked for the upkeep and construction of hospitals, the removal of mental health dormitories and increased A&E capacity.
It would be part of the money pot known as the capital budget. This expense is the money we use to build new hospitals or repair existing ones. It is also spent on new equipment, such as MRI machines.
This spending declined between 2010-11, when conservatives came to power, and 2017-18 by about 7% in England, according to the Health Foundation. This was because the NHS was concentrating its resources on the daily operation of the health service, such as paying staff. However, recent announcements have seen the refocusing of spending on capital projects.
In the Spring 2020 Budget, the capital budget of the Department of Health and Social Welfare increased by £ 1.1 billion, bringing the annual budget to £ 8.2 billion.
The department has said the £ 1.5 billion announced on Tuesday is above the previous £ 1.1 billion.
There is already a backlog of £ 6.5 billion to fix problems in NHS buildings.
3. Road and rail projects.
The government has pledged £ 100 million this year for 29 projects to "get Britain moving", including:
Bridge repairs at Sandwell in the West Midlands
improving the A15 in the Humber region
£ 10 million to "unlock the Manchester city center bottleneck"
But this is a relatively small amount of money for a large number of projects.
And it is not new.
The money set out in the Spring Budget has been allocated for infrastructure investment.
4. Planning and housing.
The prime minister said that "we will build fantastic new houses on abandoned sites" and promised "more radical reforms" of the planning system since World War II.
The UK planning system was effectively established in 1947, two years after the end of the war, with the City and Country Planning Act.
There has been criticism in recent years about the amount of time it takes to get the planning permit.
But it has also been pointed out that many developers get planning permission and then don't build immediately. Shelter, a homeless charity, said 280,000 homes received planning permission in England between 2011 and 2016, but were never built.
In 2017-18, 382,997 applications were granted, which would be more than enough to meet the government's goal of 300,000 new homes per year.
The government has also said it would spend £ 12 billion to build houses in the next eight years, something previously announced.
5. Schools
The Prime Minister reiterated Monday's promise of £ 1 billion for 50 school building programs starting in September 2021.
This is also the allocation of some of the infrastructure costs announced in the Spring Budget.
And there have been no details of which 50 schools will receive the money.
On Monday Johnson announced £ 200m for further education.
But this turned out to be only advancing some of the £ 1.5bn over the five years promised in the Conservative manifesto for further education.
And on Tuesday, Johnson did not mention these £ 200 million, referring to the £ 1.5 billion instead.
6. Tree planting
The Prime Minister repeated his commitment to plant more than 75,000 acres of trees (about 30,000 hectares) each year by 2025.
But conservative-led governments for the past decade have consistently fallen short of the tree planting targets set in their election manifests.
Tree planting is a delegated problem in the UK, but England's tree planting record is particularly poor compared to other European countries.
Government funding and support saw nearly 3.6 million newly planted trees in England in the two years from 2017 to 2019, covering an area of ​​approximately 2,300 hectares.
That figure does not include trees planted to replace others that have been cut down.
In the same period, Scotland planted 18,300 hectares, including 84% of all new trees planted in the UK in 2018-19.
7. Deport criminals
The Prime Minister spoke about wanting "to end the madness that is holding us back, for example, deporting some violent criminals."
He did not give any details, but the Conservative 2019 manifesto said: "We will use our new freedoms after Brexit to prevent more foreign criminals from entering our country. We will cut the number of foreigners in our jails."
Once the transition agreement ends on December 31, it will be easier to deport criminals who are EU citizens. Previously, deportations of EU citizens had to be "proportional" to crime and after an assessment of the real threat they pose to the UK.
But after December 31, both EU and non-EU citizens will still be covered by human rights standards, which include whether someone could be tortured upon returning to their home country or if they had a family relationship close with the UK.
In 2019, 5,110 foreign criminals were deported.
What statements do you want BBC Reality Check to investigate? Get in touch
Read more about Reality Check
Follow us on twitter