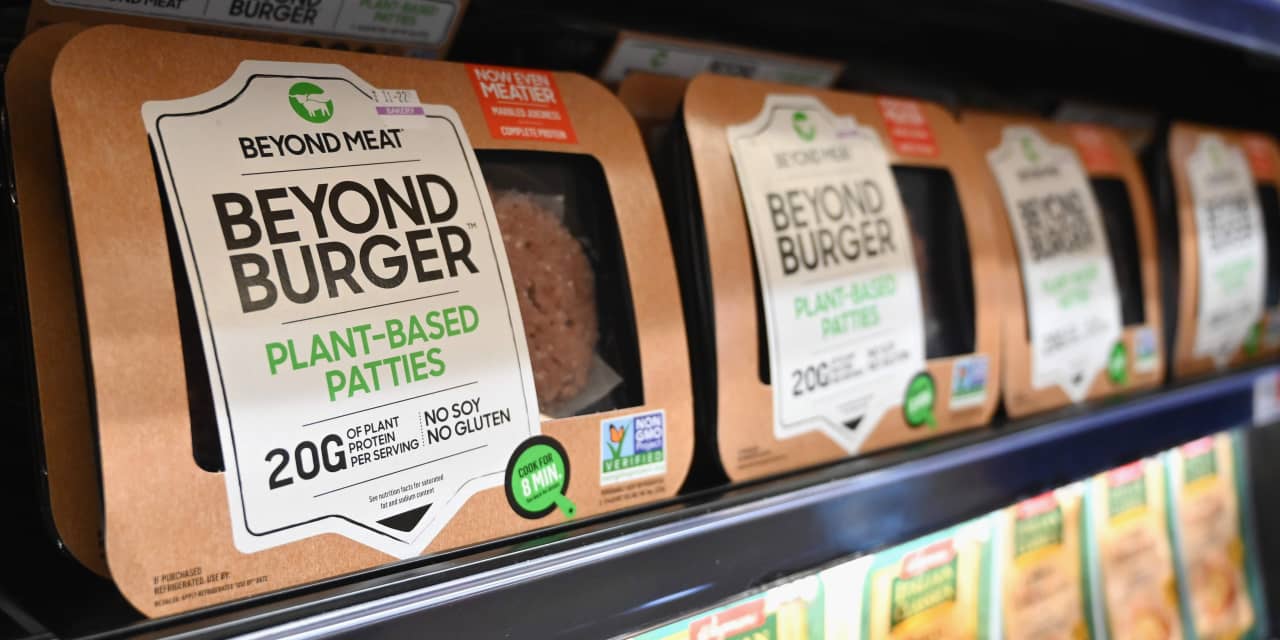 Shares in Beyond Meat Inc. initially fell 15% in extended trading on Thursday after the company fell short on quarterly estimates. But the exclusive deals with McDonald's Corp. and Yum Brands Inc., announced minutes after the results were released, changed that quickly, sending Beyond's shares up 11%, a swing of 26%.
In the middle of a conference call Thursday night, the stock had fallen 3%, presumably ending the roller coaster.
The vegetable protein company reported an adjusted net loss of $ 21.4 million, or 34 cents per share, compared to a net loss of $ 452,000, or one cent per share, in the prior-year quarter. In its release of results, the company said that "the surge in demand from retail customers that characterized the early stages of the pandemic as consumers abruptly shifted toward increased consumption at home has moderated."
Revenue increased 3.5% to $ 101.9 million from $ 98.5 million a year ago. Analysts surveyed by FactSet expected a net loss of 14 cents a share on revenue of $ 103.6 million.
"Today was a very exciting day for us … with two prominent partners [in McDonald's and Yum!]"Said Beyond Meat CEO Ethan Brown during a conference call with analysts. Paraphrasing McDonald's legendary Ray Kroc, Brown said: "There is something about being in the right place at the right time and doing something about it. This is how we feel. "
Financial results initially sent Beyond BYND shares,
-5.46%
up to 15% in extended trading on Thursday.
However, those stocks rebounded dramatically when Beyond announced a three-year deal with McDonald's MCD,
-1.09%
to be the fast food chain's preferred supplier for the hamburger in McPlant, a new plant-based hamburger sandwich that is being tested in select McDonald's markets worldwide. Additionally, Beyond Meat and McDonald's will explore the joint development of other plant-based menu items, including plant-based options for chicken, pork and egg as part of McDonald's broader McPlant platform.
Another deal with Yum YUM,
+ 0.02%
Co-creating plant-based protein menu items at KFC, Pizza Hut, and Taco Bell over the next several years further boosted Beyond's stock. However, late on Thursday, Beyond shares fell again.
Beyond is feeling competitive pressure from Impossible Foods Inc., which this month announced its third double-digit price cut in less than a year: 20% off burgers (at $ 5.49) and 12-ounce packages (at $ 6.99) at thousands of stores including Kroger Co. KR,
-1.04%,
Walmart Inc. WMT,
-0.95%,
Publix Super Markets Inc., Safeway Inc., Sprouts Farmers Market Inc. SFM,
-4.47%,
Target Corp. TGT,
-1.07%
and Trader Joe's.
Impossible's aggressive pricing could complicate Beyond Meat's efforts to convert its first annual profit since its 2019 IPO.
Shares in Beyond Meat temporarily rose in late January, following news that it had reached a snack and beverage deal with PepsiCo. Inc. PEP,
-1.58%,
but since then they have grown cold. Shares of Beyond have risen 35% in the last 12 months. The broadest SPX index of the S&P 500,
-2.45%
it has improved 29% in the last year.