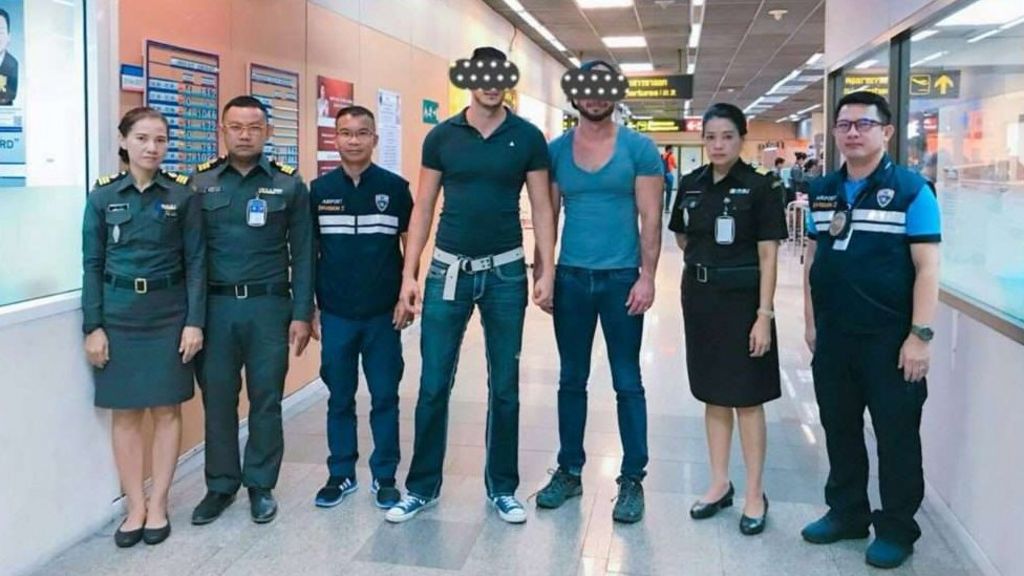 [ad_1]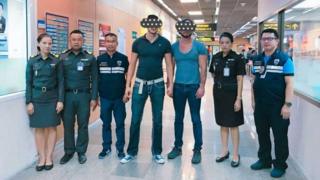 Two US citizens are being held in Thailand after they posted an online photograph of themselves posing with their bad exposed in a temple.
Tourists took the photo at the famous Wat Arun temple in Bangkok and posted it on Twitter and Instagram.
The immigration authorities told the BBC that the pair, Joseph and Travis Dasilva, both 38, would be fined and deported. [19659007] Thailand has very strict laws about behavior considered disrespectful and offensive to their Buddhist religion.
The two tourists were arrested on Tuesday when they were trying to leave the country at the Don Mueang airport in Bangkok.
Playboy model infuriates Maori with naked shots on sacred mountain
Thai immigration police deputy spokesman Col Choengron Rimpadee told the BBC that the two had been on a watch list after the authorities will detect the controversial position in the social networks
"Once they finished with the charges, the Thai immigration police will revoke their visas and press for deportation," he said. "They will also be on the blacklist to return to Thailand."
He explained that the two were taken to the Bangkok Yai police station to be charged with public fun, an offense responsible for a fine of up to 5,000 baht ($ 153; £ 115).
However, other Thai government and police officials have told the media that the charges could be more serious.
The San Diego Gay and Lesbian News quoted a commissioner from the city of San Diego as saying that the men had asked for help.
Commissioner Nicole Murray-Ramirez told the newspaper: "Although I am very disappointed with your actions, I am talking to US government officials to see what help we can provide."
People visiting Buddhist sites in Thailand are expected to dress modestly and be advised by signs to cover their shoulders and legs.
Tourists are also told not to buy Buddha statues or images as souvenirs.
In 2015, four European tourists received jail terms and fines in Malaysia for posing semi-naked on Mount Kinabalu, which is considered sacred.
Also in 2015, two American women were arrested, fined and deported for taking bad photographs inside Cambodia's Angkor Wat complex.
[ad_2]
Source link