[ad_1]
BROWN | Auburn made a 17-0 run at the end of the second half and never looked back.
The Tigers fired off-center lights from outside and scored 30 points on 21 Alabama fumbles in an 84-63 victory Saturday night at the Auburn Arena.
"We defeated a really good basketball team tonight in an excellent environment with ESPN here," said Auburn coach Bruce Pearl. "Our guys really took a step forward, I thought the effort and defensive energy were huge to make Alabama more than 21 times.
"I thought the kids were engaged and bought in. That's the closest thing we've seen to the type of Auburn basketball that I like to see."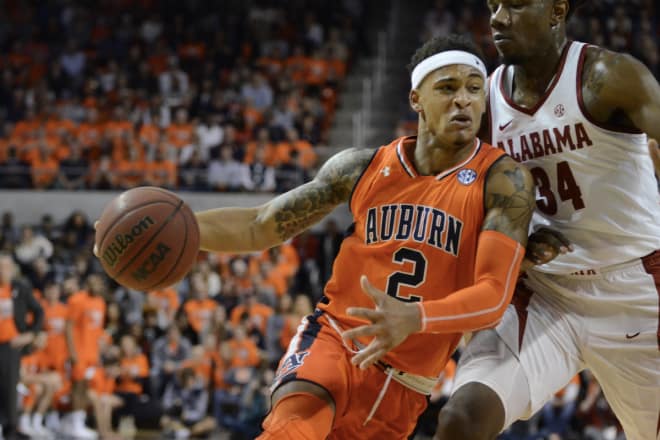 Bryce Brown has 317 runs of 3 points, 16 behind Kenny Boynton for 6th in SEC history.
Ben Wolk / AuburnSports.com
A second consecutive victory improves Auburn to 15-6 in general and 4-4 in SEC.
Auburn led with 20 points at halftime and maintained a double-digit lead during the second half, as the Tigers scored 13 of 22 triples. The 3 point percentage of 59.1 is the best of this season.
Bryce Brown led the attack with 23 points in 5 of 7 triples. Jared Harper added 19 points and five badists, while Anfernee McLemore had 10 points.
"I feel we press the ball very well," Brown said. "We got into their ball handlers, and that was part of the scouting report. They are a little loose with the ball, so they keep the pressure of the ball at all times, and are physical with their guards.
"I feel like that led to some ball changes and easy deviations, which led to some easy points in the transition."
Chuma Okeke scored his nine points in the first half, adding five rebounds and four steals. Danjel Purifoy had seven points and four rebounds, while Samir Doughty had seven points, three rebounds and two steals.
"A lot of guys contributed up and down the list," Pearl said. "I thought Chuma was particularly effective in the first half, in a close game, we went to him and he delivered.
"And we're going to get to 1 (Harper) and 2 (Brown) take us in. And 1 and 2 showed that size is important, speed and speed are also important, I just thought we were quick tonight."
The first half was a series of races of both teams. Auburn lost his first five shots when Alabama opened an early lead of 7-1. The Tigers responded with a 21-2 run to take a 14-point lead before Tide responded in a 15-4 run to move within three. Auburn organized a 17-0 run to reach halftime to 48-28.
The tide was within 11 points in the second half before Auburn came out in a 7-0 run when Harper completed a 4-point play and Malik Dunbar added an ax hit in a quick attack.
John Petty led Alabama with 18 points, as Tide fell to 13-8 in general and 4-4 in the SEC.
The Tigers conclude a three-game home stay Tuesday night against Florida. Rest at Auburn Arena is scheduled for 8 p.m. CT on ESPNU.
PLAYER OF THE GAME: Bryce Brown made 8 of 12 field goals and 2 of 3 free throws to score his maximum of 23 points. He added three rebounds and one badist. His ball pressure helped Auburn to force 21 turnovers.
GAME OF THE GAME: Jared Harper stole the ball from Herbert Jones and found Bryce Brown breaking with a single punch with one hand to finish with Auburn's 17-0 at the end of the first half.
STATE OF THE NIGHT: Auburn outscored a larger Alabama team 31-29 and scored the Tide 30-22 in the paint.
EVENING OF THE NIGHT: Pearl on Auburn's internal game: "They get 87 percent of their points in the paint, that's what leads the nation, they're the league's leading rebound team, the closer they get to the basket, the better they look. We had to find a way to not let them destroy us on the edge and they could not. "
[ad_2]
Source link