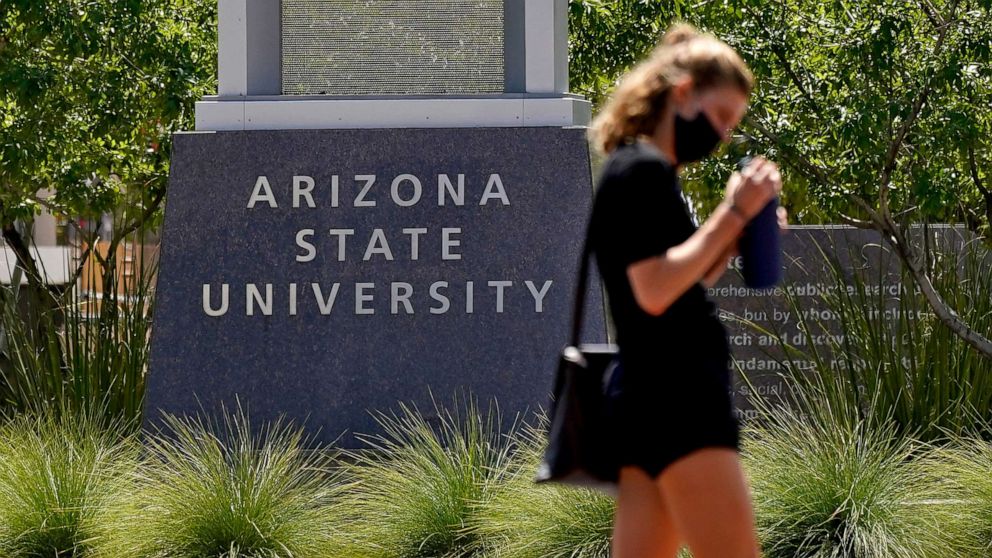 Some schools have failed to make COVID-19 infection data accessible.
As of Saturday, the University of Arizona reported at least 1,148 COVID-19 infections among students and staff over the past 10 days, according to the university.
The university spokesperson told ABC News that the outbreak is being run by large off-campus parties, where children are not socially disturbed or do not wear masks. The UKA said it is testing students on campus every week to identify and quarantine asymptomatic cases. According to the university, no student has been hospitalized due to the virus. Despite the growing transition between students and staff, Yu said it did not plan to go back to online learning.
Other leading institutions, such as the University of Alabama and the University of Georgia, have publicly-facing COVID-19 tracking dashboards, where students, parents, and the public can access at-a-glance data about infections and testing on campus. University spokesman Holly Jensen told ABC News that while U of A "is a bit behind" when developing the COVID-19 dashboard, a tracking dashboard is under development and expected to go live as early as next week.
According to Jensen, transparency is very important for the university. Regarding the university's COVID-19 online resources, Jenson said, "I think where people get upset, we're not breaking the numbers down too much." He said that the new dashboard should be corrected.
Students who have re-adopted this fall are struggling with how much information to share with the public about COVID-19 infections among students and staff.
Across the state, Arizona State University's lack of transparency regarding COVID-19 infection data has led to tensions between university officials and students. Despite reporting more than 1,413 infections among students, teachers and staff, ASU has no tracking dashboard.
A spokesman for ASU told The State Press, ASU's student newspaper, "Knowing how many cases can happen in our community at one time, does not give useful information to our community members about whether they have special May require additional precautions.
ASU has started publishing written reports on the calculation of positive cases among students and staff. "This is the version of our dashboard," ASU spokesman Katie Peck told ABC News. The written report will be updated twice a week and archived, so that the public can see trends over time, according to Puckett. He said there are no plans for an ASU Kovid-19 tracking dashboard in the works.
According to the state Department of Health, there have been more than 200,000 infections and 5,200 deaths in Arizona due to COVID-19.
What to know about coronavirus:
How it got started and how to protect yourself: Coronavirus explained
What to do if you have symptoms: Coronavirus symptoms
Monitoring the spread in the US and worldwide: Coronavirus map
Tune into ABC every weekday at 4pm ET and ABC News Live at 4pm ABC for exclusive coverage of the novel Coronovirus with the full ABC News team, including the latest news, references and analysis.
    .