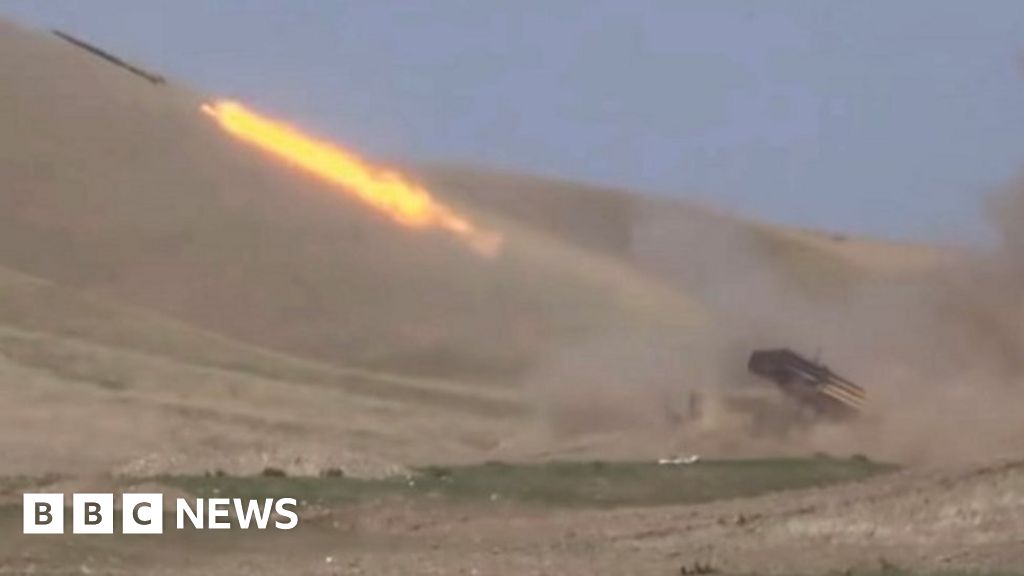 Nearly 100 people, including civilians, have been killed as fighting rages between Armenian and Azerbaijani forces over the disputed Nagorno-Karbakh region.
The mountain enclave is recognized as part of Azerbaijan, but was run by the Armenians after the end of a war in 1994.
The self-proclaimed republic has since Sunday reported 84 military deaths, as well as civilian victims.
Azerbaijan has not disclosed its military losses, but has confirmed the deaths of seven civilians.
The battle, which began three days ago, is now seen coming out of Nagorno-Karabakh.
On Tuesday, Armenia's Ministry of Defense said a passenger bus collided with an Azerbaijani drone in the eastern Armenian city of Vorden. No casualties were reported.
Azerbaijan said that two Azerbaijan civilians died in Azerbaijan on Monday after the death of five people of the same family a day earlier.
What is behind the conflict?

Nagorno-Karabakh: Armenian with fighting mood
Nagorno-Karbakh: BBC visits the border area of ​​Azerbaijan
Learn more about Nagorno-Karabakh
The fight appears to be the heaviest in the conflict since 2016, and is due to hold emergency talks on the UN Security Council issue later on Tuesday.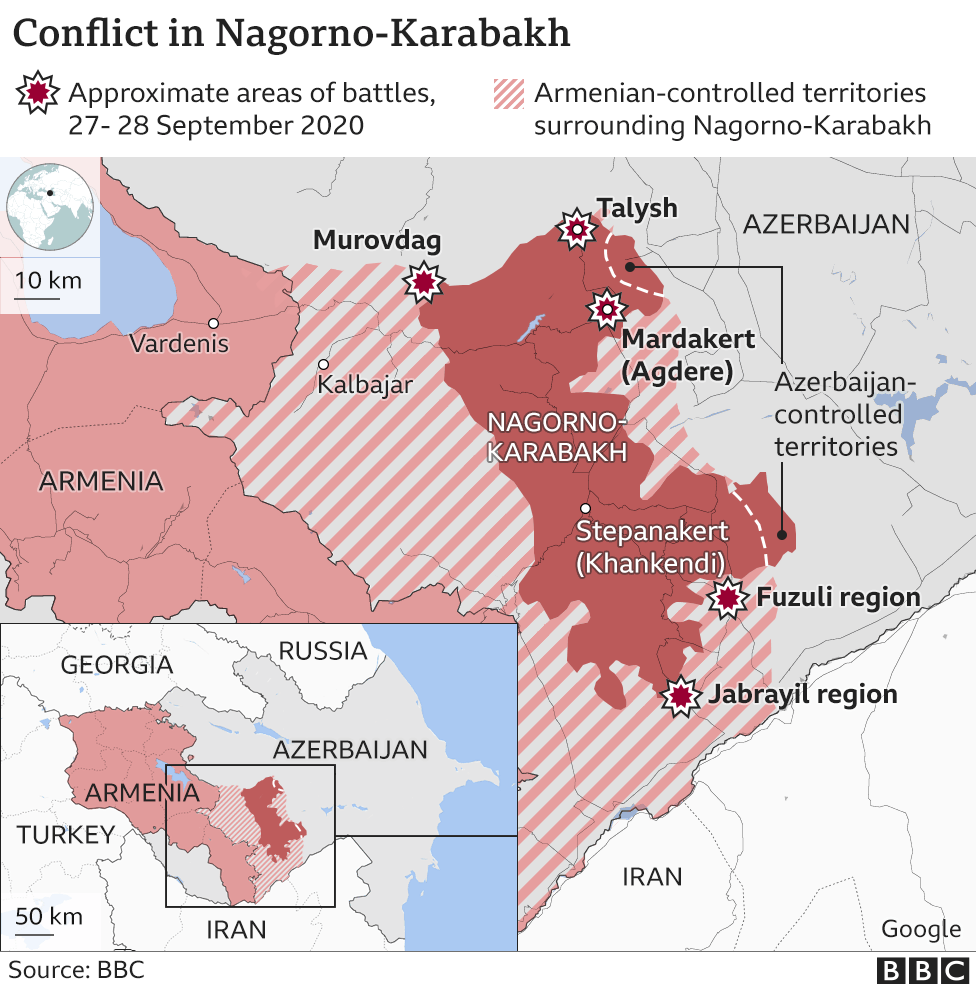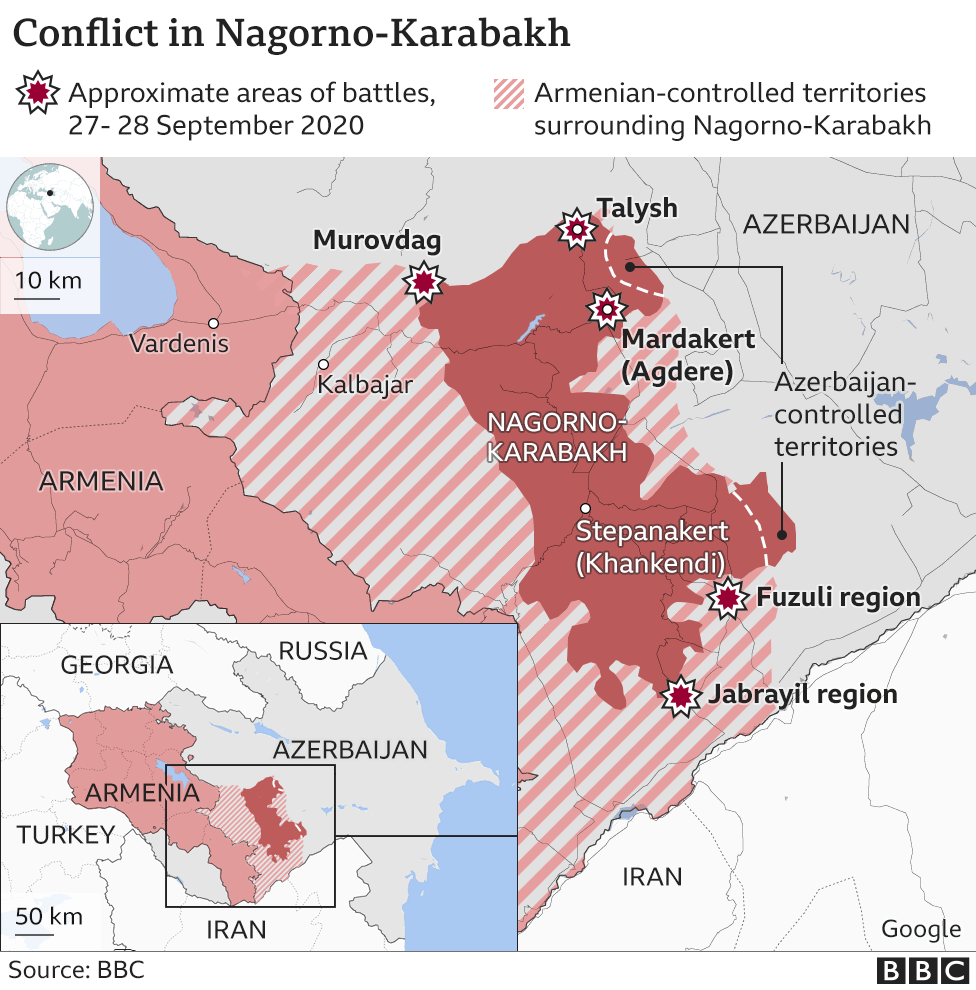 Both Armenia and Azerbaijan – who have already mobilized more troops and declared martial law in some areas – blame each other for starting the fight.
There are growing concerns that other countries may be directly involved in the conflict in the strategic Caucasus region.
Turkey has already openly supported Azerbaijan, while Russia – which has a military base in Armenia – has called for an immediate ceasefire.
Nagorno-Karabakh – Key facts
Approximately 4,400 sq km (1,700 sq mi) of hilly area
Traditionally inhabited by Christian Armenian and Muslim Turks
In the Soviet era, it became an autonomous region within the Republic of Azerbaijan
Internationally recognized as part of Azerbaijan, but most of the population is ethnic Armenian
It is estimated that one million people were displaced by the war in 1988–1994, and about 30,000 died.
The separatist forces occupied some additional area around the enclave in Azerbaijan
The deadlock has remained largely intact since the 1994 ceasefire
Turkey openly supports Azerbaijan
Russia has a military base in Armenia
Azerbaijan

Armenia
Nagorno-Karabakh