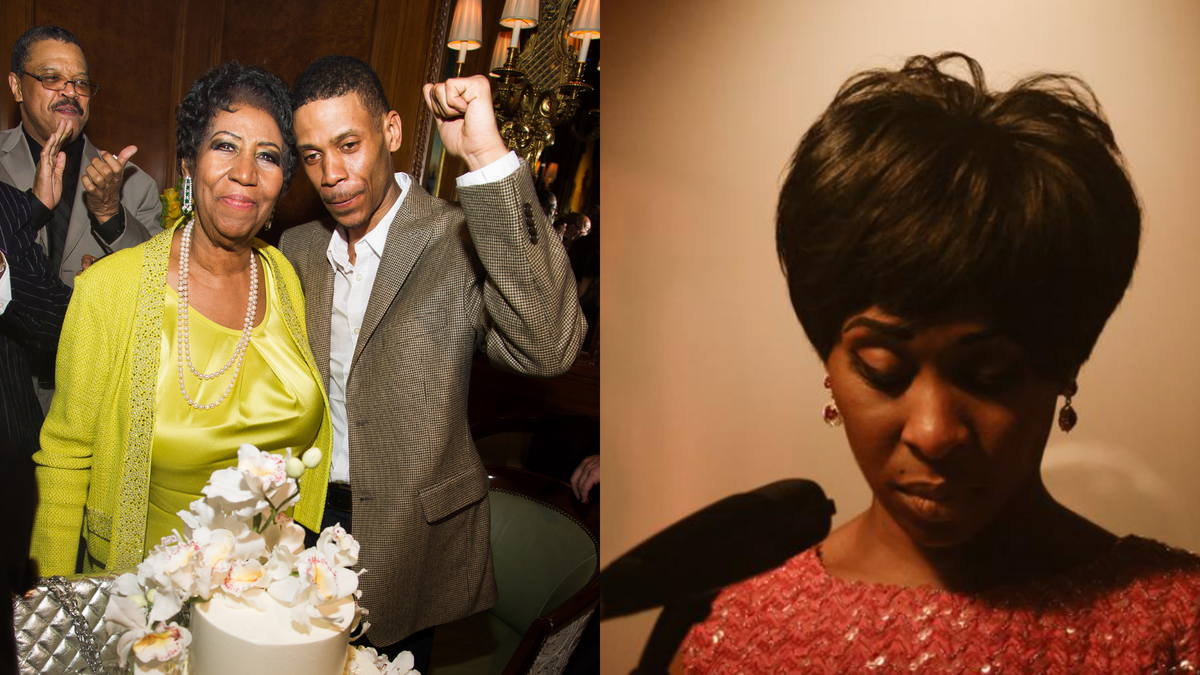 This Sunday, National Geographic will premiere a limited series called Genius: Aretha, starring Cynthia Erivo. The four-night broadcast event will culminate on March 25, which will mark the late Aretha Franklin's 79th birthday.
However, Franklin's son, Kecalf Cunningham, spoke out against the upcoming series last February on Instagram, stating that the project deal was "pushed forward without [the family's] consent "and implored fans not to support him, according to Detroit Free Press.
Most recently, Franklin's granddaughter Grace Franklin posted a video on TikTok of the family protesting the next project, noting that she and the immediate family feel "extremely disrespected" for this oversight and feel that the project will have "a lot of inaccuracies" about its matriarch.
G / O Media can get a commission
It is public knowledge by now that the late Queen of Soul handpicked jennifer hudson to portray her in a biopic (that same MGM biopic, Respect, is coming in August) and Erivo recently told E! News that she is "excited" there are several projects that celebrate and honor Franklin.
"I'm greedy. So whatever Aretha I can get, I'll get it," Erivo pointed out. "I want to hear Aretha come out of Jennifer's mouth. Those two have a really special relationship."
Kecalf is not a fan of Hudson Respect neither, however, like the 50-year-old claimed last year that he and his children did not participate in the next movie.
"How can you make a movie about a person and not talk to the person's children or grandchildren about important information?" wrote on Facebook at the time.
As for Genius: Aretha, Kecalf has noted that the familyThe dispute is with the producers of the series and not with the actors, since they are aware that the actors "are simply doing their job."
"As showrunner of Genius: Aretha, I can tell you that every day (and twice on Sundays!), Through COVID, social unrest and all the other challenges we face, our intention was to respect Ms. Franklin in all aspects of our program and in every decision we make. , "Suzan-Lori Parks, who is also an executive producer on the series, wrote in a statement.
According to previous press releases sent to The root via National Geographic, Genius: Aretha it had been dubbed "the first, definitive, and only authoritative scripted series on the life of the universally acclaimed Queen of Soul."
"As 'The Queen,' she deserves all the celebrations of her life that the world can hold," Parks continued. "We worked with many people who knew Ms. Franklin, from Clive Davis to representatives of her family's estate, to make sure we told her story in an honest and authentic way. And, on a personal note, as an African American woman, I was taught from a very young age that the soul is universal. Our series is about the soul, and we are honoring the life and soul of Aretha Franklin. "
The root has reached out to representatives from National Geographic to comment on this recent matter and we are awaiting a response.
Updated: 03/17/2021, 7:31 pm ET:
The root has received the following statement from a National Geographic representative:
"We received the message from the family, we listened to them, and we acknowledge their concern for Ms. Franklin's legacy. We believe we have a common goal here: to honor and celebrate the life and legacy of Aretha Franklin. We can tell you that everyone who worked on Genius: Aretha He came forward to tell his story with the intention of respecting Ms. Franklin in every aspect of the series and in every decision we make. The studio worked diligently to gain support for Aretha's heritage, which we are grateful to have. We worked with many people who knew Ms. Franklin, from Clive Davis to members of her family's heritage, to make sure we tell her story in an honest and authentic way. This series is called Genius—It's a tribute to Aretha's Genius"Something we hope we can all celebrate." One of the comments from a guest who attended our premiere last week was: "Aretha lived so much life … she needs 100 biopics!" We can't say it better! "