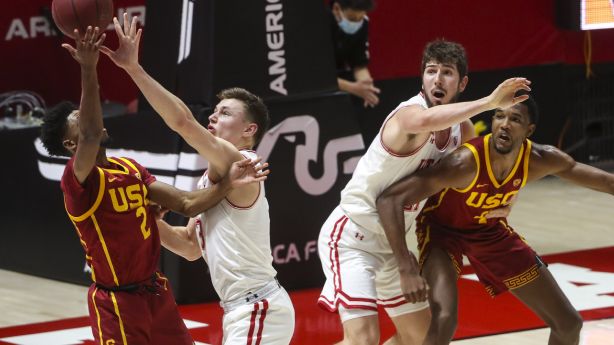 SALT LAKE CITY – Down 2 points at the halftime break, Utah had scratched and scratched only to keep the game close against No. 19 USC at the Huntsman Center on Saturday night.
But the Utes used a quick 8-0 run that began with a 3-pointer by Pelle Larsson and an old-fashioned three-point play by Timmy Allen to fuel a second-half comeback. USC head coach Andy Enfield had seen enough and called for a timeout to break Utah's raise.
However, the timeout was only a temporary break, as Utah built up a 13-point lead and appeared to be in control of a USC team struggling to turn on the offensive side of the ball against a strong inside Utah presence. The Utes endured the bitter end and stunned USC 71-61, snapping a four-game losing streak and claiming the most impressive win of the season just over a week before the Pac-12 tournament.
"If you really come out with a competitive mindset and you come out with a connected mindset, where you're trying to do things collectively, I think our team can be pretty good," Utah coach Larry Krystkowiak said.
"When you look back, a win is always a bright spot and losses are not, but the key now is that we click on more cylinders."
Utah (10-11, 7-10) outshot USC 44-32 in the second half and was led by Alfonso Plummer, who finished with 19 points and three rebounds and was a key component in Utah's streak in the second. half, scoring three point 3-points in the second half to lead Utah to victory. Allen added 15 points and eight assists to give Utah a hitting post presence.
USC (19-6, 13-5) tried to put pressure across the court at the end of the game in an effort to lose Utah, who ended up with 15 turnovers in the game, 10 of which occurred in the first half, but Utah didn't move. and clung to victory.
In the first eight minutes of the game, Branden Carlson of Utah committed his second foul, an illegal screen against a USC player who was already falling to the ground, and Rylan Jones left the game due to what appeared to be another shoulder injury. right after jumping. on the ground to pick up a loose ball. At the time, USC showed no respite and controlled a 16-8 lead in what appeared to be the start of a win for the best team in the Pac-12.
That is until freshman Ian Martinez entered the game.
The stat sheet may not have fully shown everything Martinez did to turn the tide, but he was an integral part of Utah fighting USC midway through the first half. His fast, active hands picked up a pass that retired for a time in the air in an unopposed dunk, and his aggressive post fight gave Utah multiple second-chance shots, including a kick triple to Alfonso Plummer in the corner. 3 pointers.
Battling low again, Martinez fought for a basket under the rim with three USC defenders circling him and landed the shot and the subsequent mark from the free throw line to complete the 3-point play. On the defensive end, Martinez blocked a shot and put down a USC team trying to knock something off amid a crowd of turnovers.
At halftime, Utah trailed 29-27 and the two teams combined for 19 turnovers. But Martinez was a big part of the reason Utah kept the game at attacking distance.
"He was instrumental tonight," Krystkowiak said. "His energy, length and athleticism – he came out on the overtaking lanes and got a big steal for us and a dunk, got a few other detours – he's long and fast as a cat.
"He stepped up and did what he can do: stay in the moment and try to win the next play."
Fresh off a trip abroad to play for the Finnish National Team, Mikael Jantunen returned to the Utes starting lineup and finished with 6 points, seven rebounds and three assists in the victory.
Utah kept USC's leading scorer and likely NBA draft pick Evan Mobley to 11 points, seven of which came from the free throw line, and limited his impact in a game he's used to controlling.
"You can't take everything from a player of his caliber," Krystkowiak said, "but you try, you just keep hitting him with body shots, trying to wear them down and make them win whatever they get."
Allen said the effort was a five-man attack on Mobley.
"Playing against a guy like him, it's not a one-on-one match," he added. "We all need to set a limit on as many touches as possible. I think we did a good job."
Krystkowiak said he did not know the extent of Jones' shoulder injury, although it appeared to be slightly different from how he injured her a few weeks ago when he forced him to miss four games.
"I know it's a bit different than how he hurt him before, my fingers are crossed, but we're all crushed by him, no question," Krystkowiak said. "He went after a ball in typical Rylan fashion, a loose ball on the ground and he slumped and twisted his shoulder again. My heart skipped a beat.
"We talked about it in the time out – we lost one of our brothers and we need some guys to step in and make up for his absence. We will keep him in our thoughts and prayers and hope we can get him back on the pitch again. It's a sad situation." .
×
Photos
related links
Related stories
More stories that may interest you